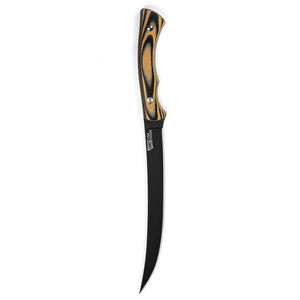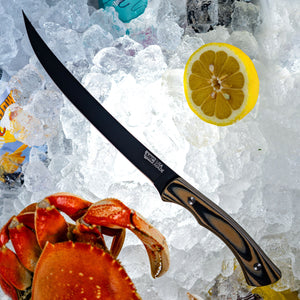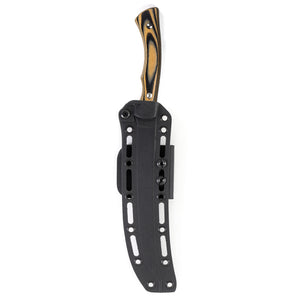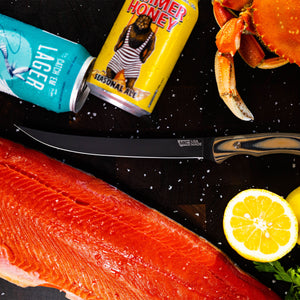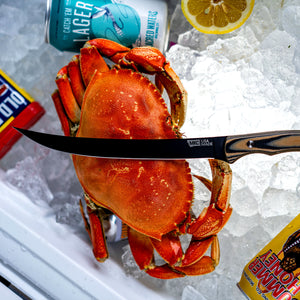 FLATHEAD FILLET - TAN & BLACK
$300.00 USD
– RESTOCKING SOON
---

LEAD BLADE FIRST. 
When we designed the Montana Knife Company™ Flathead Fillet Knife our goal was to create a knife that could do any possible task on the boat, next to the river or on the processing table. 
The Flathead Fillet got its name from the Flathead River, Lake, and Valley in the far northwest corner of Montana. The Flathead lake is known for being one of the largest and deepest lakes west of the Mississippi River, with some of the largest known lake trout. 
The Flathead Fillet has the perfect balance of flex and rigidity. The blade is designed to be flexible enough to work on your fresh catch on the side of the lake but rigid enough to help you process your elk or deer in your garage.

DETAILED BREAKDOWN OF FEATURES

Magnacut Stainless Steel
As a cryogenically heat-treated stainless steel, MAGNACUT provides the perfect blend of toughness, edge retention, and corrosion resistance. Unlike other stainless steel blades, MAGNACUT can be easily resharpened — even by novice knife owners. More wear-resistant than other stainless steels, and more corrosion-resistant than carbon steel, MAGNACUT is in a class of its own.
Learn more about MAGNACUT Stainless Steel from the creator: Larrin Thomas.
Versatile Blade Shape
The
 Flathead Fillet
 has the perfect balance of flex and rigidity. The blade is designed to be flexible enough to work on your fresh catch on the side of the lake but rigid enough to help you process your elk or deer in your garage.
Bulletproof G-10 Handle
The G-10 handle scales are equally as tough as the blade. G-10 is famous for being strong, durable, and lightweight — unmatched by any natural handle material. It can withstand any abuse without cracking or breaking, won't absorb blood, and provides excellent grip, even when wet. The contours of the handle are also designed for comfort in extended use. The G-10 scales are attached with locally sourced titanium screws and high-strength epoxy to secure the perfect, lasting fit.
Free Sharpening For Life & Beyond:
Generations® is our promise to restore your knife to its original, unmatched working condition. MKC will clean, sharpen, repair, and even reshape your blades when necessary, as well as rewrapping handles free of charge. 
While we perform all necessary sharpening and maintenance, our aim is not to return your knife to its brand new appearance. Learn more about MKC Generations Promise.
EXCLUSIVE MKC OPEN CARRY SHEATH
Each Montana Knife Company™ Flathead Fillet comes with an exclusive Kydex sheath. This 2 oz, click-in locking sheath can be adjusted for either horizontal or vertical carry, left or right-hand placement, and varying blade retention. The reversible quick-attach belt clip also lets you attach the sheath without removing or unclasping your belt.

DETAILS:
Blade Steel: CPM Magnacut Stainless Steel

Full Tang Construction

Handle Material: G-10

Sheath: Black Kydex Modular Belt Loop

Finish: Black Cerakote

Overall Length: 12.5"

Blade Length: 7"

Knife Weight: Ultra-Light 4.6 oz

100% Made in the USA

Hand Finished in Montana
Would also like a more compact version!
Awesome fillet knife. High quality.
Would like to see a more compact version for stream sized trout. (Fishing guides and others could use on bait).
This MKC fillet knife is very well made as usual. Perfect size for fresh and saltwater fish. From steelhead to muskies. Salmon to halibut.
Would really like to have a slightly more compact version for slightly smaller fish.
Nothing better than a quality Made In America product!🇺🇲
Great for meat trimming
I've only used it in the kitchen so far but it's been great for trimming large cuts of meat like brisket. Thin, light, long cutting surface, and super sharp- great knife!
Love it!
Great quality and feel. Very sharp right out of the box. Will be buying another style knife soon.
Great product
Love the knife! Thanks for a quality made in USA product!
Hattori Hanzo
This knife was purchased for an Alaskan fishing trip. When it first showed up I was super excited. When I unsheathed the knife it had an amazing feel to it! I imagine that it was the same feeling that Beatrix Kiddo (The Bride) felt when she unsheathed the Hattori Hanzo sword for the first time in Kill Bill. I was eager to see how it would perform. I purchased some fillet gloves to be extra cautious. My cousin used the knife on our trip, as he has filleted more fish than any other none professional guide that I know. He has used many many knifes throughout the years. Very professional In his filleting skills. He has done well over 100 salmon so far with the knife, and it is still going strong. It cuts like butter. Takes out the rib bones with ease. He said "if 5 stars is the highest, then give it 7 stars. Hands down the best fillet knife I've ever used. Nothing has been even close to this knife".
I'm very pleased with the knife, it has exceeded expectations. Thanks MKC for a great product!!