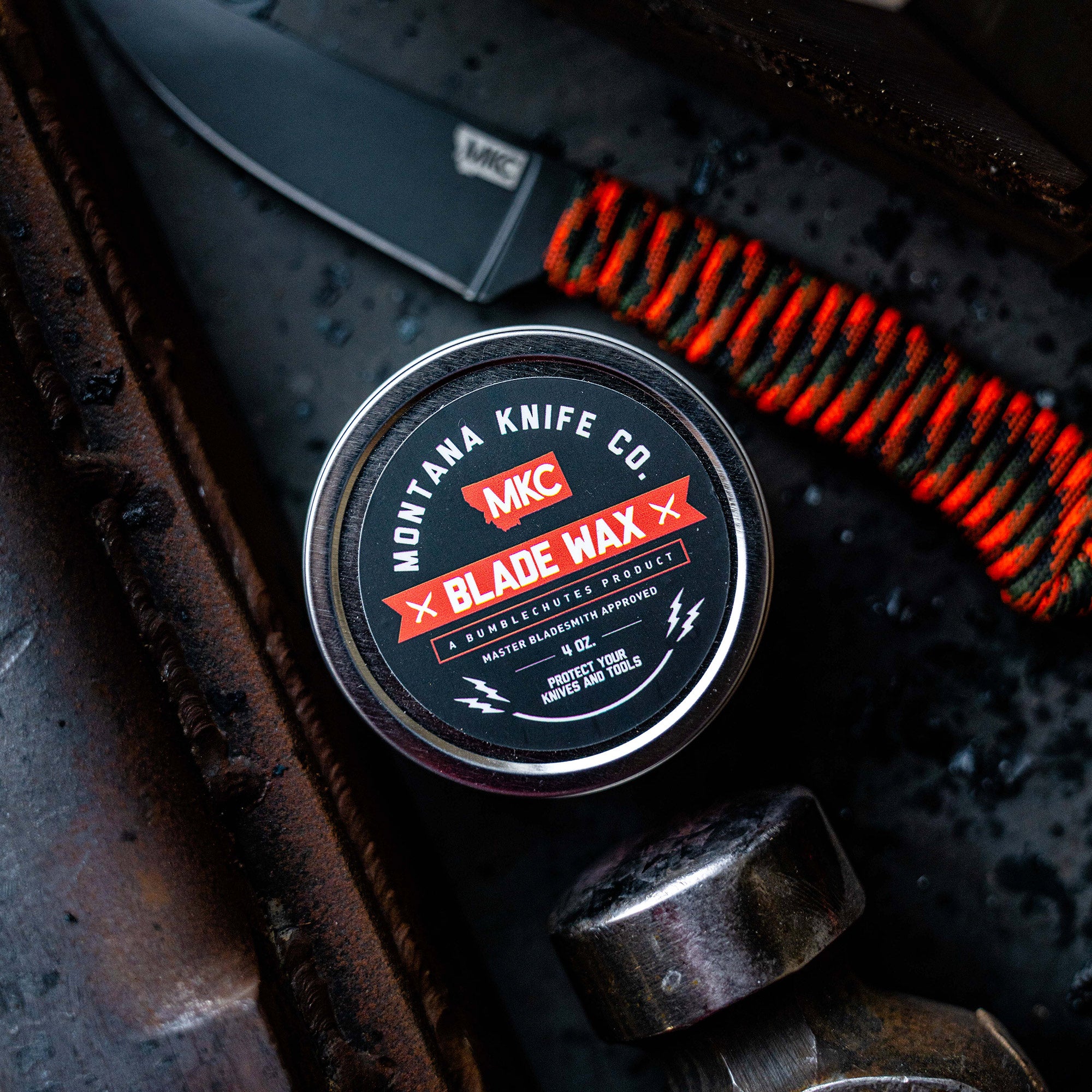 MKC BLADE WAX

KEEP YOUR BLADES PERFORMING & LOOKING LIKE NEW
Montana Knife Company's Blade Wax is a unique formula specifically designed for protecting and preserving your knife blades. Whether you're out in the wilderness or working in the field, moisture can ruin your blade and cause oxidation or rust. This is why we came up with a formula that will prolong the life of your knife as long as possible — so it can last for generations.
Our Blade Wax is made using beeswax from American beekeepers, not imported waxes. We work closely with our beekeeper partners to ensure there's no harm done to the bees while harvesting the waxes. Also, to ensure that our Blade Wax lasts longer than any other, we use top-tier organic carnauba wax and fractionated coconut oil refined in a way that won't go rancid. 

Our formula includes plenty of natural vitamin E that makes the carrier oils last far longer than synthetic versions. And finally, we add a slight amount of lemon oil as an antimicrobial, antifungal agent with a great smell too!

Our goal when creating our Blade Wax was to make sure your knife will last as long as possible in any given environment while preserving its life for the longest time possible.
With MKC's Blade Wax, you can be sure your knife is protected and preserved for generations to come.
DIRECTIONS:
1. Start with a clean knife that's free from any debris, liquids, or other materials.
2. Apply a thin layer of blade wax with a clean cloth. The metal will be ready immediately after application.
3. Reapply after use to prolong the life of the blade.
INGREDIENTS:
Only 100% pure, natural, and food-grade ingredients:Coconut oil, beeswax, carnauba wax, vitamin e oil, lemon oilContains:
Tree nuts (100% Pure, fractionated coconut oil)
Scott
Great quality, my first MKC knife and wax can't wait to try it on my elk hunt in Nov.
Thank you so much! The blade wax makes a huge difference when it comes to blade maintenance, and we recommend it for all of our 52100 blades! Thanks for the review amnd good luck out there this season!
Great stuff!
Great blade wax, love the smell. Very nice sized container so I won't be running out anytime soon. Seems to work decent as bowstring wax too in a pinch if you can't find your String Snot, like me!
William,
It truly has a lot of uses! Check out our blog on the website and there's one about the wax too, and its many uses. There's some interesting ones! Thank you for the review!
Best preserver there is
The blade wax is something I never thought about before buying my MKC knife. It is the perfect blend, not too oily nor thick. I ended up getting all my knives out and applying it to all of them. I have some custom and nice expensive knives and never thought about this. I will never not have it in the house or in my truck from now on.
Brandon,
The blade wax will definitely make a big difference when it comes to blade care and longevity. If you search the blog section on our website, we have a blog on the wax and its other many uses as well! Thanks for the great review!
Review 10
Blades where shipped in a timely manner. they are light and easy to handle. Very Sharp. Just love the Knife..
Thanks for the review Michael! Glad you like the blades!
New school
Never used a wax on knives. Only had it for a couple weeks but seems great. Goes on smooth, and has a pleasant aroma strange as that seems. So far great product.
Thomas,
The blade wax is great to have for further care on your knives! We also have a blog on our website about different uses for the wax as well. Thanks for the great review!