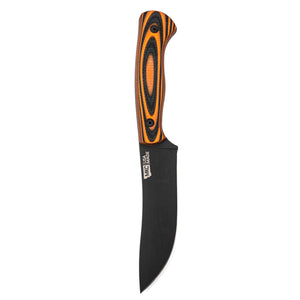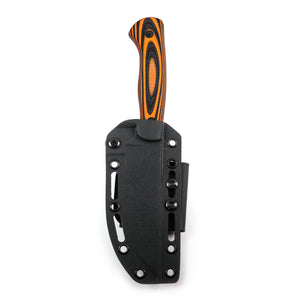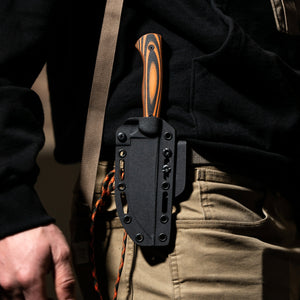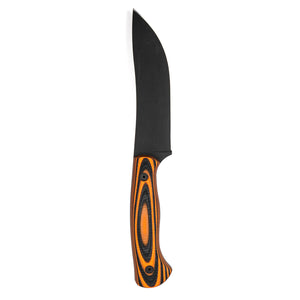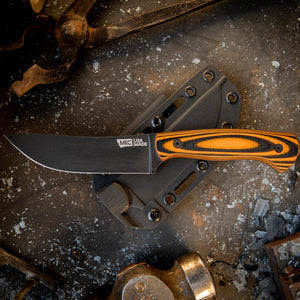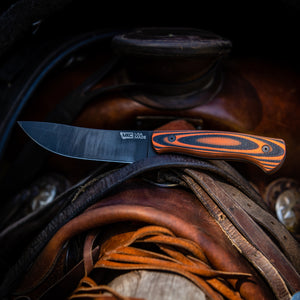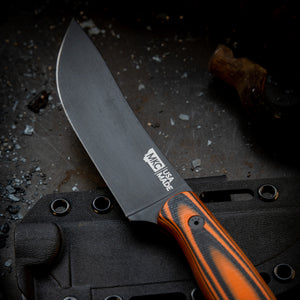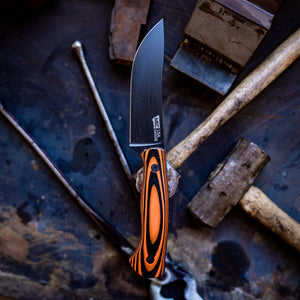 THE STONEWALL SKINNER - ORANGE & BLACK
---
Any Task. Any Environment.
After specializing in ultralight knives for ounce-counting backcountry hunters, we wanted to create a blade with even more versatility. Designed to take on any task a hunter may face, the Stonewall Blackfoot Skinner is truly a do-it-all hunting knife. 
Perfectly curved for skinning, sharp enough for cutting, and stout enough for chopping, the Stonewall blade is as all-purpose as it gets.
As a Lincoln, Montana native, our founder and Master Bladesmith Josh Smith grew up hunting and fishing in this remarkable region. The Stonewall Blackfoot Skinner fittingly takes its name from two of the area's standout landmarks: Stonewall Mountain, bordering the Scapegoat Wilderness to the north; and the Blackfoot River, bordering the Bob Marshall Wilderness Complex to the south.
DETAILED BREAKDOWN OF FEATURES
Parkerized 52100 Carbon Steel Blade
The Stonewall Skinner is made from cryogenically treated 52100 high-carbon ball-bearing steel, achieving the perfect balance of edge retention, toughness, wear resistance, and easy resharpening. The blade is also parkerized to a matte black finish, which minimizes rust and glare.
Enlarged Belly
The Stonewall's shape is all about balance without sacrifice. It features a shallower curve than some pro skinners like the Beartooth, but this is no Tanto blade. The large belly allows for long sweeping strokes with less punctured hides while the tip is easily accessible for non-skinning jobs.
Sharp and Stout
The Stonewall is 0.135" thick at the spine, but only 0.0.15" thick at the edge — making it stout enough to withstand any abuse and sharp enough to cut like a laser. The 4.75" blade provides enough surface area for effortless skinning and enough steel to baton through wood.
Bulletproof G-10 Handle
The G-10 handle scales are equally as tough as the blade. G-10 is famous for being strong, durable, and stable — unmatched by any natural handle material. It won't absorb blood and provides superior grip… even when wet and bloody. Three hollows are cut into the handle to decrease weight and allow for maximum epoxy bonding before screws and high-strength Loctite secure the perfect fit.
Free Sharpening For Life & Beyond:
Generations® is our promise to restore your knife to its original, unmatched working condition. MKC will clean, sharpen, repair, and even reshape your blades when necessary, as well as rewrapping handles free of charge. While we perform all necessary sharpening and maintenance, our aim is not to return your knife to its brand new appearance. Learn more about MKC Generations Promise.
EXCLUSIVE MKC OPEN CARRY SHEATH

Each Montana Knife Company™ Stonewall Blackfoot Skinner comes with an exclusive Kydex sheath. This click-in locking sheath can be adjusted for either horizontal or vertical carry, left or right-hand placement, and varying blade retention. The reversible quick-attach belt clip also lets you attach the sheath without removing or unclasping your belt.

DETAILS:
Blade Steel: 52100 Ball Bearing Steel

Full Tang Construction

Handle Material:  G-10

Sheath: Black Kydex Modular Belt Loop

Overall Length: 9 1/4"

Blade Length: 4 3/4"


Knife Weight: 5.5 oz
100% Made in the USA
Hand Finished in Montana


Great Knife!
This is a really well constructed knife. Sturdy, balanced feel. Couldn't be happier with it.
Awesome knife
If you're looking for a skinner knife that can do all the tasks necessary to break down a big game animal ,this is it …superb design, perfect balance, excellent feel in the hands …t
Worth it!
Love mine, use it for everything!
Beautiful knife
Amazing craftsmanship & quality. Can't wait to use it soon.
Very pleased
Only had this knife for a couple weeks but love the feel and quality. Can't wait to use it on an elk in a couple weeks. very pleased with my purchase