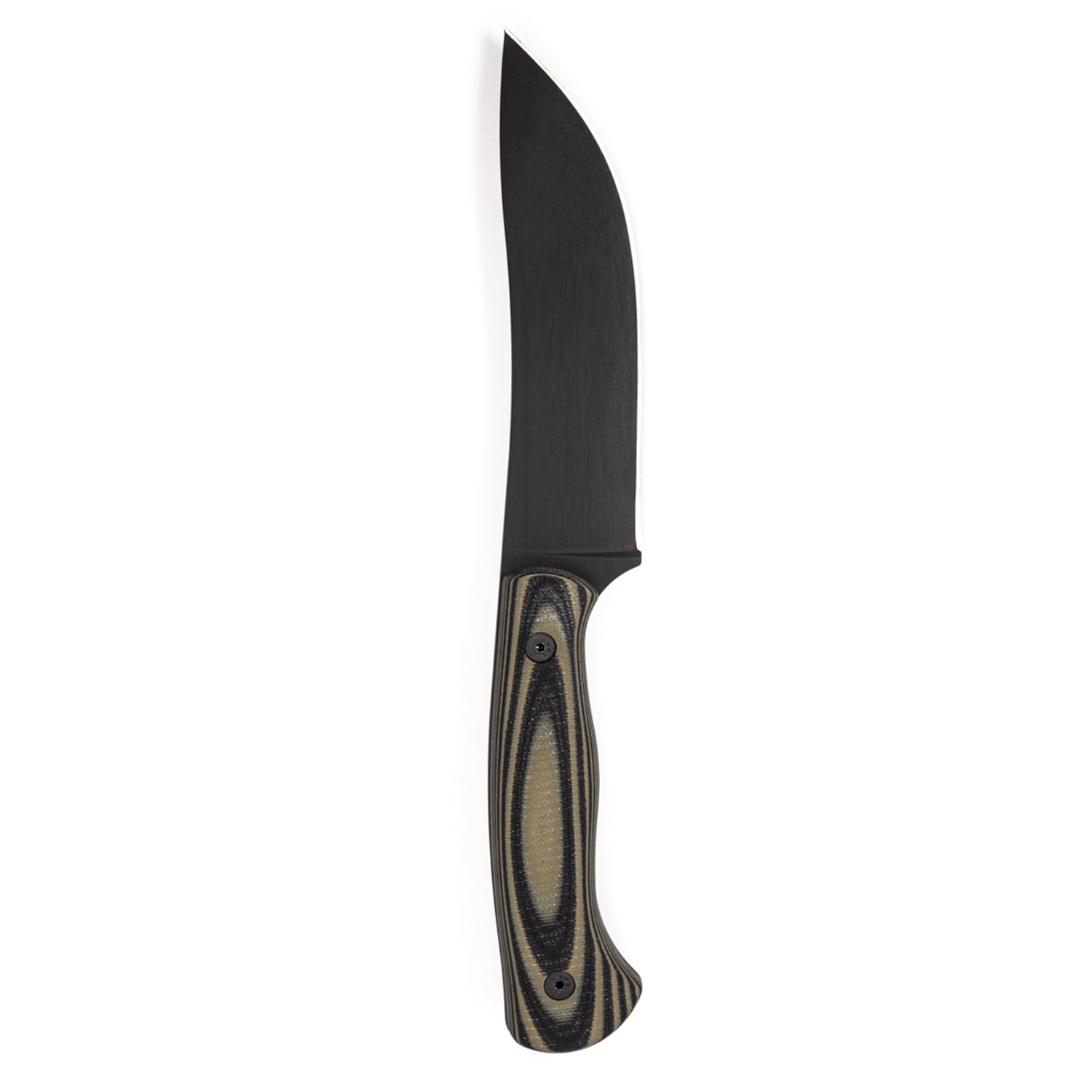 STONEWALL SKINNER - GREEN & BLACK
Any Task. Any Environment.
After specializing in ultralight knives for ounce-counting backcountry hunters, we wanted to create a blade with even more versatility. Designed to take on any task a hunter may face, the Stonewall Blackfoot Skinner is truly a do-it-all hunting knife. 
Perfectly curved for skinning, sharp enough for cutting, and stout enough for chopping, the Stonewall blade is as all-purpose as it gets.
As a Lincoln, Montana native, our founder and Master Bladesmith Josh Smith grew up hunting and fishing in this remarkable region. The Stonewall Blackfoot Skinner fittingly takes its name from two of the area's standout landmarks: Stonewall Mountain, bordering the Scapegoat Wilderness to the north; and the Blackfoot River, bordering the Bob Marshall Wilderness Complex to the south.
Sign Up for Text Alerts!
Stay in the Loop on Product Drops and Exciting Promotions!
Specs
Blade Steel

52100 Ball Bearing Steel

Design

Full Tang Construction

Overall Length

9 1/4"

Blade Length

4 3/4"

Blade Thickness

0.135"

Knife Weight

5.5 Oz

Black Parkerized Finish

Minimize Glare & Rust

Blade Finish

Black Parkerized

Handle Material

G-10

Manufactured

100% Made in the USA

Hand Finished

in Montana
Excellent Knife
Used it first week I got it to skin a whitetail Buck. Very sharp, well balanced and comfortable to use. Would highly recommend.
The Stonewall
Love this knife! Awesome balance, feel and perfect size! Get you one!
Birthday gift
Got this as a gift for my brother for his birthday in December. Wanted to get a chef's knife, but they were sold out. So this was the best I could do given current stock. Will review once he uses it. Still looking for a chef's knife.
Sean,
That's quite the gift! Definitely a useful one - the Stonewall is one of our favorite models and is truly capable of any task you need to use it for in the field or at home. As a side note, we should have more Culinary knives around the holidays. Thanks for the review!
Awesome Knife
This knife is just the right size and has many utility uses.
Jene,
Glad to hear it! Aside from being a skinning knife, we have found the Stonewall to work well at a variety of tasks - it's great that you're getting the same kind of use out of it! Thanks for the review!
Great products
Everything is definitely quality. Well built. Balanced. Very comfortable.
Casey,
Thanks for the great feedback! We hope you get some great use out of the Stonewall for many years to come - it's definitely capable of anything you should need it for!