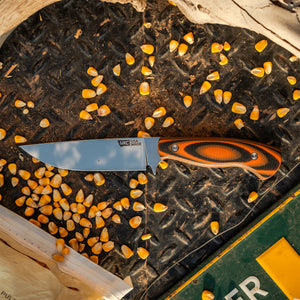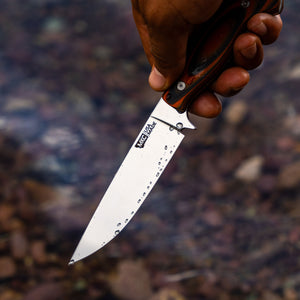 THE MAGNACUT SUPER CUB - DROP POINT HUNTER - ORANGE & BLACK
$325.00 USD
– RESTOCKING SOON
---
The Ultimate Hunting Blade.

At Montana Knife Company, we've made a name for ourselves designing compact hunting knives meant for ultralight packing. With the Super Cub, we've broken our own mold and gone big. Measuring 9 7/8″, the Super Cub is our longest and strongest hunting blade, capable of taking on any job you encounter in the field — from field dressing, gutting, and deboning to fieldcraft tasks like chopping, prying, and batoning wood.
The Super Cub knife is designed to withstand the toughest environments. It takes its name from the Piper Super Cub airplane, known for transporting hunters and adventurers to the most remote backcountry locations. For any situation a Super Cub plane can put you in, the MKC Super Cub can get you out. 




DETAILED BREAKDOWN OF FEATURES

MAGNACUT Stainless Steel 
As a cryogenically heat-treated stainless steel, MAGNACUT provides the perfect blend of toughness, edge retention, and corrosion resistance. Unlike other stainless steel blades, MAGNACUT can be easily resharpened — even by novice knife owners. More wear-resistant than other stainless steels, and more corrosion-resistant than carbon steel, MAGNACUT is in a class of its own. 
Learn more about MAGNACUT Stainless Steel from the creator: Larrin Thomas.
Drop Point Perfection 
The Super Cub's 5 1/2″ blade is the ideal drop point shape. The spine — which is about .02″ thicker than our other hunting blades for added strength — slopes down from the handle into the tip. The Super Cub also has more belly than other drop points, making the tip even more useful. There's very little this knife can't do.
Built-in Finger Guard 
Just above the G-10 Handle Scales, we've shaped a finger guard in the steel to keep your hand from sliding up onto the blade's sharp edge. This gives an additional measure of protection when you're performing more intense fieldcraft tasks.
Bulletproof G-10 Handle
The G-10 handle scales are equally as tough as the blade. G-10 is famous for being strong, durable, and stable — unmatched by any natural handle material. It won't absorb blood and provides superior grip… even when wet and bloody. Three hollows are cut into the handle to decrease weight and allow for maximum epoxy bonding before screws and high-strength Loctite secure the perfect fit.
Free Sharpening For Life & Beyond:
Generations® is our promise to restore your knife to its original, unmatched working condition. MKC will clean, sharpen, repair, and even reshape your blades when necessary, as well as rewrapping handles free of charge. While we perform all necessary sharpening and maintenance, our aim is not to return your knife to its brand new appearance. 
Learn more about MKC Generations Promise.


EXCLUSIVE MKC OPEN CARRY SHEATH 2.0
Each Montana Knife Company™ Super Cub comes with an exclusive Kydex sheath. This 2 oz, click-in locking sheath can be adjusted for either horizontal or vertical carry, left or right-hand placement, and varying blade retention. The reversible quick-attach belt clip also lets you attach the sheath without removing or unclasping your belt.


DETAILS:
Blade Steel: Magnacut Stainless Steel


Full Tang Construction


Handle Material: G-10


Sheath: Black Kydex Modular Belt Loop

Total Length: 9 7/8 in


Blade Length: 5 3/8 in


Knife Weight: 6.0 oz


100% Made in the USA


Hand Finished in Montana
Handy and light weight
For the size of this blade, it is very lightweight and easy to carry around clipped to my waistband
Anthony,
Lightweight is what we're all about! The Supercub at first glance looks like it would weigh more than it does. We try to make all of our blades as light as possible, while still maintaining toughness, sharpness, and all around quality. Glad you like it and thank you for the review!
Super Nice!
I love the feel of it, and that's all I've done, I hope to put it to work over the month or so!
Dan,
Awesome! Thanks for the review, and we hope you get some good use out of it coming up! The Supercub is a workhorse!
Workhorse
Love the feeling of this knife in the hand, right amount of heft and great balance. Can't wait to part out a moose or elk with it
Eric,
Thank you so much for the review! The balance on the Super Cub is one of our favorite things about it. Good luck out there this season!
Magnacut Supercub is awesome
John,
The Supercub works great as a camp knife and does great doubling as a hunting knife as well. Can't go wrong with it! Thank you for the review!
Fits like a glove
Blade feels great in the hand and hope to put it to use this fall on elk, bison and mule deer.
CJ,
The Supercub will definitely get the job done on all 3! Thanks for the review and good luck out there this fall!