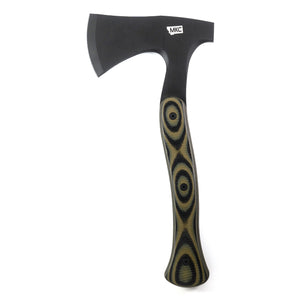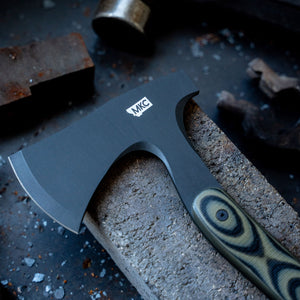 THE HELLGATE HATCHET - GREEN AND BLACK
$375.00 USD
– RESTOCKING SOON
---
SWINGS LIKE A HAMMER. CUTS LIKE A KNIFE.

Every hunting blade in the MKC lineup is tough enough to baton wood and perform essential campsite tasks, but we're not satisfied with "good enough." That's why we're so excited to introduce you to the newest member of the Montana Knife Company family: The Hellgate Hatchet.

Crafted with passion and designed to be the ultimate packing and hiking companion, this little beast is as handy as it is resilient. Chop wood, clear your campsite, and start fires with ease.

The Hellgate's compact, thin design has two primary benefits: lightness and sharpness. At just 14.9 ounces, it's virtually unnoticeable when worn on a belt, and the hair-shaving edge can be used in lieu of a knife for cutting and slicing tasks. (That's right, this bad boy can open up and break down an entire elk, if needed.)

The Hellgate Hatchet takes its name from Hellgate Canyon in Missoula, Montana. The canyon's accessible location and breathtaking scenery make it a popular destination for weekend adventurers, hikers, and campers looking to put their skills to the test. Gear up, venture out, and let the wilderness wonder what hit it.



DETAILED BREAKDOWN OF FEATURES

Parkerized 52100 Carbon Steel Blade
The Hellgate Hatchet is made from cryogenically treated 52100 high-carbon ball-bearing steel, achieving the perfect balance of edge retention, toughness, wear resistance, and easy resharpening. The steel is also parkerized to a matte black finish, which minimizes rust and glare.
Hair Shaving Edge
While most hatchets are primarily designed to be swung, the Hellgate can do more than brute force. We gave it the same super sharp edge as our knife blades to make it even more useful. If you find yourself without a knife, no problem. The Hellgate's edge acts like a curved bladed knife, allowing you to open a chest cavity and field dress an entire animal.
Multi-Use Head
The butt of the head protrudes from the handle, giving you extra steel for a variety of tasks like digging rocks and dirt, pounding tent stakes, breaking up ice, and poking your fire
Bulletproof G-10 Handle Scales
The Hellgate's handle scales are made from the same G-10 material found on many of our knives. G-10 is famous for being strong, durable, and lightweight — unmatched by any natural handle material. It can withstand any abuse without cracking or breaking, won't absorb blood, and provides excellent grip, even when wet. We've also given the base of the handle a large knob that lets you lock in your grip when swinging the hatchet.
Free Sharpening for Life & Beyond
Generations® is our promise to restore your knife to its original, unmatched working condition. MKC will clean, sharpen, repair, and even reshape your blades when necessary, as well as rewrap handles free of charge. While we perform all necessary sharpening and maintenance, our aim is not to return your knife to its brand new appearance. Learn more about the
MKC Generations Promise.


EXCLUSIVE MKC OPEN CARRY SHEATH 2.0
The Montana Knife Company™ Hellgate Hatchet comes with an exclusive Kydex sheath. This click-in locking sheath can be adjusted for either left or right-hand placement on your belt or strap.
DETAILS:
Steel: 52100 Ball Bearing Steel

Finish: Black Parkerization

Handle Material: G-10

Total Length: 10 1/16 in

Head Length: 4 7/8 in

Hatchet Weight: 14.9 oz

Weight with Sheath: 17.6 oz

100% Made in the USA

Hand-finished in Frenchtown, Montana

Sheath: MKC Exclusive Black Kydex Signature Sheath 2.0

Stoked.
I recently received my HELLGATE HATCHET and I couldn't be happier! MKC's reputation preceded itself, and I had really been looking forward to acquiring my first piece. From fit/ finish, to customer service, and super prompt shipping…I'm totally stoked on the new piece of KIT, and I'll be looking forward to adding to the collection soon! You will NOT be disappointed, highly recommend!
Regards,
MB Smith
MB,
That's quite the first MKC model to start the collection!! Congrats on snagging one, they went ultra fast as well. Like the hatchet, you'll find our knives are made with the same quality and attention to detail. Thanks so much for the great review!
High quality carry-around hand axe
Bought it for one of my executives, and he absolutely LOVES it. Perfect size to wear on a belt--kydex sheath preferred to the leather one, but more personal preference truly-- with the grip and balance and blade sharpness excellent. Also, stoked to get one on the first run! Top notch MKC gear.
Reggie,
Awesome! The R&D Hatchets were some of our fastest selling blades of all time. Congrats on being able to snag one and thank you for the review!
Fantastic hatchet!
Received my Hellgate hatchet three days after ordering. Beautiful working tool. I like the design, size and weight. Excellent fit and finish. Made short work out of shaving down kindling. My two observations/suggestions for the Hellgate: ability to reverse the very nice and simple sheath and either a sealed through-hole near back end of the handle or an small extension of the tang after the G10 to allow for paracord tie off (similar to several MKC knife designs). I'm impressed and pleased with all of the cutting products I've purchased from MKC. Thank you, Montana Knife Company!
Both of those are great suggestions! That's the great thing about the R&D models is that after real-world feedback from real users, the potential for slight changes is there if need be. Thank you so much for the feedback and review, and glad to hear you are getting good use out of it!
Perfectt
Small, light and effective. The hatchet is well balanced and works well in the hand for both swinging and choked up against the head for detailed work. It feels almost natural in the hand. Love it!
Love it!
This is my first time buying any product from MKC. The quality is amazing and the team is awesome! I've just dinked around with this in the yard and it's a wicked little hatchet.