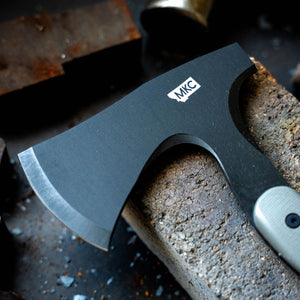 THE HELLGATE HATCHET - GREY
$375.00 USD
– RESTOCKING SOON
---
SWINGS LIKE A HAMMER. CUTS LIKE A KNIFE.

Every hunting blade in the MKC lineup is tough enough to baton wood and perform essential campsite tasks, but we're not satisfied with "good enough." That's why we're so excited to introduce you to the newest member of the Montana Knife Company family: The Hellgate Hatchet.

Crafted with passion and designed to be the ultimate packing and hiking companion, this little beast is as handy as it is resilient. Chop wood, clear your campsite, and start fires with ease.

The Hellgate's compact, thin design has two primary benefits: lightness and sharpness. At just 14.9 ounces, it's virtually unnoticeable when worn on a belt, and the hair-shaving edge can be used in lieu of a knife for cutting and slicing tasks. (That's right, this bad boy can open up and break down an entire elk, if needed.)

The Hellgate Hatchet takes its name from Hellgate Canyon in Missoula, Montana. The canyon's accessible location and breathtaking scenery make it a popular destination for weekend adventurers, hikers, and campers looking to put their skills to the test. Gear up, venture out, and let the wilderness wonder what hit it.



DETAILED BREAKDOWN OF FEATURES

Parkerized 52100 Carbon Steel Blade
The Hellgate Hatchet is made from cryogenically treated 52100 high-carbon ball-bearing steel, achieving the perfect balance of edge retention, toughness, wear resistance, and easy resharpening. The steel is also parkerized to a matte black finish, which minimizes rust and glare.
Hair Shaving Edge
While most hatchets are primarily designed to be swung, the Hellgate can do more than brute force. We gave it the same super sharp edge as our knife blades to make it even more useful. If you find yourself without a knife, no problem. The Hellgate's edge acts like a curved bladed knife, allowing you to open a chest cavity and field dress an entire animal.
Multi-Use Head
The butt of the head protrudes from the handle, giving you extra steel for a variety of tasks like digging rocks and dirt, pounding tent stakes, breaking up ice, and poking your fire
Bulletproof G-10 Handle Scales
The Hellgate's handle scales are made from the same G-10 material found on many of our knives. G-10 is famous for being strong, durable, and lightweight — unmatched by any natural handle material. It can withstand any abuse without cracking or breaking, won't absorb blood, and provides excellent grip, even when wet. We've also given the base of the handle a large knob that lets you lock in your grip when swinging the hatchet.
Free Sharpening for Life & Beyond
Generations® is our promise to restore your knife to its original, unmatched working condition. MKC will clean, sharpen, repair, and even reshape your blades when necessary, as well as rewrap handles free of charge. While we perform all necessary sharpening and maintenance, our aim is not to return your knife to its brand new appearance. Learn more about the
MKC Generations Promise.


EXCLUSIVE MKC OPEN CARRY SHEATH 2.0
The Montana Knife Company™ Hellgate Hatchet comes with an exclusive Kydex sheath. This click-in locking sheath can be adjusted for either left or right-hand placement on your belt or strap.
DETAILS:
Steel: 52100 Ball Bearing Steel

Finish: Black Parkerization

Handle Material: G-10

Total Length: 10 1/16 in

Head Length: 4 7/8 in

Hatchet Weight: 14.9 oz

Weight with Sheath: 17.6 oz

100% Made in the USA

Hand-finished in Frenchtown, Montana

Sheath: MKC Exclusive Black Kydex Signature Sheath 2.0