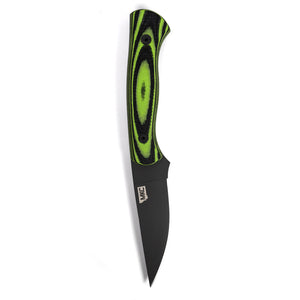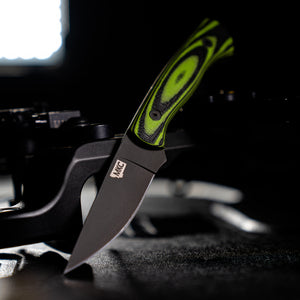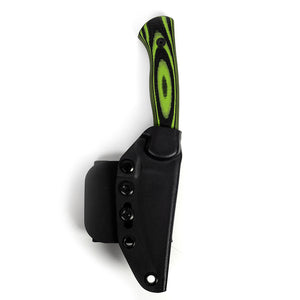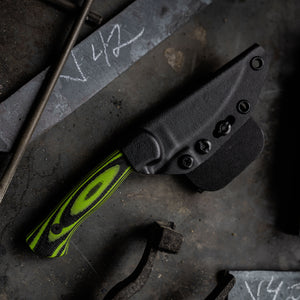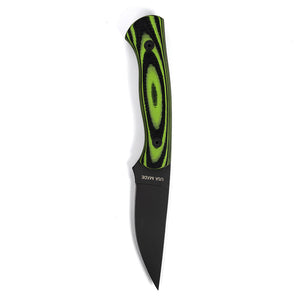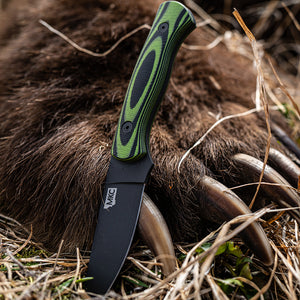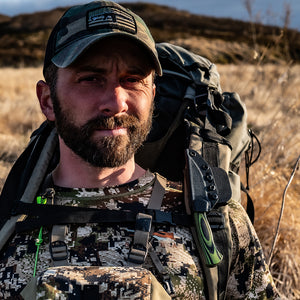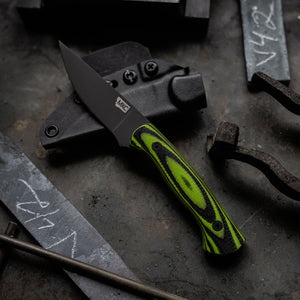 THE BLACKFOOT FIXED BLADE 2.0 - NEON GREEN AND BLACK
$300.00 USD
– RESTOCKING SOON
---
LEAD BLADE FIRST. 

The Montana Knife Company™ Blackfoot Blade 2.0s are made from 52100 high carbon ball-bearing steel.  The cryogenically heat-treated blades provide a perfect balance of toughness and edge retention.  Once the razor edge has been lost it can be easily sharpened with a small stone.  Unlike other knives, the Blackfoot's edge can be maintained by even novice knife owners.   Additionally, the blades have been parkerized to a black finish which will help minimize rust and glare.  52100 is not stainless.  After use, clean the blade and occasionally apply a little wax or oil.
The Montana Knife Company™ Blackfoot Blade 2.0 was designed as the do it all knife. It is light enough to pack on a goat hunt but durable and large enough to completely field dress and elk.  The thin knife blade not only makes the knife light but also makes resharpening easy.  With G-10 handle this knife will not absorb blood and will also still provide some grip when wet.  This isn't just another knife but instead, it's a part of your essential gear.  
The Montana Knife Company™ Blackfoot Blade 2.0 got its name from the region that our founder Josh Smith grew up in.  The Blackfoot river valley in Lincoln Montana is on the edge of the Bob Marshall and Scapegoat wilderness'.   Josh grew up hunting and fishing in this area and felt it was fitting to name this blade after this incredible place.  
The Montana Knife Company™ Blackfoot Blade 2.0s have three hollows cuts into the handle to decrease weight and provide a place for the epoxy to bond the steel and handle material.  Screws and high-strength epoxy hold the handle scales in place permanently.   
Customizable Kydex Sheath

Each Montana Knife Company™ Blackfoot Blade 2.0 comes with a Kydex sheath with a quick attach belt look.  This belt loop can be put on your belt without removing or unclasping the belt.  The knife can also be carried horizontally or vertically by simply removing two screws, adjusting the look, and reapplying the screws. 

DETAILS:
Blade Steel:  52100 Ball-Bearing Steel

Full Tang Construction

Handle Material:  G-10

Sheath: Black Kydex Modular Belt Loop

Finish: Black Parkerization 

Blade Length: 3.5 in

Total Length: 7.75 in
Knife Weight: 3.6 oz
100% Made in the USA
Hand Finished in Montana
First MKC Knife
Very impressed with the design, ergonomics and quality of the Blackfoot knife. Feels great in the hand. Already used it on a few fish to try it out and looking forward to using it all of hunting season. A great "do everything" knife without being too large.
Anthony,
That's awesome! The Blackfoot is our flagship knife and was designed to truly handle everyday tasks as well as take on any task for animals in the field. To this day it's still a shop favorite! Thanks for the great review and good luck out there this season!
Ultra-capable!
Absolutely love this knife! Sharp after a ton of field use, and the size, weight and length are perfect!
That's amazing to hear! Thanks CB!
Big horn sheep
[****]. this knife was bought for a big horn sheep hunt in Alberta this October. From what I've seen so far.... very well built...super sharp...love the design. I'll keep you posted when Dan gets back as to the performance of this knife.
Awesome Kathy! Looking forward to hearing how it performs out there. Thank you for the feedback and wishing the best of luck out there this season!
Blackfoot 2.0 - The Mighty Work Horse
I shot and harvested my first deer this weekend with a bow and was glad to have the MKC Blackfoot on my hip. This knife is small enough to be easy to handle, yet big enough to process the entire deer. I'm a rookie and needed all the help I could get when gutting, skinning, quartering, and deboning. this animal. Even wet and bloody, the knife held firm in my hand. If you don't have a Montana Knife Company Knife, start with this one. It won't be your last. Thanks MKC Team. Please.....take my money.
Awesome! Congrats on your first deer and so glad to hear we could be a part of it! The Blackfoot is our first ever MKC model blade and was designed to do exactly what you described above. Thank you for the great review!
Blackfoot 2.0
Love this knife. Very sharp right out of the box. The parkerized finish on the blade is a nice touch. The handle is perfect size to index the blade with your finger for detailed work. I think this knife is perfect for detailing out my white tails this year. Also the scabbard is perfect to carry this knife. But my favorite thing about this knife is the blade design itself. I will be purchasing from MKC again.
Earl,
This is great feedback and glad to hear the Blackfoot is working well for you! It's our flagship knife and is designed for any task from daily utilities, to skinning, to even quartering animals in the field. Thanks for the review!