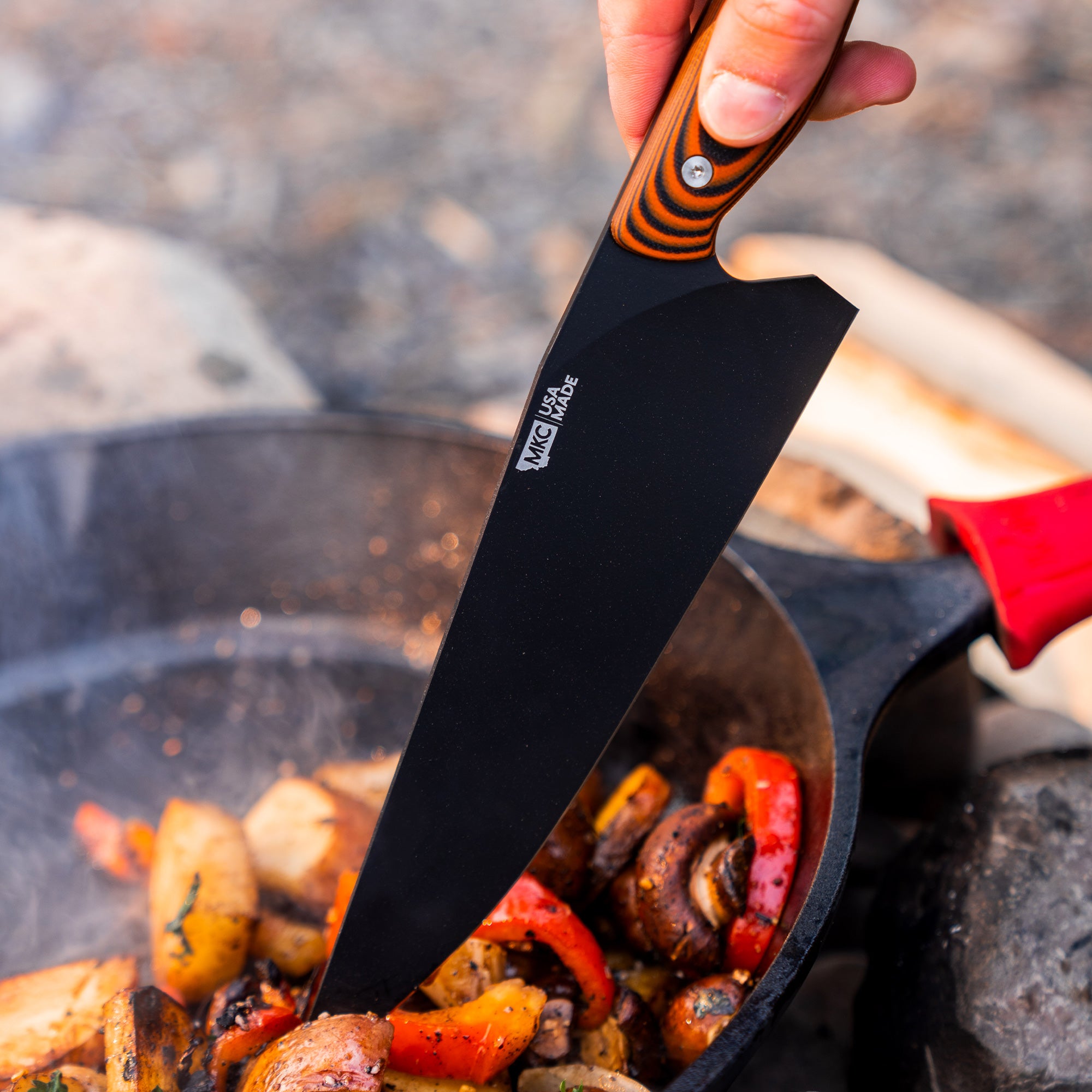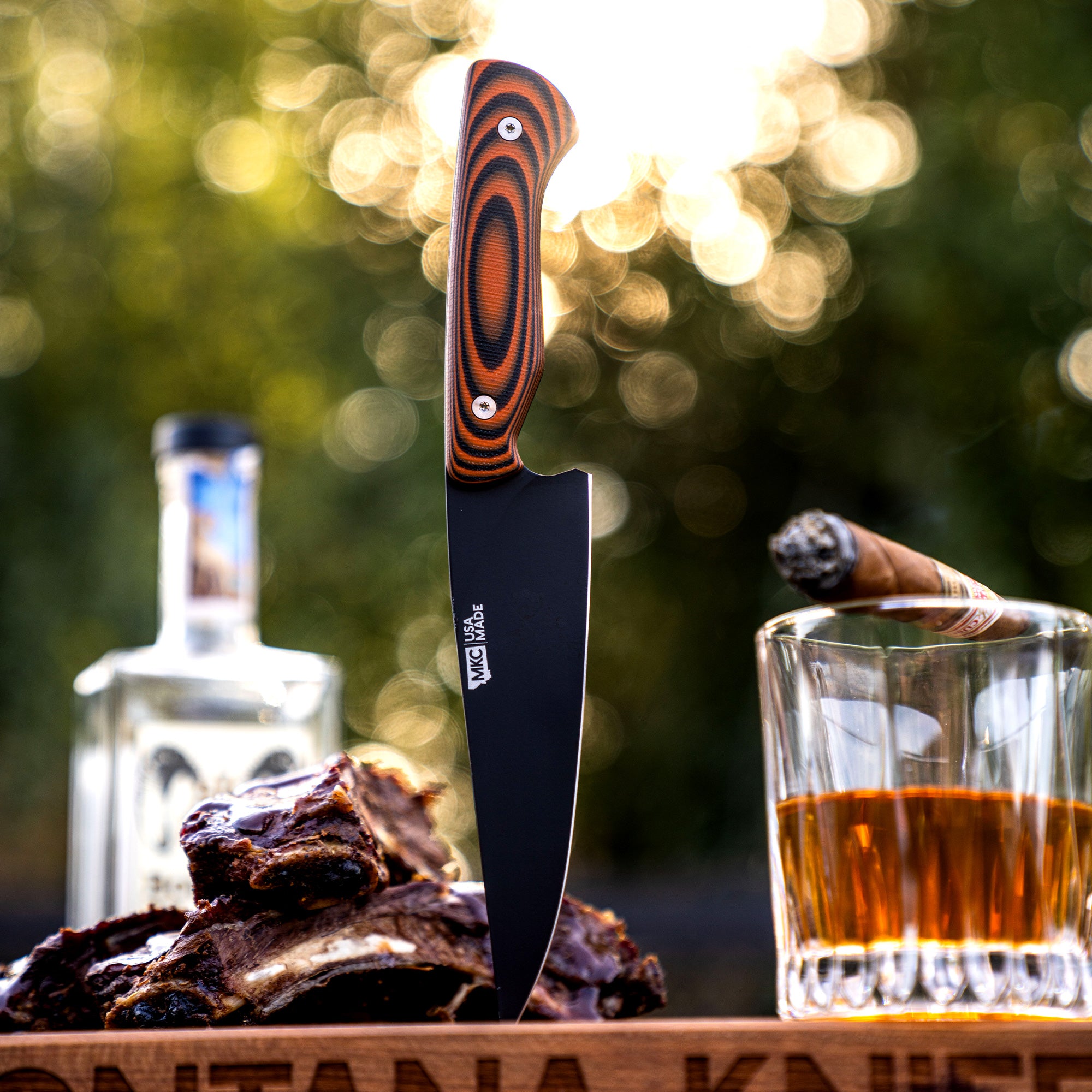 MKC CULINARY SET - ORANGE & BLACK
The MKC 3-Piece Collection

The MKC Culinary Collection features all three knives from the collaboration between MKC Founder & Master Bladesmith, Josh Smith and renowned knife maker Mareko Maumasi — with his extensive knowledge as a bladesmith and experience in the restaurant industry. The knives are made with Magnacut Stainless Steel and finished with a black Cerakote® coating for optimal durability. The handles are constructed of G-10 and contoured for a comfortable grip and come in your choice of three colors: Black, MKC Orange, and Red.

The MKC Culinary Collection is the perfect set of tools for any chef looking to up their game. Whether you're a beginner or a seasoned pro, this collection has everything you need to tackle even the biggest jobs from the kitchen to the campsite.
Available Colors:
Sign Up for Text Alerts!
Stay in the Loop on Product Drops and Exciting Promotions!
Specs
Blade Steel

Magnacut Stainless Steel

Design

Full Tang Construction

Blade Finish

Black Cerakote

Handle Material

G-10

Manufactured

100% Made in the USA

Hand Finished

in Montana
Best Cooking knives ever!!
I loved my first set so much I bought a second set. I don't care what knife you have in your hand today, drop it in the trash and pick up one of these. Everyone that sees them in our kitchen always asks about them. Great story, Awesome Family company and Brand to be proud of!!!
Warren,
Thank you for the awesome review! Glad to hear you're loving the kitchen knives and we really appreciate your support and helping to spread the word!
Stellar knives
I was hesitant at first to pay the price of the knives. BUT after receiving them, I realized the knives are extremely high quality. The bison leather role was a phenomenal extra addition as well. Excellent product at a deserving price point for the quality.
Terryn,
Glad to hear you like them! All of our knives come with an unconditional lifetime warranty through our Generations program where we will service them for life - and at no charge to you! Teton Leather Company makes the bison leather rolls and they turned out absolutely beautiful! Thank you so much for the review!
Surpasses the hype
Extremely impressive knives.
Thank you Tyson! We hope you enjoy them!
Best knife set I have ever owned - bar none!!!
I recently received my MKC Culinary Set and was thrilled. I had seen the set during the last drop (many months ago) and had been kicking myself for not buying it then. I even bought an MKC knife stand back in April waiting patiently for another drop. I was so psyched when I heard they would again be available - and jumped on it as soon as it went live. I have had my knives for more than 2 weeks and both my wife and I have used them extensively for all cutting work in the kitchen. They are flawless! The are beautifully balanced and cut like no other knife. My hand never gets tired regardless of what I am cutting! They also look amazing! I love the orange and black G-10 they really look sharp! I expect these to last a lifetime and am so pleased that I was able to get a set. Thanks so much too Montana Knife Company for making such incredible knives!!
Bruce,
Glad to hear you finally got to pick up a set! The Orange and Black handles went the fastest on our last drop so you must have been pretty quick on the site! Thank you so much for the review and it's great to hear that both you and your wife love them!
I want to buy another set.
John,
Thanks! And keep an eye out, we will have more coming around the holidays!