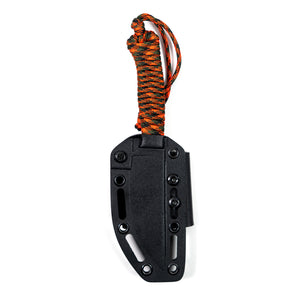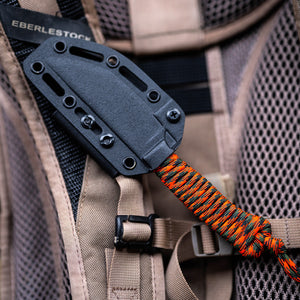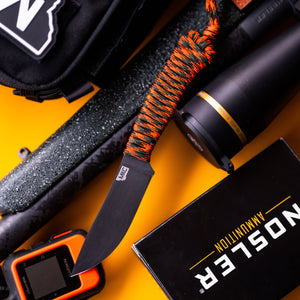 THE STONED GOAT - BLAZE ORANGE AND BLACK
$225.00 USD
– RESTOCKING SOON
---
Ultralight Skinner - Belly without bulk.
Our knife owners love the MKC Speedgoat for its combination of lightness, toughness, and versatility. While there's very little the drop point blade design can't do, some hunters prefer a larger blade belly for skinning purposes. You spoke. We listened. The Stoned Goat was born.
If our Stonewall Skinner and Speedgoat had a baby, this would be it.

The Stoned Goat combines the skeletonized, paracord-wrapped handle and overall length from the Speedgoat with the trailing point blade shape from the Stonewall — resulting in a knife that reduces the risk of unwanted punctures without sacrificing versatility or ultralight portability.




DETAILED BREAKDOWN OF FEATURES

Parkerized 52100 Carbon Steel Blade
The Stoned Goat is made from cryogenically treated 52100 high-carbon ball-bearing steel, achieving the perfect balance of toughness, edge retention, and easy resharpening. The blade is also parkerized to a matte black finish, which minimizes rust and glare.
Enlarged Belly
The Stoned Goat's blade has more edge and less tip than the Stonewall, allowing for longer sweeping strokes (and fewer punctured hides). While the tip is less prominent, it's still accessible for more detailed work and non-skinning jobs.
550 Paracord Handle
Wrapping the handle in seven feet of 550 paracord was just as much for minimizing weight as maximizing versatility. The paracord can fix a broken boot lace, tie down a tent, hang meat in a tree, or help in any number of unexpected, emergency situations. And when the paracord is removed from the handle, the Stoned Goat still fits securely in its sheath.
Free Sharpening For Life & Beyond:
Generations® is our promise to restore your knife to its original, unmatched working condition. MKC will clean, sharpen, repair, and even reshape your blades when necessary, as well as rewrapping handles free of charge. 
While we perform all necessary sharpening and maintenance, our aim is not to return your knife to its brand new appearance. Learn more about MKC Generations Promise.


EXCLUSIVE MKC OPEN CARRY SHEATH 2.0
Each Montana Knife Company™ Stoned Goat comes with an exclusive Kydex sheath. This click-in locking sheath can be adjusted for either horizontal or vertical carry, left or right-hand placement, and varying blade retention. The reversible quick-attach belt clip also lets you attach the sheath without removing or unclasping your belt. And at just 2 oz, it's still economical for your ultralight needs.


DETAILS:
Blade Steel: 52100 Ball Bearing Steel

Full Tang Construction

Overall Length: 7 3/4"

Blade Length: 3 3/4"

Ultrathin .095 Blade Thickness
Black Parkerized Finish - Minimize Glare & Rust
Handle Material: USA Paracord
7+ Feet Of Cord For Emergency Use
100% Made in the USA

Hand Finished in Montana
Great knife, but I would like a diffuser grip.
Great blade. I would love to see a non paracord grip option for both the stoned goat, mini goat, and speed goat. I am very happy with the blades. That is why I keep buying them!
Just what you want in a knife
This knife is lite weight sharp quality and feels like you want to put it to good use.
Stoned Goat
Extremely light, versatile, and easy to carry. Bought this with the intention of using it for buck season. Been carrying it everyday since it arrived. It's crazy low profile and light, but enough to hold onto. Feels comfortable in hand. Highly recommend
Stoned Goat
I love this knife broke down two elk with it and a Speedgoat. my favorite all around skinning knife.
The stoned goat
Feels great in hand,have not used yet but attached to my pack with ease,making it very asseable when I do. American made quality.