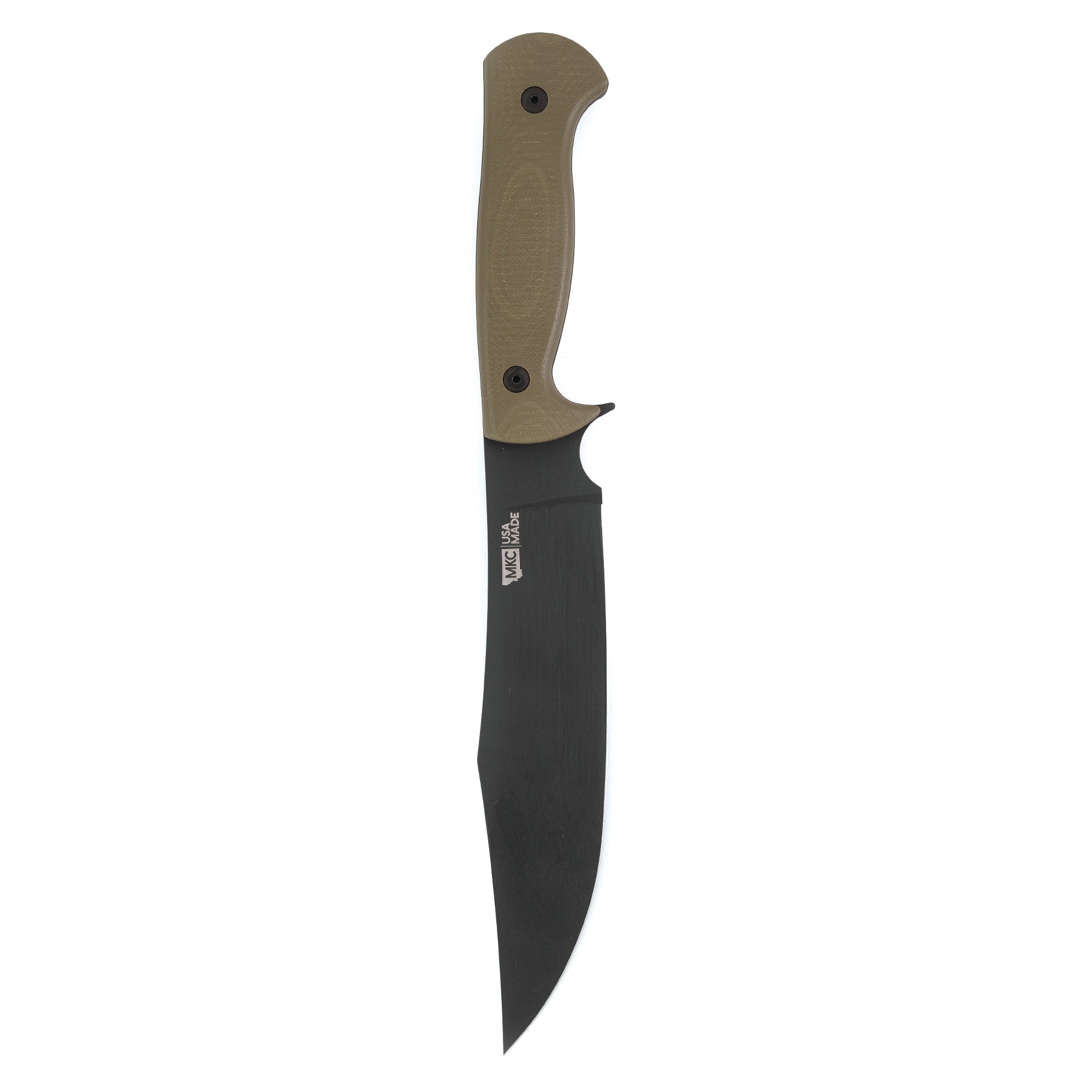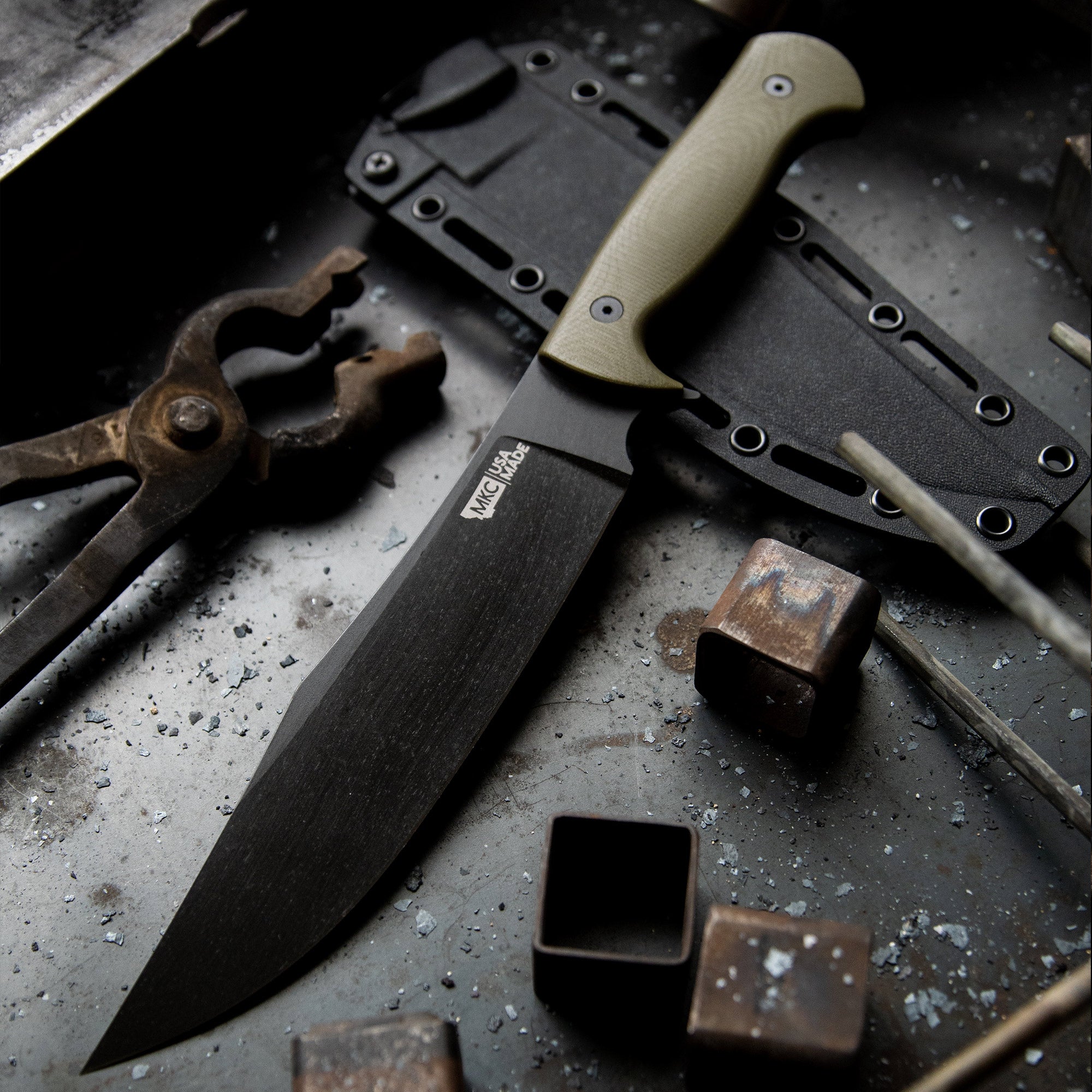 THE MARSHALL BUSHCRAFT KNIFE - OLIVE
Chop. Cut. Pound. Dig. Camp. Survive.
As our biggest, widest, thickest blade yet, the Marshall Bushcraft Knife is truly the boss of the MKC lineup. Unlike our smaller, lighter hunting knives, the Marshall is specifically designed for bushcraft.

Measuring 12 5/8″ from tip to end with a 0.170″ spine, it's stout enough to chop and baton wood for fire and shelter, split kindling, pound tent stakes, dig holes, cut rope and cordage, dress game, prep food, and assist in self defense.

The Marshall takes its name from the Bob Marshall Wilderness Area in Western Montana, known for its breathtaking landscape and high numbers of grizzly bears, wolves, elk, moose, cougars, and goats. "The Bob" will challenge even the most seasoned hunters and adventurers, and the MKC Marshall Bushcraft is the ideal companion.
Sign Up for Text Alerts!
Stay in the Loop on Product Drops and Exciting Promotions!
Specs
Blade Steel

52100 Ball Bearing Steel

Design

Full Tang Construction

Overall Length

12 5/8"

Blade Length

7 5/8"

Blade Thickness

0.170"

Knife Weight

9.8 Oz

Black Parkerized Finish

Minimize Glare & Rust

Blade Finish

Black Parkerized

Handle Material

G-10

Manufactured

100% Made in the USA

Hand Finished

in Montana
A True Generational Piece
If I could catch the facial reactions of the individuals I've shown this beauty to, then I could do this review justice. Specs aside, it's stunning in appearance. Put it through the wringer on any upcoming outdoor adventure, not only are the specs going to speak for themselves, but you're going to have a ball self-reviewing the Marshall's capabilities. This will be the new generation of knife I'll pass down someday much like the Bowie knives that my grandfather passed down to me. It's functional, and it's forever.
Luke,
Functional and Forever is why we do what we do! And especially when it comes to our Generations program. These knives are meant to be passed down and we can only make that happen by producing quality stuff! Thank you so much for the great review, and glad to hear you like it!!
Desire
When you you have the Marshall back in stock? I would really like to add one to my kit.
Mark,
Really soon! Be on the lookout - like REALLY soon!
Marshall bush
What a knief buy one when you get a chance. Love it, stays in my 4wheel pop up
Thanks David! The Marshall is definitely a 'do it all' knife and great to keep around!
Now that's a knife
Surprisingly light for the size. Now that you got my review make some magna cut mini goats. I need at least two or three
Thanks! Magnacut Mini's are on the way!
Perfection!!!
Such an amazing knife. From fighting grizzlies to chopping firewood this knife handles it all. I never set out for an adventure without it. The quality is top notch and it shows in the craftsmanship. I look forward to passing this knife down to my son knowing without a doubt that he will be able to pass it down to his someday.
Andrew,
The Marshall truly is a knife built for any task, and no doubt could hold its own against a griz - although we don't recommend trying it! In all seriousness, glad you are enjoying it and thank you for the review!