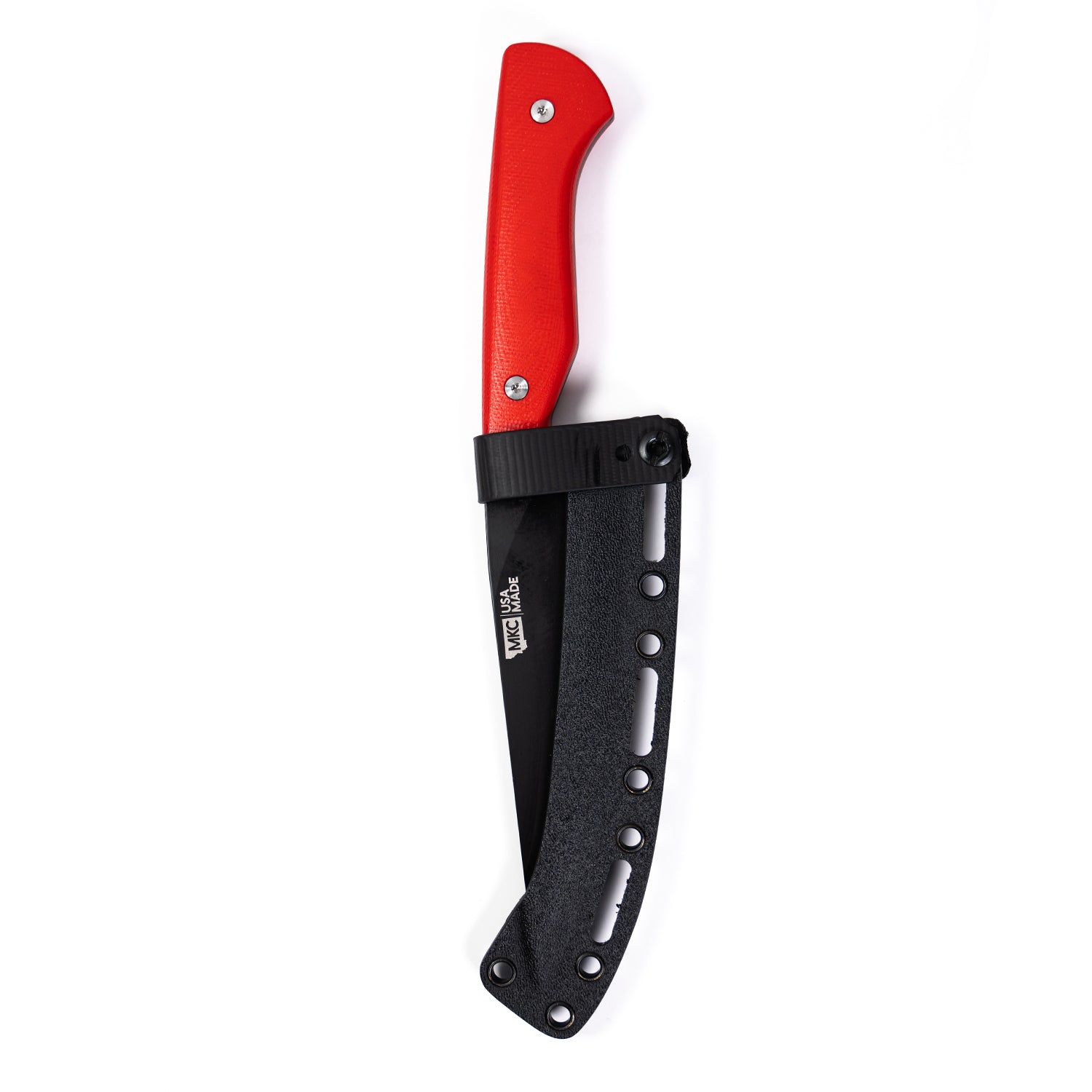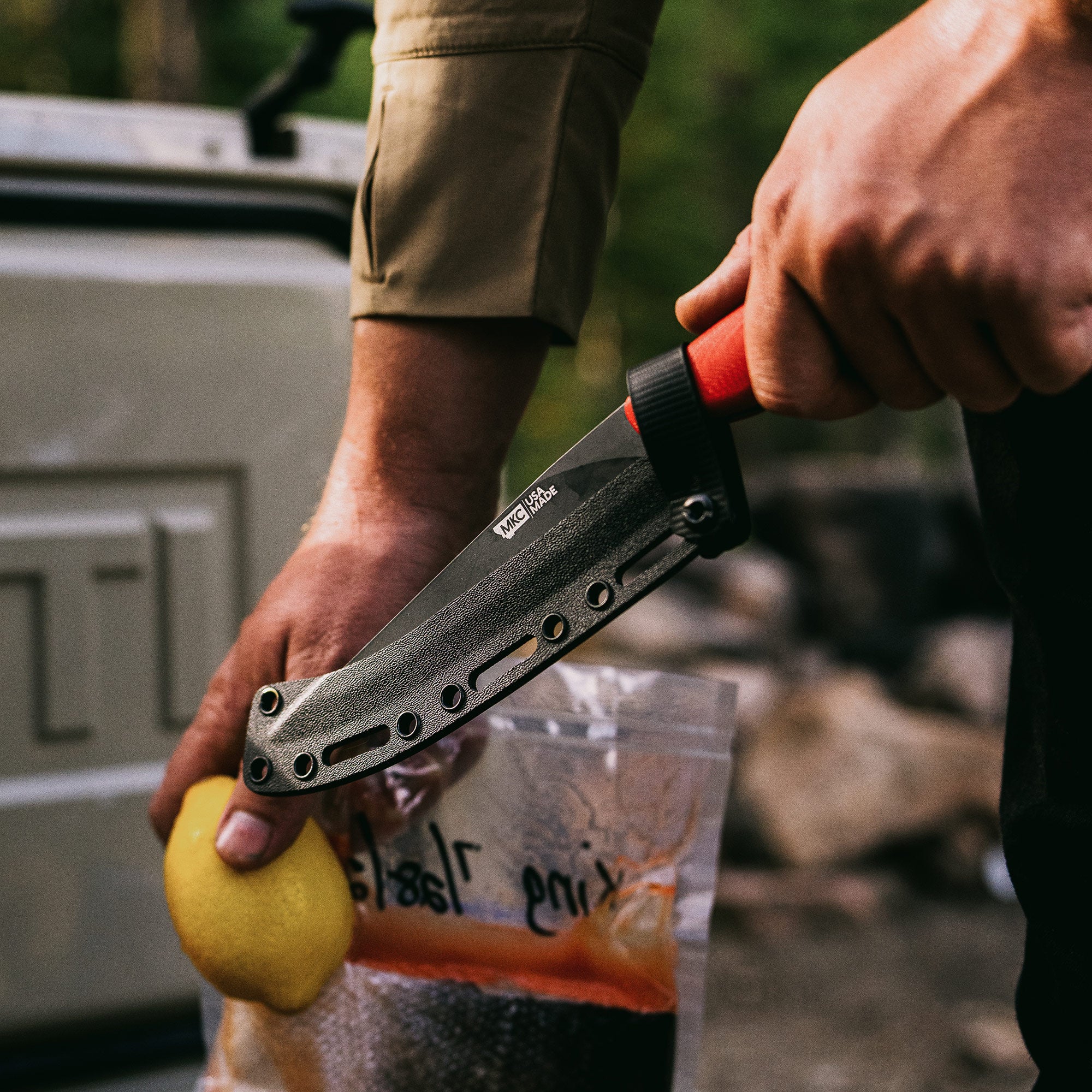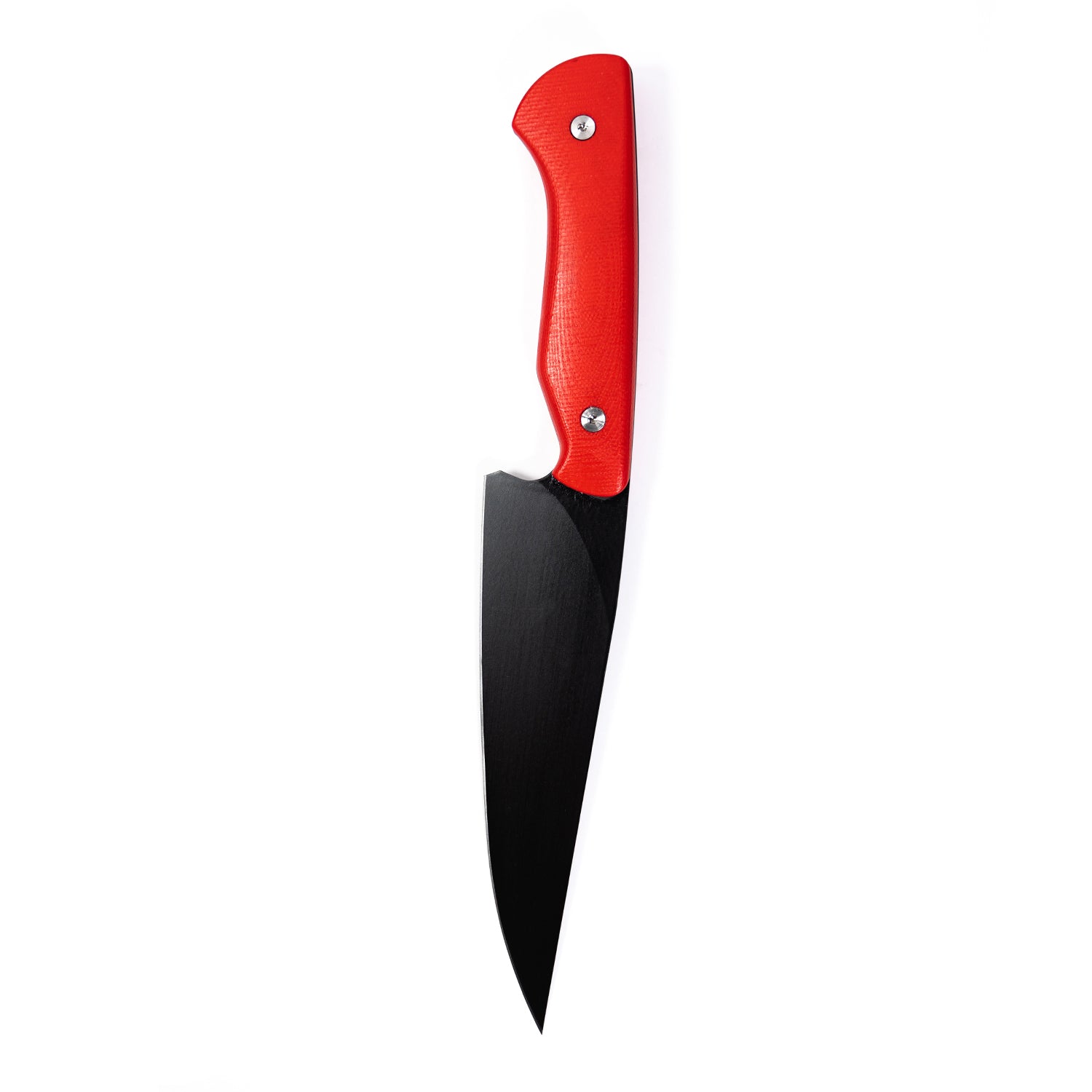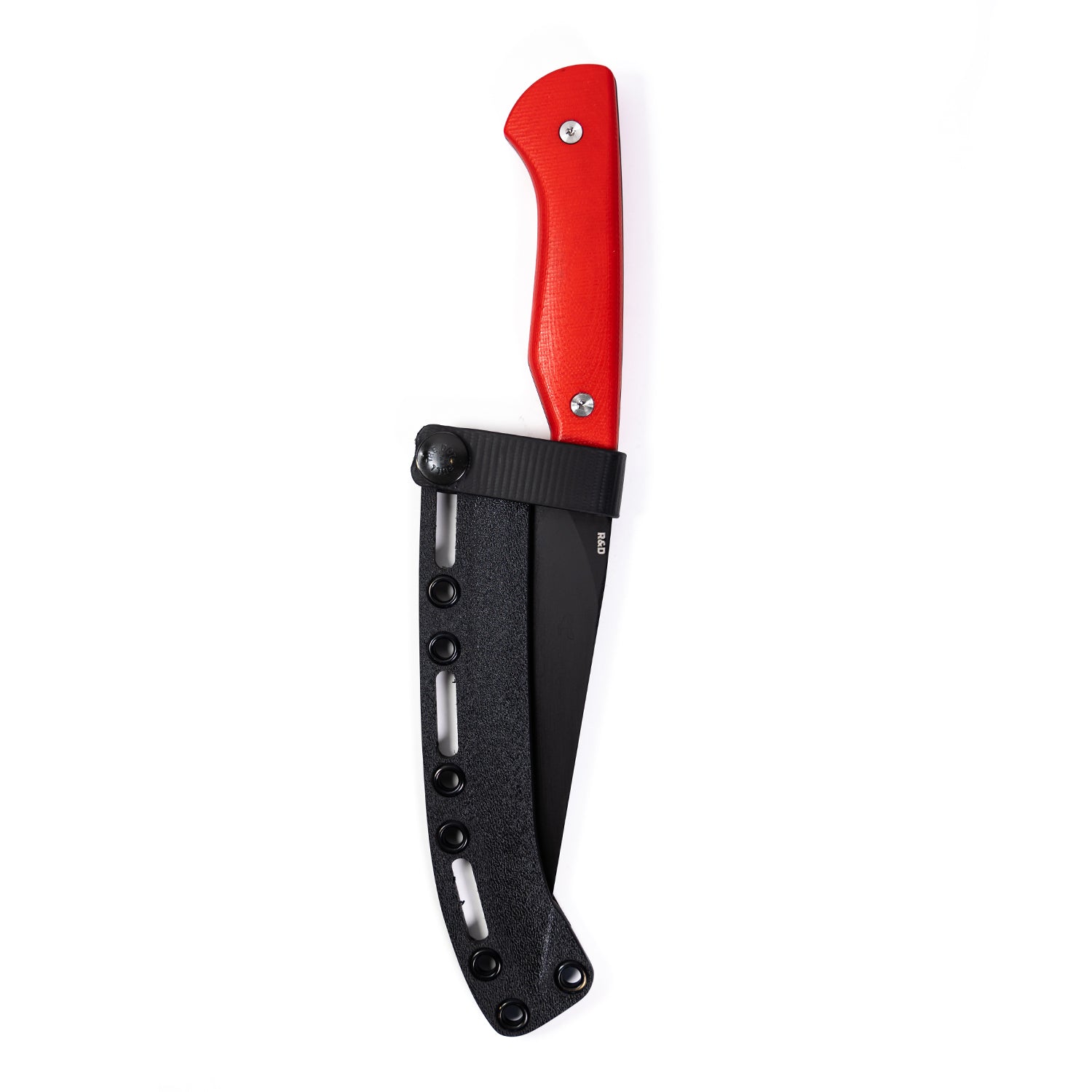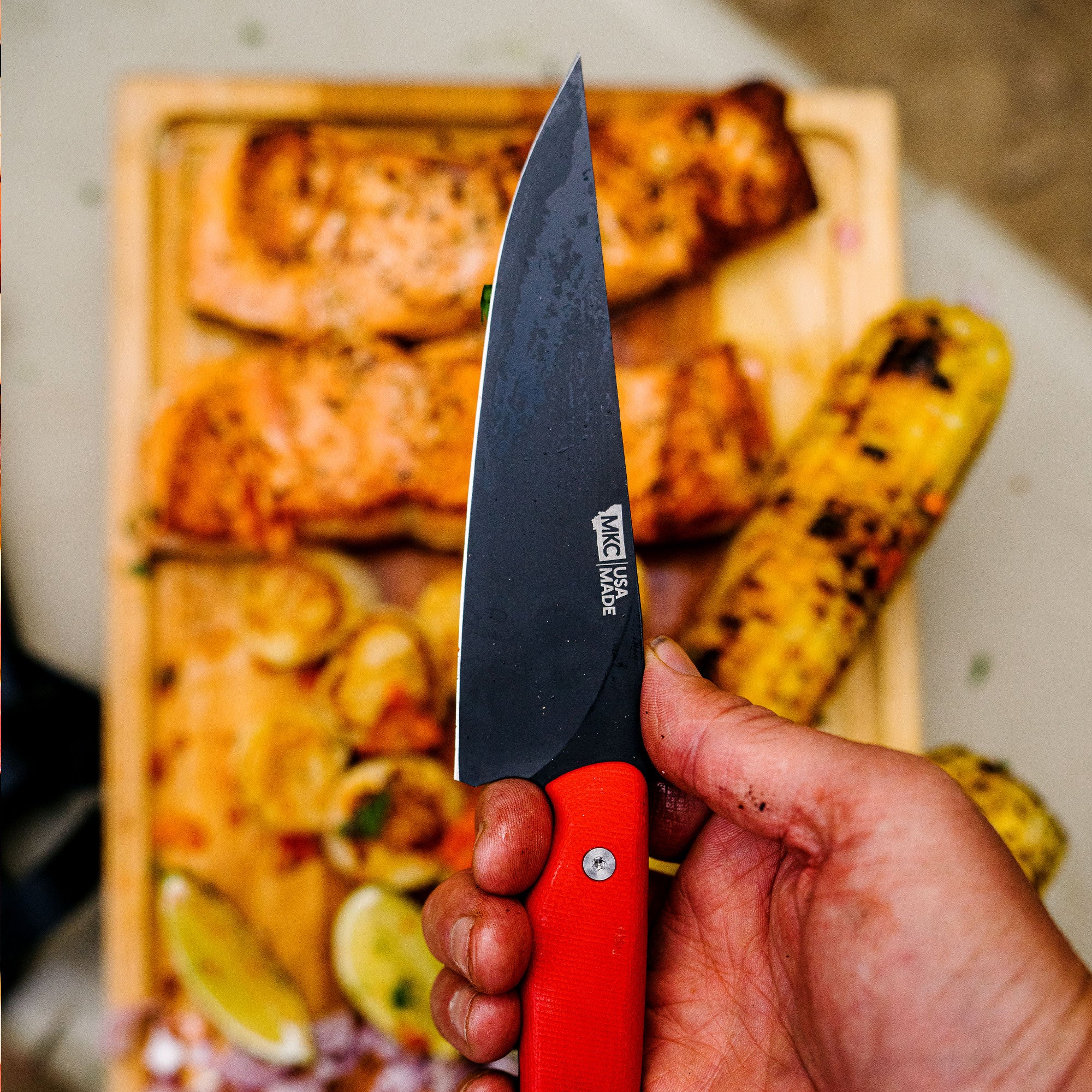 LITTLE BIGHORN PETTY - RED
Small But Slicey.

The word petty in petty knife literally comes from the French word petit, which means "small." While the Bighorn Chef's Knife excels at large slicing tasks, like breaking down large fruits and vegetables or big cuts of meat, the smaller, handy MKC Petty Knife is perfect for finer tasks in the kitchen. Petty knives are essentially utility knives used for work done off the cutting board. It's the knife you use when you're cutting a vegetable in your hand or breaking down a chicken.

This knife really excels in tasks like boning and smaller work. A petty knife's narrow tip allows you to get into joints and work around corners. At the same time, it's a very versatile and a handy slicing knife & great for cutting up small fruit and vegetables.
Available Colors:
Sign Up for Text Alerts!
Stay in the Loop on Product Drops and Exciting Promotions!
Specs
Blade Steel

Magnacut Stainless Steel

Design

Full Tang Construction

Overall Length

10 1/2"

Blade Length

5 7/8"

Knife Weight

4.68 Oz

Blade Finish

Black Cerakote

Handle Material

G-10

Manufactured

100% Made in the USA

Hand Finished

in Montana
Amazing knife
Its super sharp and maneuvers perfectly. Great feel in my hand. Im way more into cooking knowing this gem is waiting on the knife rack. Its easily my favorite kitchen knife. And most important...made in USA.
GameChanger in the kitchen!
Legendary sharpness!
Great fit and balance, extremely functional.
You get what you pay for and this is a quality knife!
excellent
This is an amazing tool. It is a wonderful shape, is wicked sharp, comfortable in hand, and durable. The only thing I'd change would be to offer a wood-handled version as the G10 is a bit too synthetic-looking for our kitchen.
Josh,
Thanks for the great feedback. Glad you love your Little Bighorn!
Great knife
Love this knife and cuts just about anything from meat to veggies. Super sharp and easy to maintain.