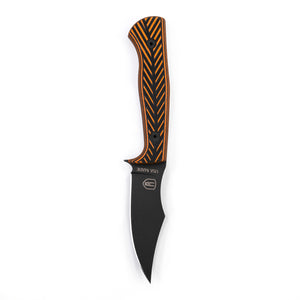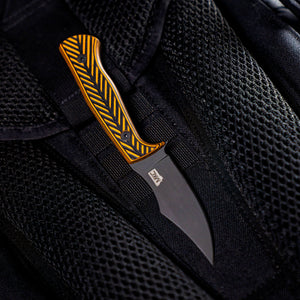 NOCK ON - TRIUMPH HUNTER - ORANGE AND BLACK
$300.00 USD
– RESTOCKING SOON
---
By Hunters, For Hunters

The Triumph Hunter is the proud achievement of Nock On's John Dudley and MKC's Josh Smith first design collaboration. The Montana Knife Company X John Dudley Nock On Triumph is versatile, capable, and full of personality. Light enough for a goat hunt, but large and strong enough to field dress an elk, this knife is ready to tackle any gun or bow hunting excursion. This isn't just another collector's item, it's a part of your essential gear.
MKC X John Dudley Nock On Collaboration
We wanted to capture the same attention to craftsmanship and excellence John Dudley brings to Nock On in a hunting knife. Now, Montana Knife Company is proud to present this one-of-a-kind collaboration. Based on decades of hunting experience as archery's top expert, John Dudley's initial design addressed everything he wanted in a hunting knife: a combination of lightness, size, sharpness, toughness, durability, and unique design. It doesn't get any better than this.

Parkerized 52100 Carbon Steel Blade:
The Triumph is made from cryogenically-treated 521000 high carbon ball-bearing steel, achieving the perfect balance of toughness, edge-retention, and easy resharpening. The blade is also parkerized to a matte black finish which minimizes rust and glare.
Compact Length:
The Nock On Triumph's 3.375" blade length minimizes load and space for any pack. Weighing 3.44 oz, it's ideal for lightweight hunting.
Extended Finger Guard:
The Triumph's extended finger guard protects fingers from slipping to the blade's edge during any task.
Balanced Thumb Groove:
Josh and John added a thumb groove to the blade's spine to give more control, dexterity, and greater ability to apply pressure.
Custom "Feather" G-10 Handle:
G-10 is famous for being strong, durable, and stable — unmatched by any natural handle material. John Dudley's unmistakable custom "feather" G-10 handle won't absorb blood and provides superior grip, even when wet and bloody. Three hollows are cut into the handle to decrease weight and allow for maximum epoxy bonding before screws and high-strength Loctite secure the perfect fit.


Customizable Kydex Sheath

Each Montana Knife Company X John Dudley Nock On Triumph comes with an exclusive Kydex sheath. This click-in locking sheath can be adjusted for either horizontal or vertical carry, left or right-hand placement, and varying blade retention. The reversible quick-attach belt clip also lets you attach the sheath without removing or unclasping your belt.
DETAILS:
Blade Steel: 52100 Ball-Bearing Steel

Full Tang Construction

Handle Material: G-10

NEW Feather Grip Handle Design

Sheath: Black Kydex Modular Belt Loop

Finish: Black Parkerization

Blade Length: 3.375 in

Total Length: 7.5 in

Knife Weight: 3.44 oz
Held the sharpness on elk #1
Coming from exchangeable blades I was very impressed at the sharpness out of the box. Held a sharp edge without any touch ups on a good bull. Hunting buddy said the blade felt good in the hand.
Blake,
Congrats on the bull!! Based on the brow tines and the thick bases it looks like a stud!! Glad to hear the Triumph held up and thank you for the review!
Awesome knife!
I thought I only needed 2 MKC knives. After handling and using this knife, I do not want to be without it in my arsenal! Amazing!
Chad,
Those Triumph models will do that to you! They are so ergonomic and the different size options make it to where there's something for everyone! Thanks for the review!
Awesome knife
I haven't had a chance to use it yet, but it's in my pack and I'm on my way to archery elk camp. Hopefully I can come back and let you know how great it worked on my bull!
Brian,
That Triumph is perfect for elk! Good luck out there and thank you for the review!
Knock On Hunter--OUTSTANDING
Received the New Knock on Hunter will be great for deer/bird (goose/duck/dove) cleaning--Another Great Product from MKC--please hire more folks to keep up with demand--
Thanks you
Bruce Wayne Schneider
Thanks Bruce! The Nock On Triumph series is truly versatile. And we are definitely hiring more folks all the time!
THE Triumph Knife
I purchased both Variants of the knife and absolutely love them! They were presented very well when opening the box. They were sharp immediately out the box and were ready to be used. I can't wait to use them this hunting season along with cooking. Thanks MKC Team for producing American made products!
Joshua,
Presentation is important, along with the quality of the knives! Those Triumph knives are unique in the fact the G10 handles are feathered and there is a thumb rest and finger guard. Definitely inspiring for our other knives! Good luck this season and thank you!!