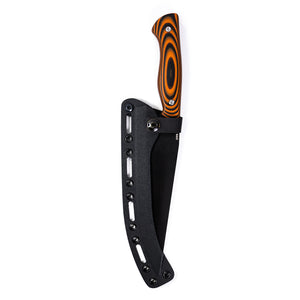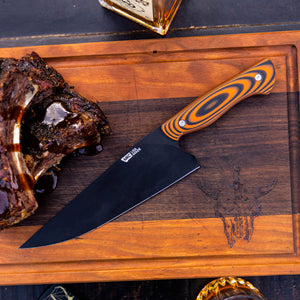 BIGHORN CHEF - ORANGE & BLACK
$500.00 USD
– RESTOCKING SOON
---
When we launched MKC, we started with the Blackfoot blade because we wanted a great, all-purpose knife. We took the same approach with our culinary knives. The foundation of every great kitchen is a favorite chef's knife, so we created the Bighorn, an 8- inch chef's knife that can handle everything from carving a Thanksgiving turkey to dicing up cherry tomatoes to coring an apple. If you only have one knife in your kitchen, this is the knife you want. 

MKC X MAREKO MAUMASI COLLABORATION

We asked renowned knife maker Mareko Maumasi — with his extensive knowledge as a bladesmith and experience in the restaurant industry — to join MKC and design our first line of culinary knives. To create a top-tier chef's knife, we wanted to go above and beyond the standard to address common problems people run into with chef's knives. Mareko designed every square inch of the Bighorn with purpose and precision — and with the goal of making kitchen tasks a joy, not a chore.





DETAILED BREAKDOWN OF FEATURES

MAGNACUT Stainless Steel

As a cryogenically heat-treated stainless steel, MAGNACUT provides the perfect blend of toughness, edge retention, and corrosion resistance. Unlike other stainless steel blades, MAGNACUT can be easily resharpened — even by novice knife owners. More wear-resistant than other stainless steels, and more corrosion-resistant than carbon steel, MAGNACUT is in a class of its own. 
Learn more about MAGNACUT Stainless Steel from the creator: Larrin Thomas.
Ergonomic Handle:
It was important to us that our chef's knife have an incredibly comfortable, ergonomic handle – because the relationship you have with this tool is through the handle. With zero hotspots and zero sharp corners, this knife will stay comfortable in your hand whether you're chopping a few vegetables or using it for long prep sessions.
Knuckle Clearance:

Mareko designed the Bighorn's cutting edge profile so that when it rests flat on a cutting surface, it gives the handle a nice upsweep to provide much more knuckle clearance than you typically see.
Sharpening Endurance:

Most chef's knives come in at around two inches wide, but the Bighorn's extra quarter inch extends its life in terms of sharpening. That results in a knife that will provide years of service to you, and that you can hand down to your children.
Angled Heel:

The unusual way the heel angles back down towards your fingers is a key design element that makes this knife unique. This purposeful design takes what usually counts as wasted space on a blade and puts it to work as a guard for your fingers, and even making the blade feel shorter than it is.
Free Sharpening For Life & Beyond:
Generations® is our promise to restore your knife to its original, unmatched working condition. MKC will clean, sharpen, repair, and even reshape your blades when necessary, as well as rewrapping handles free of charge. 
While we perform all necessary sharpening and maintenance, our aim is not to return your knife to its brand new appearance. Learn more about MKC Generations Promise.
LOCKING KYDEX SHEATH
Every Bighorn Chef's Knife comes equipped with its own custom-molded Kydex sheath with a slip that covers the edge and tip of the blade and snaps on tight. This allows you to throw the knife in your hunting pack, keep it at basecamp or store it safely in your kitchen to protect the edge from other tools – and your fingers.

DETAILS:
Blade Steel: Magnacut Stainless Steel

Full Tang Construction

Handle Material: G-10

Sheath: Black Kydex Travel Sheath

Finish: Black Cerakote

Overall Length: 12 7/8"

Blade Length: 7 7/8"

Knife Weight: 8.6 oz

100% Made in the USA

Hand Finished in Montana
Excellent Tool
I have used several production and custom kitchen knives over the years. Some were good and some were lacking in small ways. MKC has done an excellent job with this knife. Most all of the aspects of this knife have been well thought out, blade shape, grind, handle shape and countours. This comes through when using such an awsome tool in the kitchen. I especially like how the handle transitions to the blade, it tapers nicely without any sharp edges. If I was to change one thing on this knive it would be to radius the edges of the spine and the choil. The squared edges cause hot spots with prolonged use. This is only an issue when using a knife for hours at a time. I know this would add a step and time to the manufacturing process but it would make this knife as close to perfect as possible. That being said this is one of the best, chef's knives I have ever used. Keep up the excellent work.
Big and Sturdy
This is my first knife from MKC. I'm one of those who heard about it from Rogan.
This knife is big, heavy duty and beautiful. I'm still waiting on the chance to use it on something larger like a roast or turkey, but so far it eats up smaller tasks with ease. Looking forward to using it more!
Bighorn chefs knife
When I purchased my first knife it had a chip in it. Montana Knife Company had a replacement sent out and delivered within two to three days. My replacement was perfect. I had only used it cutting peppers so far. As of now it is a phenomenal knife worth every penny.
My husband lost his mind!
I found these guys on instagram so I ordered the big horn for my husband, when I gave it to him he was so stoked. he walks around the kitchen with it tucked in his apron like he's an operator … so funny but anyways the knife is amazing and balanced perfectly… thanks MKC your gear is solid.