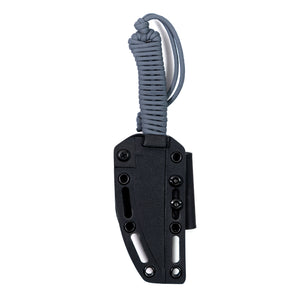 Tough. Sharp. Versatile. Adaptable. Remarkably light.
It isn't hard to see why The Speedgoat is one of our most popular blades. It can handle just about anything — from caping, gutting, skinning, and deboning an elk to cleaning fish, cutting line, and so much more. And at just 1.7 oz, this do-it-all blade is specifically crafted to be packed to the most difficult-to-access locations so you can pursue your passions faster.
The Speedgoat takes its name from the Pronghorn Antelope native to Montana and the American West. As the fastest land mammal in the Western Hemisphere, it moves through the toughest terrain with speed and precision, making it the perfect symbol for our lightest hunting blade.




DETAILED BREAKDOWN OF FEATURES

Parkerized 52100 Carbon Steel Blade
The Speedgoat is made from cryogenically-treated 52100 high carbon ball-bearing steel, achieving the perfect balance of toughness, edge-retention, and easy resharpening. The blade is also parkerized to a matte black finish which minimizes rust and glare.
Ultralight Design
While the G-10 handles of our other blades are already light, we wanted to take our approach to ultralight knives step further. After skeletonizing the tang (steel part of the handle) to shed unnecessary ounces, we wrapped it in 550 paracord to minimize load. The Speedgoat's blade is also ultra-thin, measuring just 0.095" thick at the spine.
550 Paracord Handle
Wrapping the handle in seven feet of 550 paracord was just as much for minimizing weight as maximizing versatility. It can fix a broken boot lace, tie down a tent, hang meat in a tree, act as a tourniquet for wounds, or help in any number of unexpected, emergency situations. And when the paracord is removed from the handle, the Speedgoat still fits securely in its sheath.
Full Size Handle Length
Too often, ultralight knives have shortened, unwrapped handles that can quickly wear out your hands as you process an animal. Despite its ultralight design, the Speedgoat has enough handle to keep your hands comfortable enough for extended use.

Free Sharpening For Life & Beyond:
Generations® is our promise to restore your knife to its original, unmatched working condition. MKC will clean, sharpen, repair, and even reshape your blades when necessary, as well as rewrapping handles free of charge. 
While we perform all necessary sharpening and maintenance, our aim is not to return your knife to its brand new appearance. Learn more about MKC Generations Promise.


EXCLUSIVE MKC OPEN CARRY SHEATH 2.0
Each Montana Knife Company™ Speedgoat comes with an exclusive Kydex sheath. This click-in locking sheath can be adjusted for either horizontal or vertical carry, left or right-hand placement, and varying blade retention. The reversible quick-attach belt clip also lets you attach the sheath without removing or unclasping your belt. And at just 2 oz, it's still economical for your ultralight needs.


DETAILS:
Blade Steel: 52100 Ball Bearing Steel

Full Tang Construction

Overall Length: 7 3/4"

Blade Length: 3 3/4"

Ultrathin .095 Blade Thickness
Black Parkerized Finish - Minimize Glare & Rust
Handle Material: USA Paracord
7+ Feet Of Cord For Emergency Use
100% Made in the USA

Hand Finished in Montana
Want another
Love this knife, looks great, feels great,
Thanks for the review Jimmy! Glad to hear you like it!
1st MKC knife!
Bought one of these as my first MKC knife and it always has a place in my pack. Lightweight, SHARP, and have had to use the paracord more than once. First knife I've ever had with a kydex sheath too. Absolutely amazing!
CB,
That paracord certainly comes in handy! Thanks for the review!
Speedgoat knife
Really hesitant to spend this much on a knife. I spend 100+ days hunting in North Dakota and Wisconsin a year. Over 30 years in the woods and fields I've lost as many knives. The kydex sheath is the best retention system I've seen. It's hard to get it off my belt at the end of the day. The horizontal carry position is really comfortable sitting in truck or walking. Don't even know it's there. No concerns of it falling out of sheath either. The knife itself is really light too. Only 3 days into duck season cleaned 2 limits. Knife still as sharp as when unboxed. Excited to see how it holds up but so far expectations have been exceeded. Thanks for designing and building this knife MKC.
Rob,
Congrats on hitting some limits! Glad to hear your Speedgoat held up to the task - they are designed to be as lightweight but as capable as possible, and a LOT of R&D into the steel, blade profile, and even the sheath. We hope you get a ton of use out of it for years to come, and thank you for the great review!
Best knife on the market
Bad ass company and an even more bad ass knife. As a resident of the 406, these guys are going to get a lot of my money and I won't be thinking twice about it.
Hersch,
Thank you so much! 406 for the win!
Fantastic Knife
Really enjoy the simplicity, blade shape, and quality of construction. Best of all is how strong, yet lightweight the Speedgoat is. To top it off, it's made in Montana!
Todd,
The Speedgoat was designed to be as lightweight as possible while still retaining blade strength and keeping a capable blade size. Glad you are enjoying it and thank you for the review!