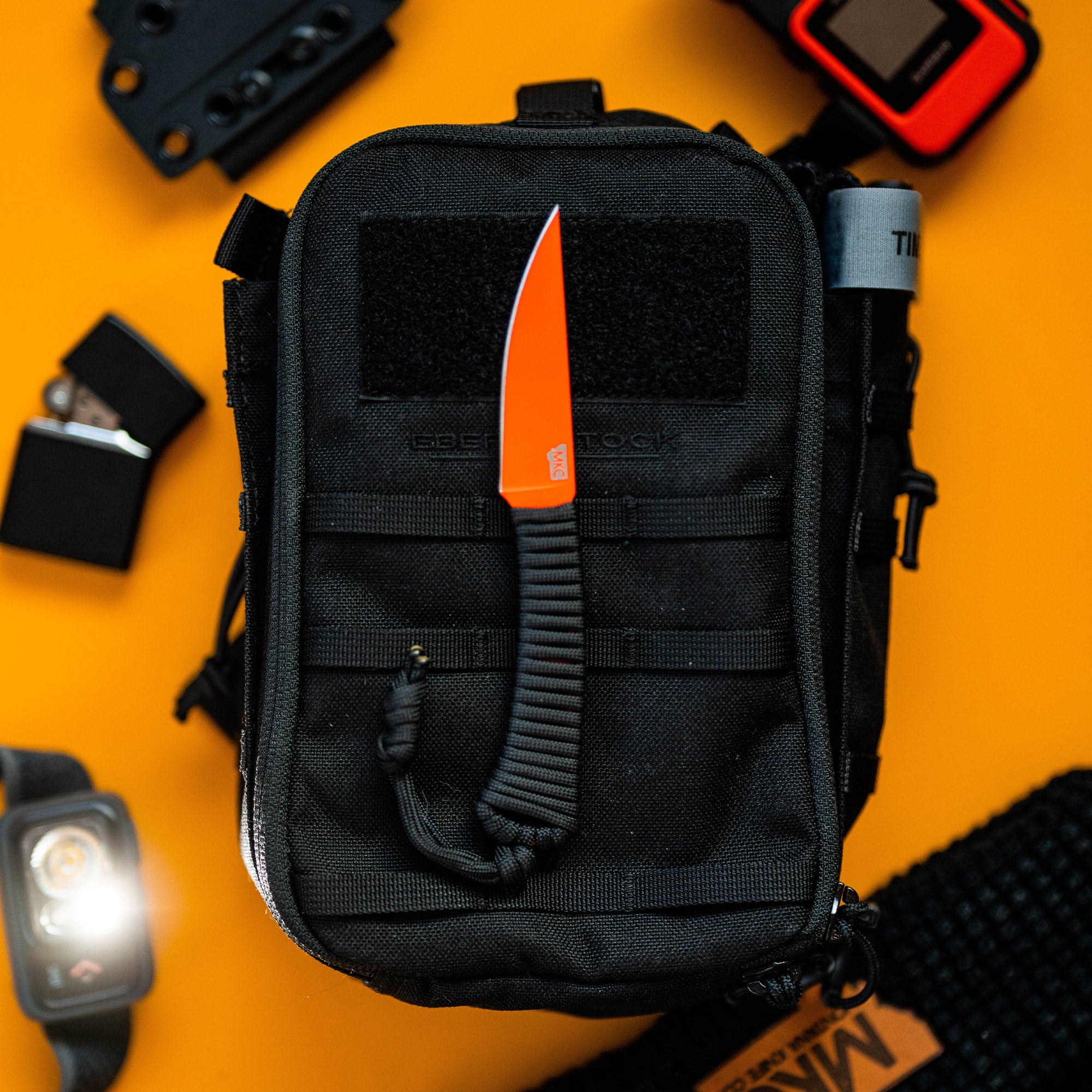 MINI-SPEEDGOAT - BLAZE ORANGE CERAKOTE™

Small and Mighty
The Speedgoat has become one of our most popular knives because of its weight, thinness, and toughness. Meet its little brother, the Mini-Speedgoat. The Mini-Speedgoat is tough enough to tackle the same tasks as the Speedgoat, but the smaller, thinner, and lighter design makes it even more ideal for non-hunting purposes…
Everyday Carry
At 6.5 inches and 1 ounce, the Mini-Speedgoat is the first practical fixed-blade EDC knife. It's virtually unnoticeable when clipped inside a pant pocket, and the 3-inch blade makes the Mini-Speedgoat legal for open carry in most U.S. cities.
Bird and Trout
While the Speedgoat and Blackfoot quickly became the go-to blades for many anglers and small game hunters, we felt the knives were slightly overbuilt for these tasks. The Mini-Speedgoat is the perfect size. When clipped to chest waders or fly vests, it lies flat and won't interfere with casting motions. The compact blade design also acts like a surgical scalpel in the right hands.
 Trail Companion
Bear spray and firearms can be incredibly effective for self-defense on the trail, but they're often too cumbersome to carry — especially on intense hikes and trail runs. The Mini-Speedgoat clips comfortably in running shorts' pockets or on leggings, bra straps, and heart rate monitors. This gives a reliable measure of defense without hindering movement or performance.
Like its bigger brother, the Mini-Speedgoat takes its name from the Pronghorn Antelope native to Montana and the American West. These aptly named "speedgoats" are the fastest land mammals in the Western Hemisphere. They can move through the toughest terrain with extreme speed and precision, making them the perfect symbol for our lightest hunting blade.


DETAILED BREAKDOWN OF FEATURES

Blaze Orange Cerakote™ Coating
The Blaze Orange Cerakote coating is visually stunning. It also has a practical purpose. The baked-on Cerakote finish makes the Mini-Speedgoat easy to clean and resistant to rust and wear.
Ultralight, Ultra-Thin Design
With the Mini-Speedgoat, we took the ultralight design of the Speedgoat a step further. While it's only 17% shorter, it's over 40% lighter than its big brother. The skeletonized, paracord-wrapped handle sheds ounces and reduces hand fatigue. The Mini-Speedgoat is also incredibly thin — 0.095″ at its thickest point and 0.01″ at the edge, making it incredibly easy to sharpen, maintain, and carry.
Exclusive MKC Open Carry Sheath 2.0
Each Mini-Speedgoat comes with a 100% Made in the USA, custom MKC Kydex sheath. The sheath features a built-in retention screw to customize blade tension and allow for handle-down carrying. The Mini-Speedgoat sheath comes with two unique sheath clips. The Kydex clip allows you to carry your knife on a pack or belt loop, either horizontally or vertically. The fabric-grabbing metal pocket clip features a retainer tab that keeps the sheath secured to pants, shorts, leggings, sports bras, or MOLLE webbing when removing the knife for use.
550 Paracord Handle
Wrapping the handle in 6.5 feet of 550 paracord was just as much for minimizing weight as maximizing versatility. It can fix a broken boot lace, tie down a tent, hang meat in a tree, or help in any number of unexpected, emergency situations. And when the paracord is removed from the handle, the Mini-Speedgoat still fits securely in its sheath.

Free Sharpening For Life & Beyond:
Generations® is our promise to restore your knife to its original, unmatched working condition. MKC will clean, sharpen, repair, and even reshape your blades when necessary, as well as rewrapping handles free of charge. 
While we perform all necessary sharpening and maintenance, our aim is not to return your knife to its brand new appearance. Learn more about MKC Generations Promise.
DETAILS:

6.5" Overall Length
3" Blade Length
Ultrathin 0.095 Blade Thickness

Ultralight 1 Ounce

100% USA MADE – Hand Finished in Montana

52100 Carbon Steel "Ball Bearing Steel"

Orange Cerakote™ Finish – Minimize Glare & Rust

USA Made Paracord Wrapped Handle

550 Paracord (550lb Weight Rating)

7+ Feet Of Cord For Emergency Use

Exclusive MKC Open Carry Sheath 2.0

Meant For External Carry For Easy Accessibility

Ultralight Sheath at 2 Ounces

Retention Screw for Custom Lock

Removable MKC/Pack Belt Clip

Additional Fabric Grabbing Pocket Clip

Made to Be Customizable Vertical/Horizontal
Sign Up for Text Alerts!
Stay in the Loop on Product Drops and Exciting Promotions!
Specs
Blade Steel

52100 Ball Bearing Steel

Design

Full Tang Construction

Overall Length

6.5"

Blade Length

3"

Blade Thickness

0.095"

Knife Weight

1 Oz

Blade Finish

Blaze Orange Cerakote

Handle Material

USA Paracord

Manufactured

100% Made in the USA

Hand Finished

in Montana
Big love for mini-goat
I love mine and use the EDC leather sheath. I paid the price because I want to support an American manufacturing company. Sure, it's an expensive purchase but I believe it to be a good value. It's not for everyone…as the single star reviewers have acknowledged.
Scott,
Those leather sheaths are awesome! Made by our friends at Teton Leather Company over in Idaho. And thank you for your support! Don't forget that all of our blades do come with an unconditional lifetime warranty through our Generations program - we will service them for the life of the knife at no charge to you! Thanks for the review!
WTF Really??
So I am a Marine, I am so sick and F__kin tired of companies giving creators today knives for free,These people whom most can afford whatever because there a bunch of over privileged in active humans you and other companies throw them whatever.Guys like me that actually serve and protect this country you have said hey it will only cost you this well,To everyone out there that has served stop giving money to companies that should be saying hey here is a gift instead they give them to people that couldn't protect themselves let alone anyone else.Do better because you and the others out there supporting these worthless creators because they look cute holding your knives are a joke then when there done with there 30 second video they throw the knife in a drawer with all the other s__t given to them.You actually ever think hey let's give some knives to actual real fcking Veterans.Why support them when they don't actually support us.Semper Fi America
Hi Robert,
First of all, thank you for your service. It's unfortunate that you feel this way - for one we DO support veterans and the armed forces and have worked with many in helping design knives as well as other products like med kits, etc. We also contribute to organizations where we can and also have a discount code available to veterans, active duty and first responders through our website.
With that said, we would not be able to do these things without the proper marketing, and in today's day and age content creators are also a great way to reach more people. Some of the content creators or 'influencers' we work with are also veterans, some still even active duty. Truth be told we really do care a lot about our veterans, active duty and first responders and give back when and where we can - which is pretty often. However, much of this is behind the scenes, as we do not do it for the 'likes' or the publicity. Thank you for your comment and we hope to change your opinion in the future.
Mini SpeedGoat
Perfect size and weight for mounting to my bino harness. Great quality and very sharp
Justin,
Your bino harness is a great spot for the Mini! Very non-intrusive but still accessible for sure. Thanks for the review!
Thanks Keith! The Mini's have become an all around favorite!
Great Knife
Wanted an American made knife and it's the best one I have.
Awesome! Thank you so much for the review - those Mini Speed Goats can handle quite a bit for how small they are!