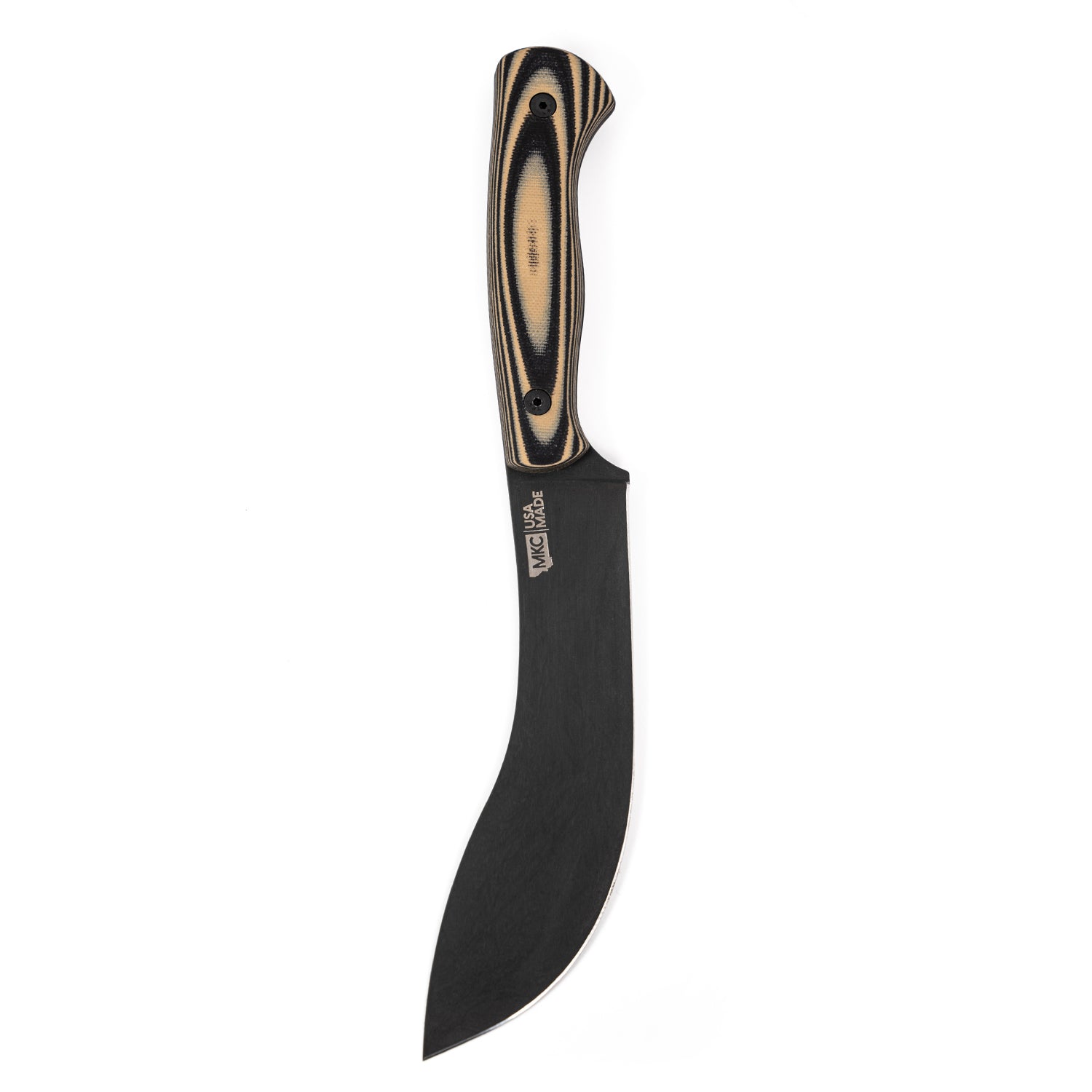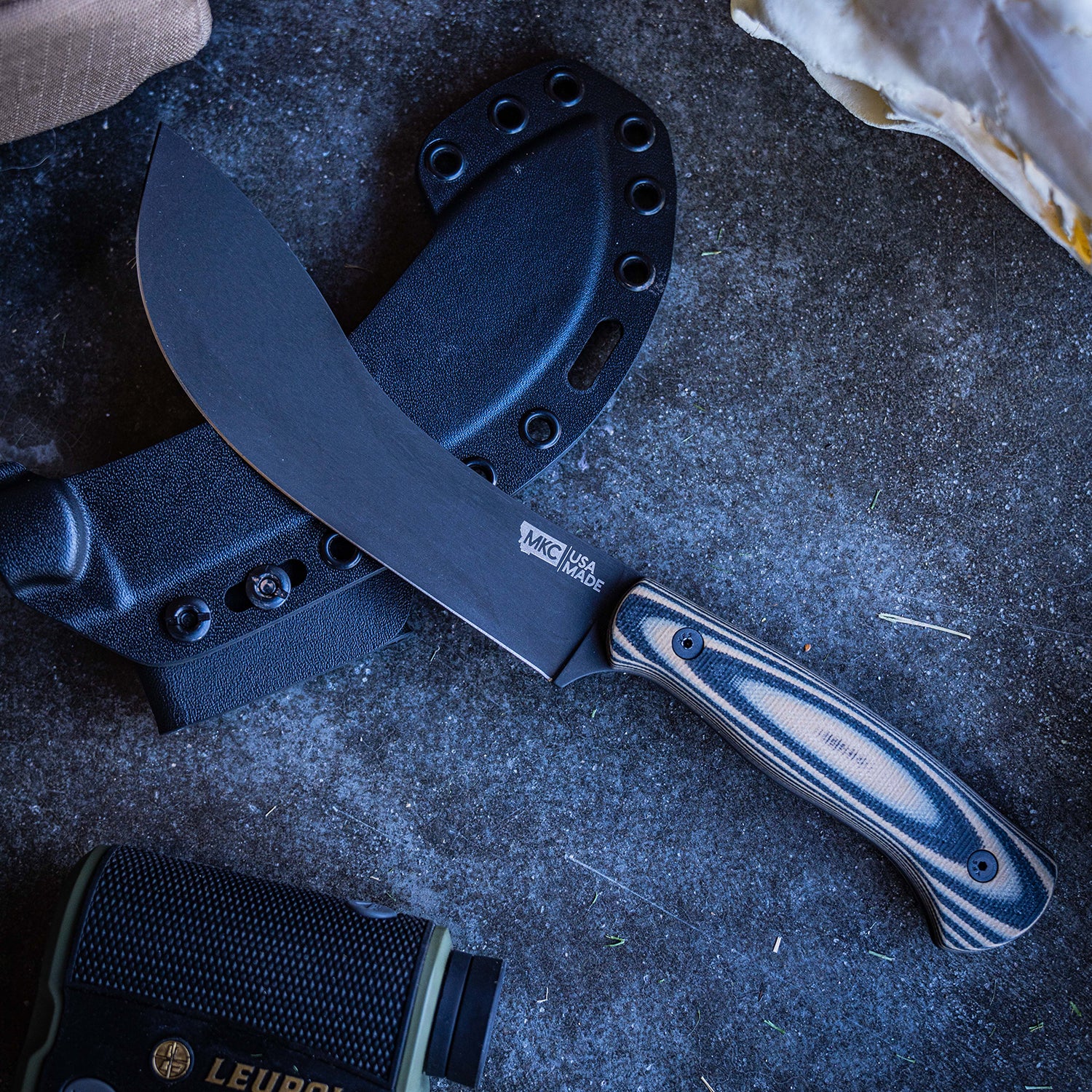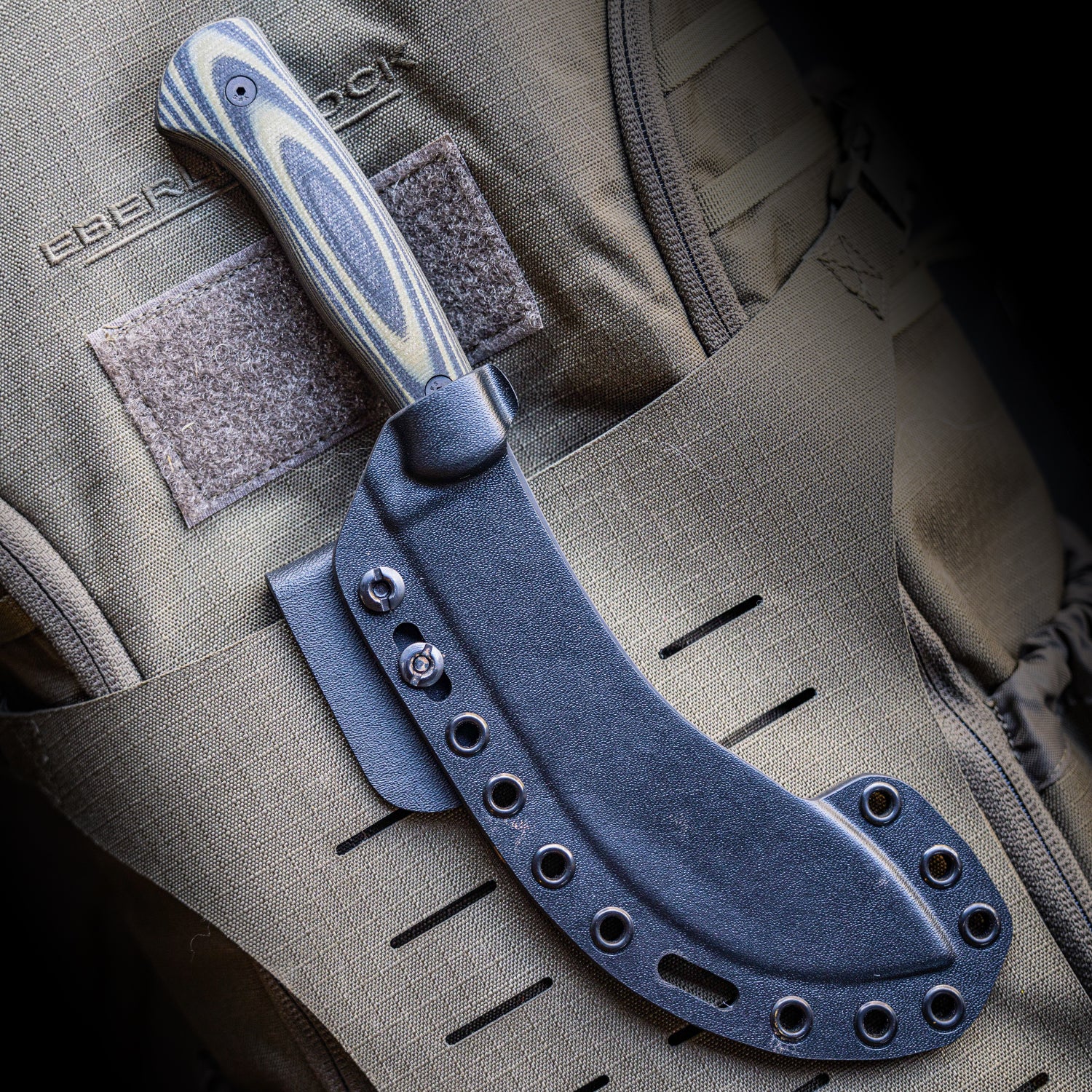 BEARTOOTH - PRO SKINNING BLADE - TAN & BLACK
Designed in the field.
The Beartooth Blade was designed and tested in conjunction with professional Alaskan bear guide Cole Kramer. This knife is purpose-built as a professional-grade knife. Its primary design is for fleshing hides. The sweeping design allows the user to take long sweeping strokes providing as much working edge as possible with little interference of a pointy tip. Large hides can take a lot of work and a large well-designed knife can help cut that work down considerably. This blade is as thin as many pocket knives making it a knife that can be used in a repetitive motion for hours while also being incredibly easy to sharpen. Don't let the thin blade fool you. In tests, this knife flexed 90 degrees before returning back to near straight.
Sign Up for Text Alerts!
Stay in the Loop on Product Drops and Exciting Promotions!
Specs
Blade Steel

52100 Ball Bearing Steel

Design

Full Tang Construction

Overall Length

10 1/2"

Blade Length

6 1/8"

Blade Thickness

0.099"

Knife Weight

8.7 Oz

Black Parkerized Finish

Minimize Glare & Rust

Blade Finish

Black Parkerized

Handle Material

G-10

Manufactured

100% Made in the USA

Hand Finished

in Montana
BEARTOOTH - PRO SKINNING BLADE - GREY
I have been using this knife for over a month. The blade is still performing like new. It has greatly increased our productivity have a knife that light weight. Will definitely be a customer for life.
Bear tooth
Shaped in a way that it is going to be the most amazing skinning knife I own.
THE BEARTOOTH - PRO SKINNING BLADE - ORANGE AND BLACK?
What did I like best?
The look, the feel the out of the box ready to skin anything you put in front of this knife ability.
How a skinning knife should be
I have been using old Swiss made Victorinox butcher knife on so many hunts t'll I found the Beartooth Pro, improved shape over my Swiss made knife super sharp perfect shape for skinning, butchering my knife's coating needs some more attention very rough and leaves black color on the fat of the last 3 wild boars whilst skinning but sure with time it will smoothen up. My only issue, This is my 3rd MKC knife
Best knifes ever!
Received my first ever MKC knife this month. It is truly a work of art and the sharpest most resilient knife I've ever held in my hand. It makes processing beef and wild game on our ranch a breeze. One knife now replaces what 4-5 used to do. I've already purchased 2 more MKC knives to complete my MKC set. Thank you