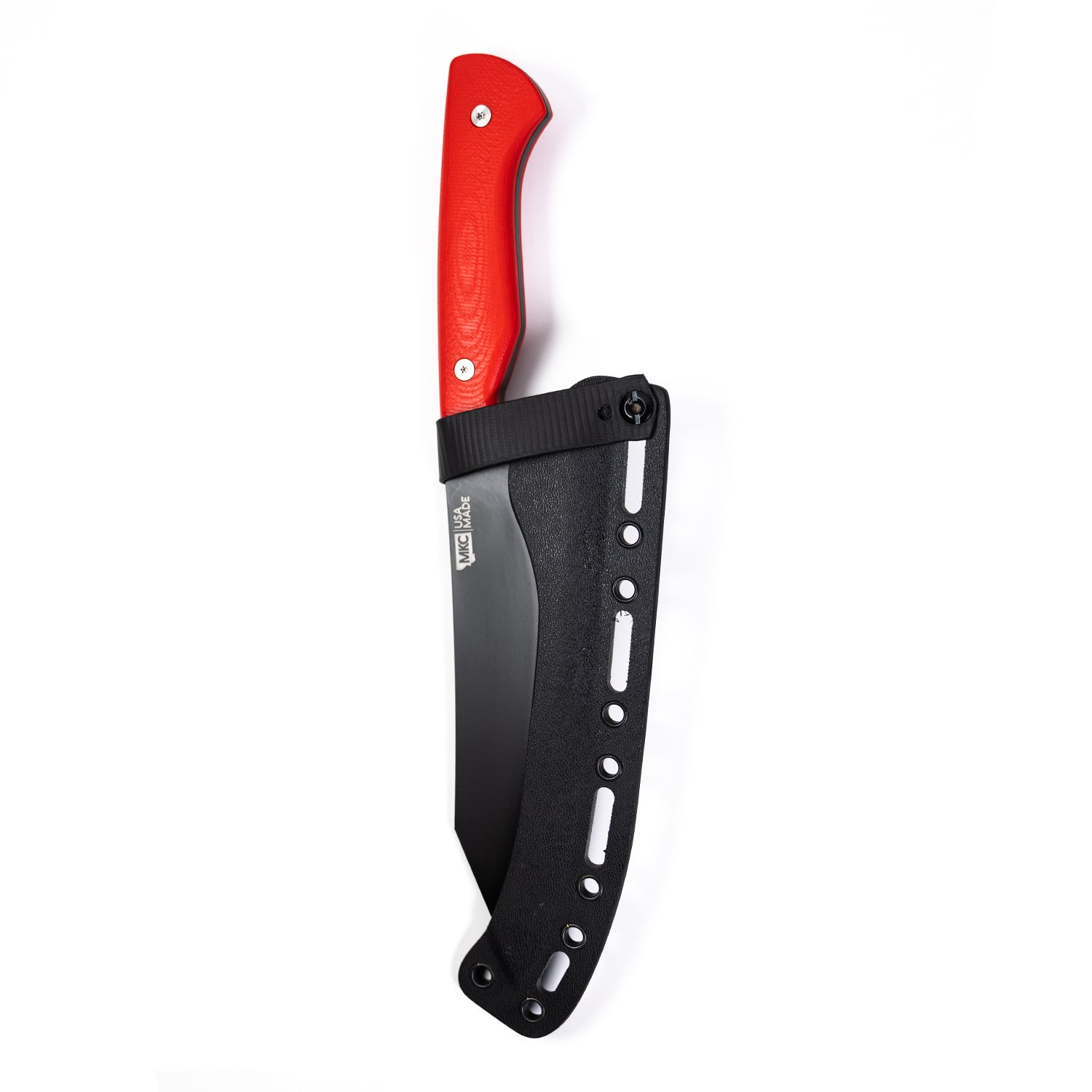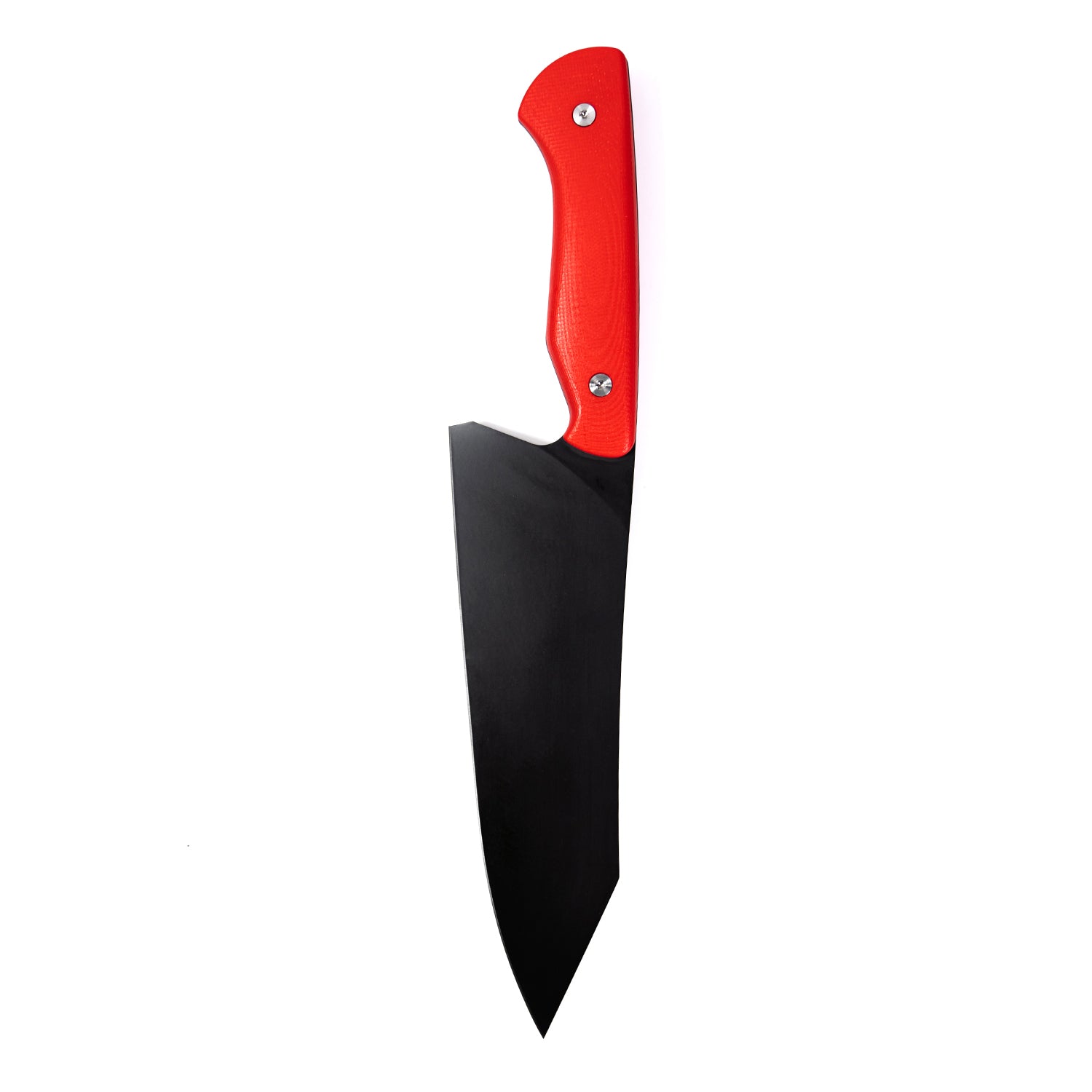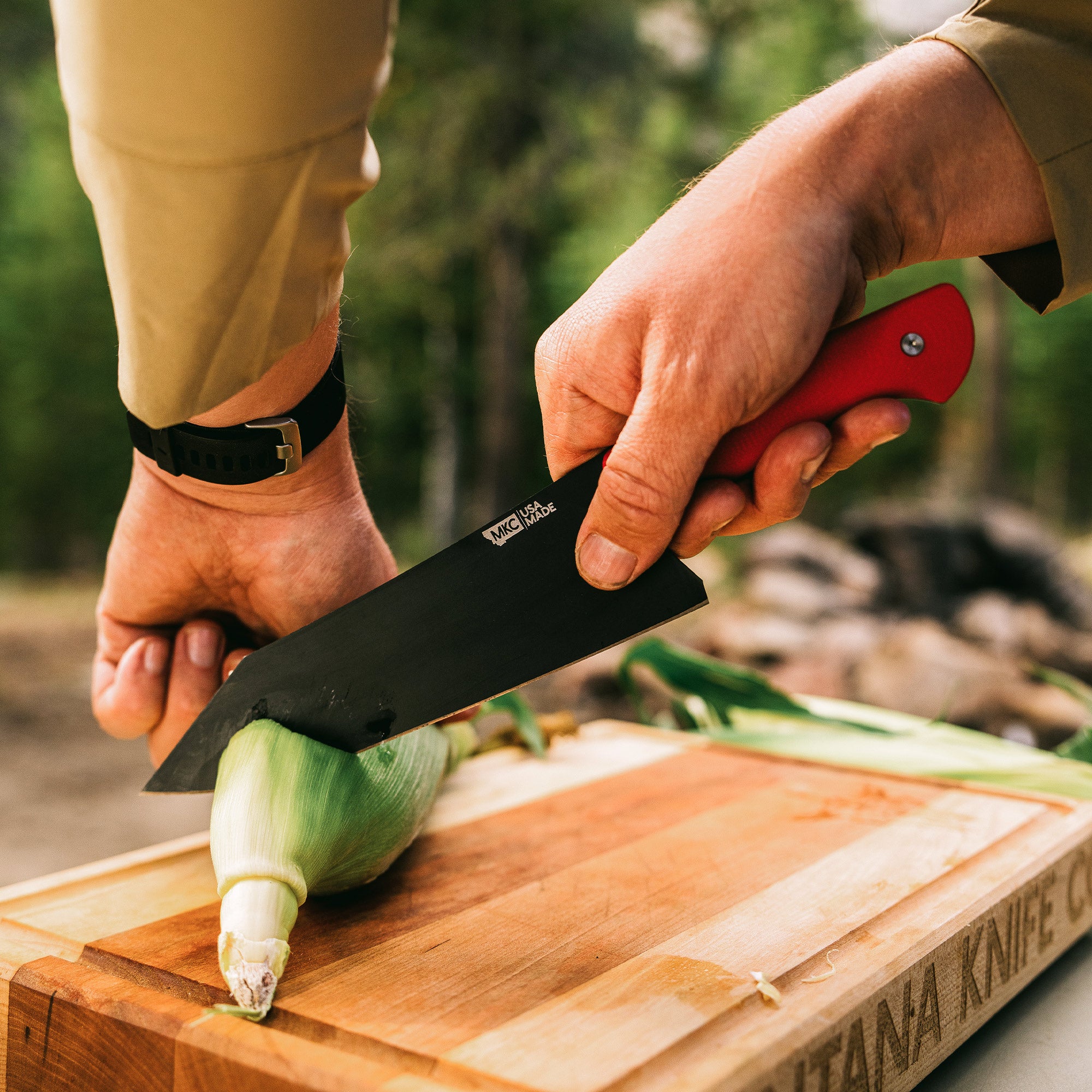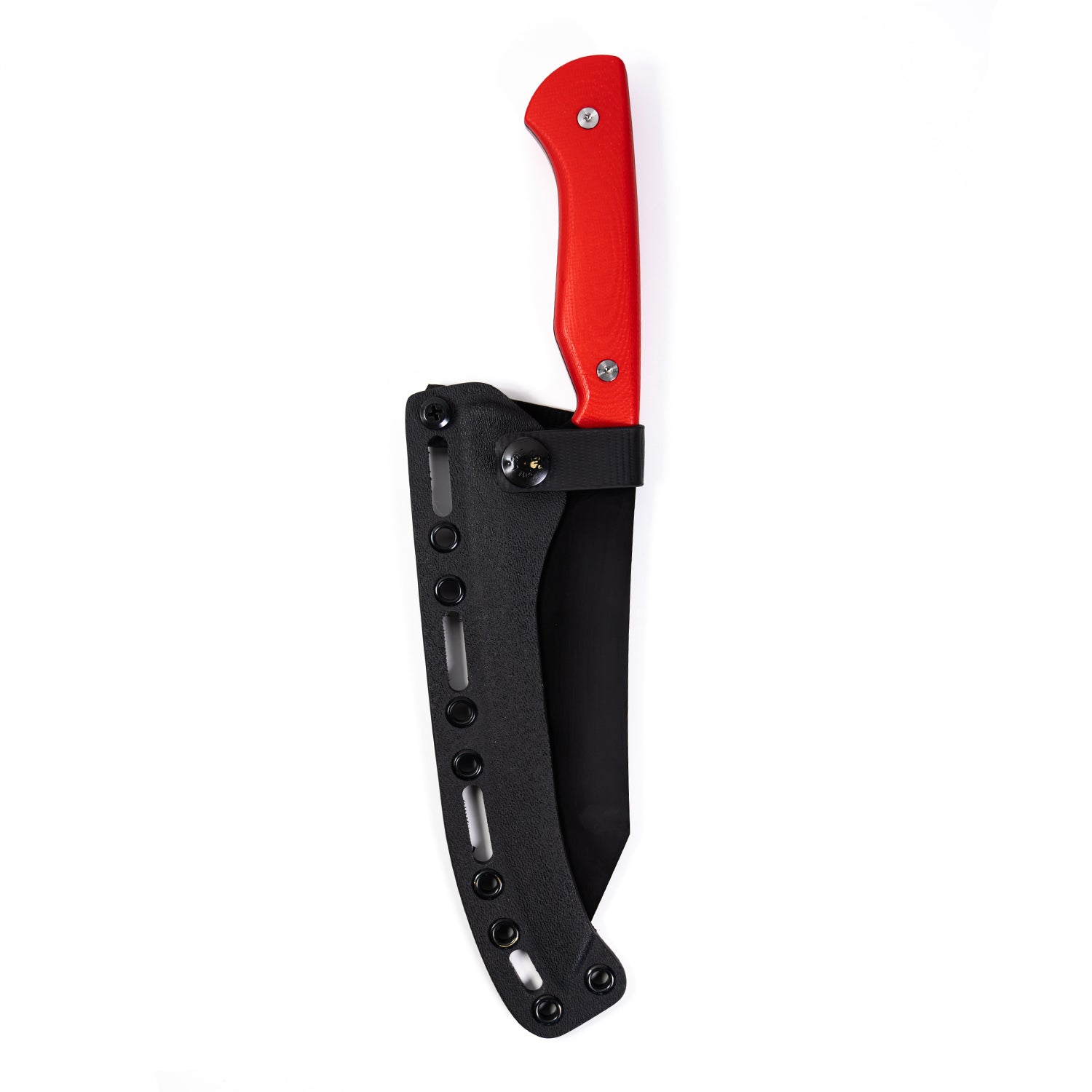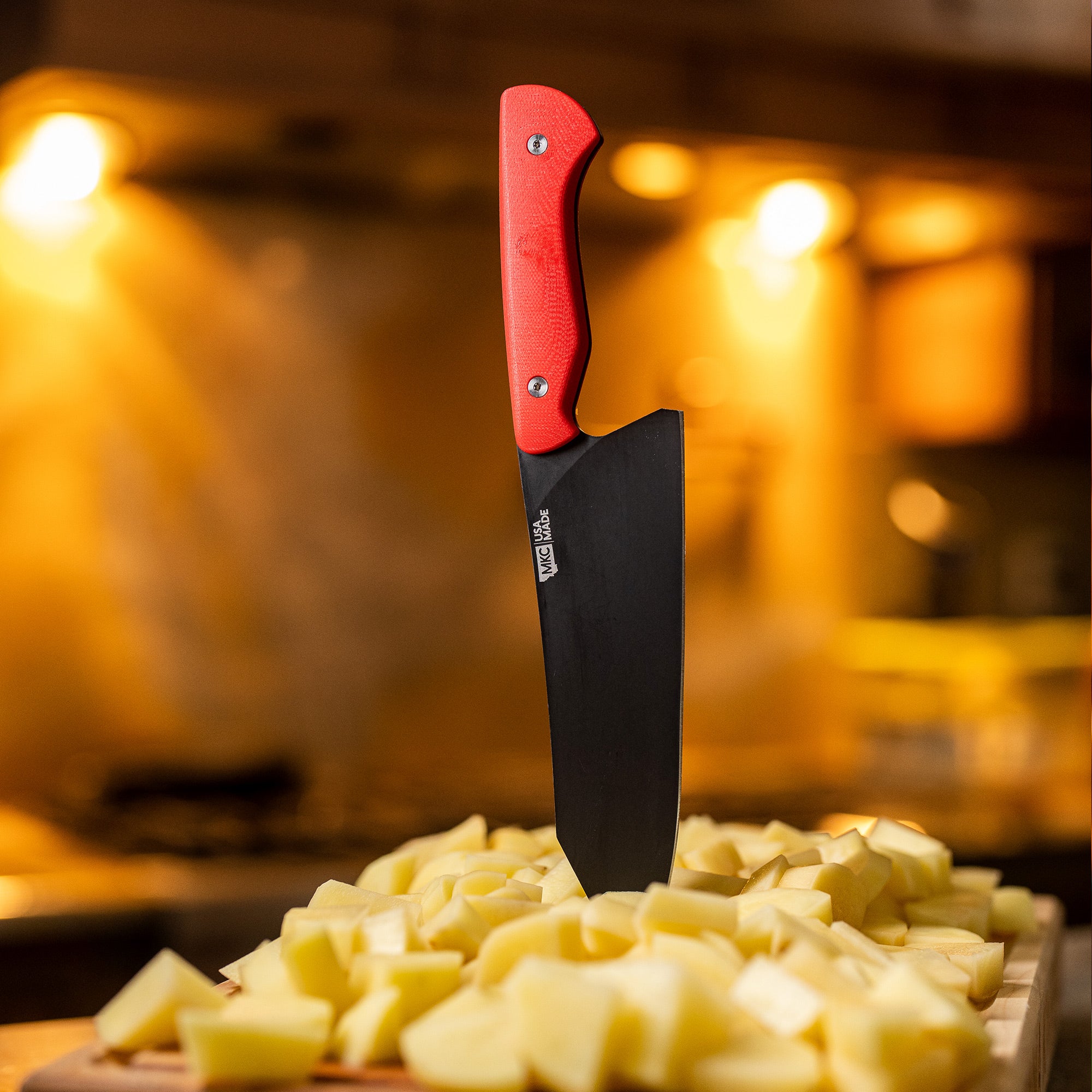 SMITH RIVER SANTOKU - RED
The Perfect Kitchen Sidekick.
The Smith River Santoku Knife was crafted to be the perfect companion to the Big Horn Chef Knife. Where the Santoku shines is tackling any task that doesn't require the extra length, weight and slicing power of a larger chef's knife. The Santoku's smaller size, thinner blade & lighter weight, make it perfectly suited for tasks that require speed and precision over heavy duty cutting. In Japanese cooking, the santoku knife typically serves as a vegetable knife. It's handy for slicing, dicing, chopping, and mincing things like carrots, peppers, onions, cabbage, and any other veggies, fruits, herbs or seafood in your kitchen.
Available Colors:
Sign Up for Text Alerts!
Stay in the Loop on Product Drops and Exciting Promotions!
Specs
Blade Steel

Magnacut Stainless Steel

Design

Full Tang Construction

Overall Length

11 1/2"

Blade Length

6 7/8"

Knife Weight

7.28 oz

Blade Finish

Black Cerakote

Handle Material

G-10

Manufactured

100% Made in the USA

Hand Finished

in Montana
Love the Santoku
Truly an amazing knife you'd expect from MKC. Very ergonomic and easy to get used to for detailed work, it quickly became my "go to" utility kitchen knife.
I'm super impressed
I've had a couple of their other hunting knifes and was already impressed with how they turned out. I was also looking at cooking knives at gun/knife shows but I've got to say compared to those. This knife blows them away. The quality is stunning and I hope I can keep this well enough to pass along to the next generation one day.
Excellent knife for the kitchen!
This knife is so sharp! I'll never be able to use another in the kitchen! The only thing I feel could be slightly improved is the handle. I have the chef blade as well and the handle is a bit longer. I have fairly small hands for a guy and could use a bit more length on the Smith River handle.
Wow!
Outstanding kitchen knife!!! It came incredibly sharp right out the box. Most of what I do for knife-work is cutting vegetables in the kitchen, and that is really where this style of knife shines.
SMITH RIVER SANTOKU - BLACK