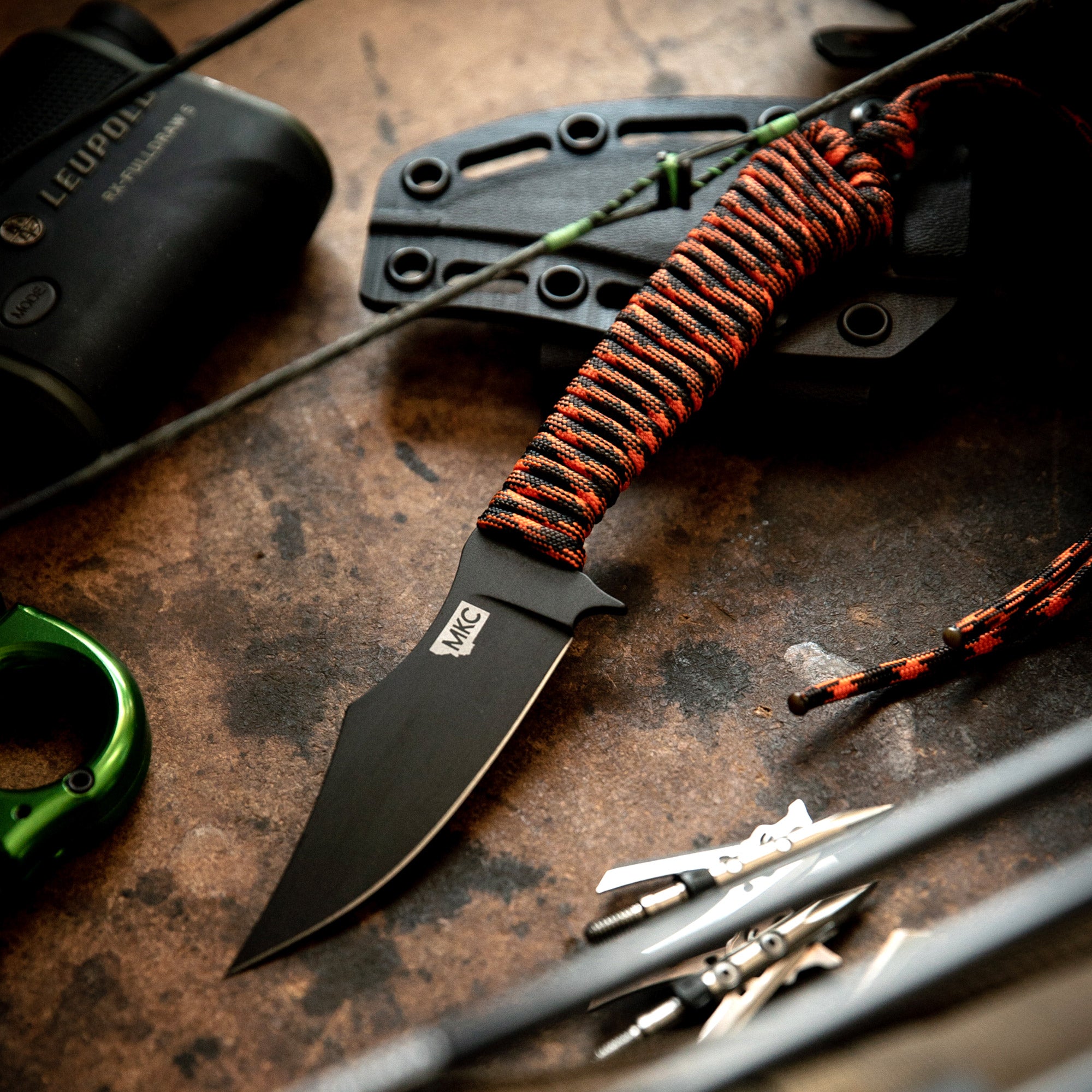 NOCK ON - TRIUMPH SL - ORANGE & BLACK
By hunters, for hunters.
The Triumph SL "Super Light" is the proud achievement of the first design collaboration between Nock On's John Dudley and MKC's Josh Smith. After an incredibly popular initial drop, we've decided to re-release this limited-edition blade design with our signature paracord-wrapped handle to give the Triumph an ultralight advantage.

The Montana Knife Company X John Dudley Nock On Triumph SL is versatile, capable, and full of personality. Light enough for a goat hunt, but large and strong enough to field dress an elk, this knife is ready to tackle any gun- or bow-hunting excursion. This isn't just another collector's item; it's part of your essential gear.
Available Colors:
Sign Up for Text Alerts!
Stay in the Loop on Product Drops and Exciting Promotions!
Specs
Blade Steel

52100 Ball Bearing Steel

Design

Full Tang Construction

Overall Length

7.5"

Blade Length

3.375"

Knife Weight

1.9 Oz

Blade Finish

Black Parkerized

Handle Material

USA Paracord

Manufactured

100% Made in the USA

Hand Finished

in Montana
Very Impressive Quality
I recently received the Nock On Triumph SL. The quality of this knife is amazing. Love the overall design weight and size of this knife. The steel is high quality, it's sturdy and there is no flex in the blade. It is incredibly sharp and is a perfect knife to have with you on a hunt. I would highly recommend this knife to anyone, as the quality of the knife far exceeds its price point. The only negative I have is regarding the Kydex sheath. After only drawing it a few times, you can see lite scratch marks on the blade from the Kydex. I'm not too bummed since the purpose of this knife (for me) is to be used out in the field and I know it will get some wear and tear. I'm very happy with this knife and very impressed with the quality of MKC.
Thank you for the review! Sorry to hear about the sheath - I would try some blade wax, as those marks will usually go away. If they don't you can always shoot us an email! And adjusting the tension screw may help as well. Please feel free to reach out if need be!
Fantastic Blade and Company
Truly a Great working blade. Took my mule deer 100% from field to table without sharpening once! Gutting/quartering /skinning/and processing with MKC is where it's at. Great product and collaboration with Nockon.
Brett,
Field to table is what it's all about! John definitely had some great ideas for these blades and glad to see them getting put to use! Thanks for the photo and for the review - and congrats on the muley!
Triumph SL
Love the knife! It is now my every day carry. It's light and low profile yet sturdy. And the blade is sharpened to a masterful edge.
Thanks Ian! Those Triumph SL's are quite the knife for such a small package. Thanks for the great review!
Thanks Scott!! Those Triumph SL's are mighty!
Nock On 2023
Light weight knife, sharp edge, very fast delivery! Looking forward to using it this fall!
Tim,
Thanks! We like to think our shipping department is the fastest this side of the Mississippi - they do a killer job and really are ultra fast. A lot of long hours to get it done sometimes, too. Thanks for the feedback!