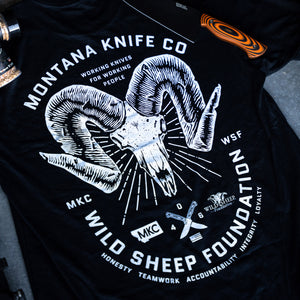 MKC x WILD SHEEP FOUNDATION - TEE
---
Awesome Tee
Great feeling and fitting shirt! I had to buy a size larger than normal. Completely worth it. MKC had the best customer service I've experienced in years!!
Thanks Ryan! We try to source shirts with material and fit that we would want to wear ourselves too!
Great design, fits perfect. Thanks MKC
You bet! And thank you for the review Tyson!
Awesome Shirt
Great shirt, great fit. I like the fit and feel of the cotton-poly blend a bit more than the 100% cotton shirts I've purchased from MKC
Thanks for the review! We love the way these shirts turned out and it's even better that the proceeds go to a great conservation organization!
Great shirt!
Bought three as gifts for myself and for the team that helped me prepare and execute a successful DIY Rocky Mtn Bighorn Sheep hunt in Colorado this season. Icing on the top is we now look darn good bragging about an epic hunt!
Brett,
Awesome! Congrats on the hunt and thank you for not only the review, but helping us support an incredible conservation organization!