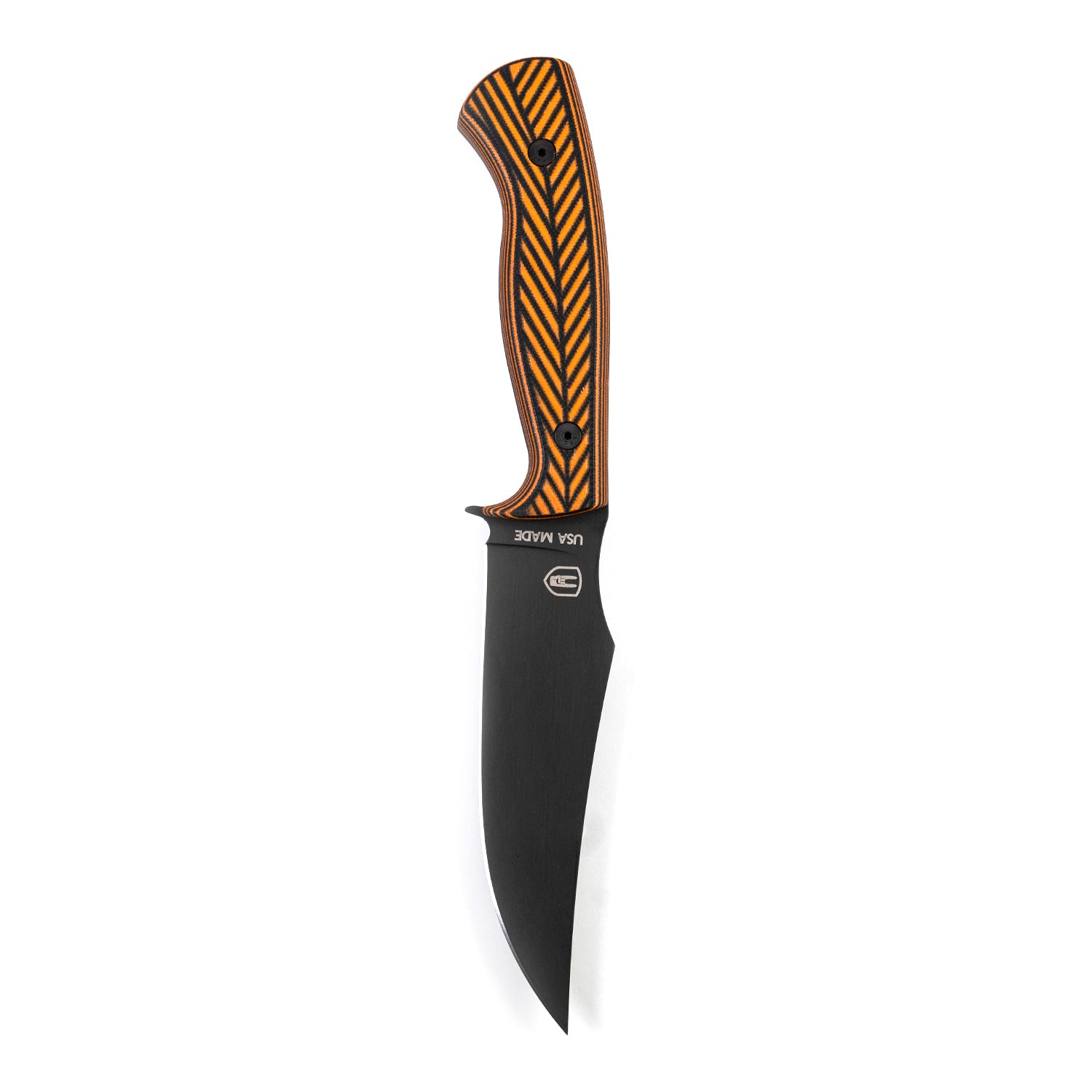 NOCK ON - TRIUMPH HUNTER XL - ORANGE & BLACK
By hunters, for hunters.
The Triumph Hunter XL is the proud achievement of Nock On's John Dudley and MKC's Josh Smith one-of-a-kind design collaboration. The Montana Knife Company X John Dudley Nock On Triumph XL is as versatile and capable as it is unique. Light enough for a goat hunt, but large and strong enough to field dress an elk, this knife is ready to tackle any hunting excursion.
Available Colors:
Sign Up for Text Alerts!
Stay in the Loop on Product Drops and Exciting Promotions!
Specs
Blade Steel

52100 Ball Bearing Steel

Design

Full Tang Construction

Overall Length

9.75"

Blade Length

5.125"

Knife Weight

6.2 Oz

Blade Finish

Black Parkerized

Handle Material

G-10

Manufactured

100% Made in the USA

Hand Finished

in Montana
So impressed I Purchased a Blackfoot too.
The knife and sheath are amazing. I was so impressed with it that I decided to buy a Blackfoot too.
That's awesome Terrence! Thank you so much for your support and the review - hope you enjoy the Blackfoot just as much!
Great feel
The perfect size for a full sized knife. The finish and feel show the care that goes into each knife
Tom,
Thanks! Those Triumph models turned out awesome, especially with the fingerguard, thumb rest and feathered G10 scales. The XL especially is no joke - it should get any job done that you need it to! Thank you for the review!
Triumph XL Hunter Orange and Black
First off I was glad to get this because most knives sell out so fast. The craftsmanship on the knife is amazing very sharp. It fits great in my hand And the handle is eye catching nice grip also. But the best part was how it performed in field as last week I arrowed a Doe in the beginning of season. Just a great addition to my field pack. And the knife holder is solid. Thanks. Pat
Pat,
Congrats on meat in the freezer! The Triumph XL can pretty much handle any big game animal in the field and that feathered G10 handle along with the finger guard make it an extremely ergonomic knife. Glad to hear you like it and thank you for the review!
Knock John Dudley Knife Orange/Blaock
Honestly the sharpest knife I've ever purchased. I really put this knife through hell the first day just because it was my first knife with MKC I really wanted to test the product and give a real review. The knife didn't even need resharpened. This one is my favorite so far out of the two I just punched. The other one is amazing as well but that's a gift for a buddy who is fighting for his life right now.
Clayton,
We're glad to hear it's holding up for you straight out of the box! And remember when it DOES eventually need to be resharpened or anything else, you can send it back to us and we'll get it taken care of at no charge to you.
We're also very sorry to hear about your friend, and have him in our thoughts and wishing you both the best. That Supercub you got him will make a great gift indeed.
Triumph Hunter XL
Third MKC knife. I like the handle color! Ok, I admit it, I'm looking for excuses to buy more MKC knives! I do like supporting local businesses and they make some very nice knives. Not my last one.
Vic,
Those Triumph's are mighty! We are glad to hear you're enjoying the knives!