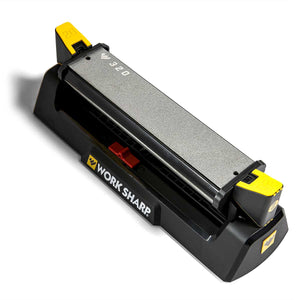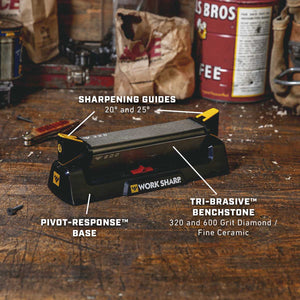 SHARPENENING SYSTEMS + BLADE WAX
WORK SHARP - BENCHSTONE KNIFE SHARPENER™ WITH TRI-BRASIVE AND PIVOT-RESPONSE™
The Work Sharp® Benchstone Knife Sharpener™ is an angle guided, 3-sided abrasive sharpening system that makes manual sharpening faster, easier and more precise than ever.
PRECISE, CONSISTENT
Sharpening Guides can be set to 20 or 25° or removed to sharpen freehand.
TRI-BRASIVE™ BENCHSTONE
Quickly index between coarse and fine diamond and fine ceramic stone.
PIVOT-RESPONSE™
Abrasive follows the curve of the blade to maintain contact and create the best results.
The Work Sharp® Benchstone Knife Sharpener™ is an Angle Guided, 3-sided abrasive sharpening system. Medium (320) Grit Diamond and Fine (600) Grit Diamond Plates quickly restore a sharp edge, while the Fine Grit Ceramic Stone creates an incredibly keen edge on any knife. Abrasives are user-replaceable. The innovative Pivot-Response™ system allows the abrasive to follow the curve of the blade – making manual sharpening faster, easier, and more precise than ever. Sharpening Guides are interchangeable from 20° or 25°and optional to use, additional 15° and 17° Sharpening Guides Sold Separately. Sharpens pocket and outdoor knives of all types and can also be used on kitchen knives.  Pivot-Response™ feature can be locked out to provide a rigid sharpening surface for a wide range of knife & tool sharpening applications. Anti-skid feet ensure a safe and stable process. No water or oil is required, making sharpening faster with less set up and clean up.  Abrasives are user replaceable to provide service ability over the life of the sharpener. Professional level bench-top knife sharpening made easy. Angle Guides and Pivot-Response™ sharpening base provide precision, consistency and a superior sharpening experience than other sharpening stone systems.
---
WORK SHARP - BENCHSTONE KNIFE SHARPENER™ WITH TRI-BRASIVE AND PIVOT-RESPONSE™
Thanks for the review, Elizabeth!
Happy Wife Happy Life
I've been searching for an affordable set of sharpening stones to get my wife's knives sharper than all the "gimmick" sharpeners we have. When I saw the Work Sharp I knew it fit the bill. Sure enough, all cooking knives are now as sharp or sharper than new. Quality design and build at a very reasonable price. Happy Wife - Success!
Absolutely! Glad you found a solution and thanks for the review!
The real deal!
This stone Combo is exactly what I was looking for in a sharpening tool.
What can I say MKC hit the bull's eye again. To be expected when you bye anything from MKC!!!
Mahalo to the MKC Ohana...🤙
Thank you so much Dustin! Worksharp makes great stuff!
Work Sharp Benchstone Knife Sharpener
I enjoy sharpening a knife by hand but I have a problem finding where I hid my stones of varying grits. I like having three grits in one package. The size seems practical, big enough for the smaller MKC knives and small enough to store on my shelf.
Thanks Vic! They are definitely handy to keep around, especially for how non-intrusive they are for size!
Nice
Have used it. Nice and to my sharpening tools.