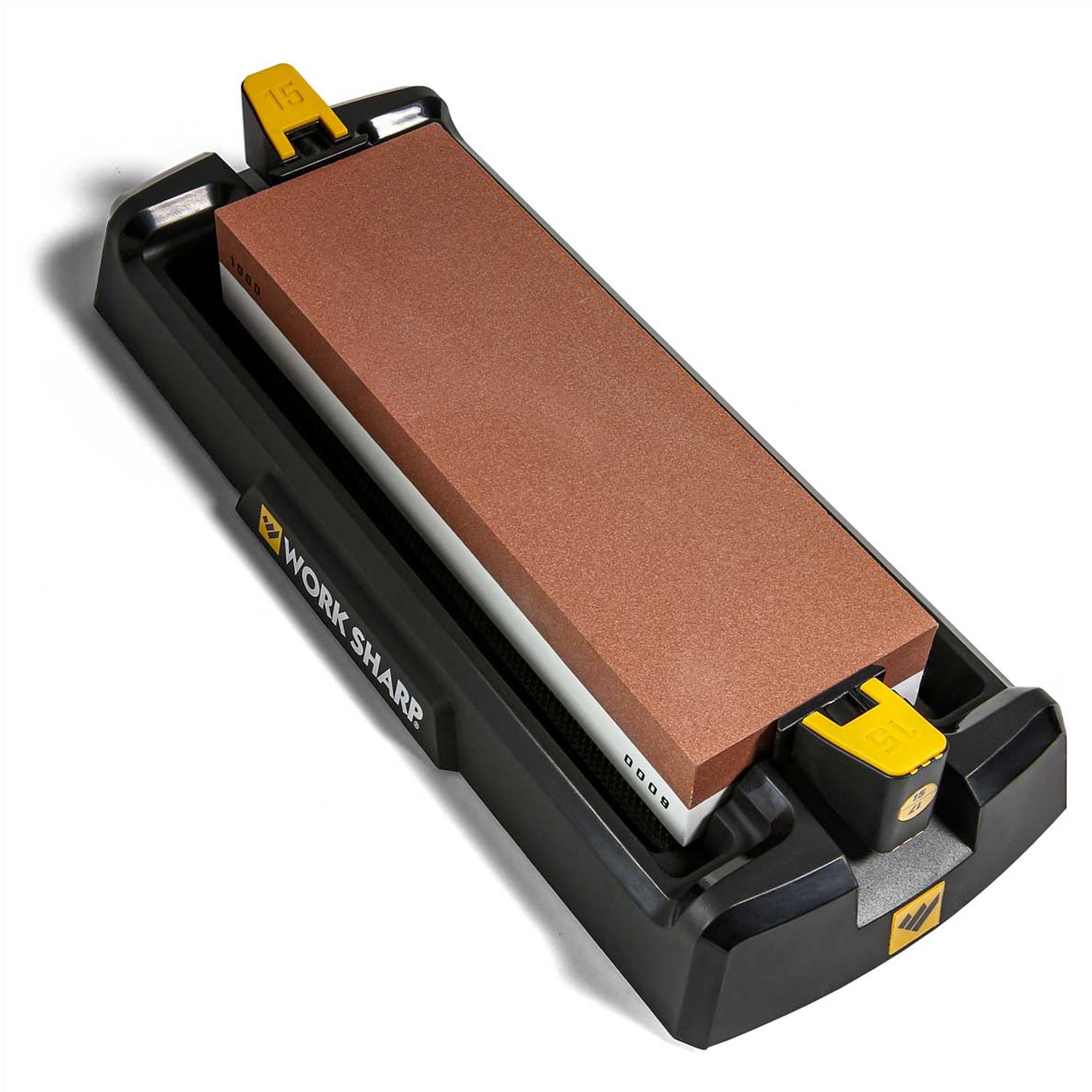 WORK SHARP - WHETSTONE KNIFE SHARPENER
The Work Sharp Benchtop Whetstone is an Angle Guided, Dual-Grit sharpening water stone system for knives and fine edge tools
PRECISE, CONSISTENT
Sharpening Guides can be set to 15° or 17° or removed to sharpen freehand.
SHARPEN AND HONE
Premium 1000 / 6000 Corundum Water Stone provides fast sharpening and honing to create incredibly sharp knives.
WATER CONTROL BASE
Provides a stable sharpening surface, less mess to clean up and stone storage.
The Work Sharp Benchtop Whetstone is an Angle Guided, Dual-Grit sharpening water stone for knives and fine edge tools. Premium 1000 grit and 6000 grit aluminum oxide sharpening stone creates incredibly keen edges. Use 1000 grit to sharpen and restore an edge, then 6000 to create a highly refined edge and surface finish. Water stone is fast cutting, long lasting and creates a slurry when sharpening. Sharpening base provides a stable platform and increased water control for less mess and faster clean up. Anti-skid feet ensure a safe and stable process. Angle Guides create precision and consistency to maintain an edge making sharpening faster and easier. Sharpening Guides are interchangeable from 15° or 17° and optional to use, additional 20° and 25° Sharpening Guides Sold Separately. Sharpens kitchen knives of all types and can also be used on pocket and outdoor knives. Professional level whetstone knife sharpening made easy. Angle Guides and Water Control Base provide precision, consistency and a cleaner, superior sharpening experience than other water based sharpening systems. 

Excellent Stone
I have a couple of sharpening stones i have tried before this one. No camparison. this stone is excellent!!, I sharpened several kitchen knives and surprised my wife when she used them. I am still working on holding the angle but this stone is amazing. Worth every penny for someone who is serious about a sharp blade.
Work sharp whetstone.
So far I've only used it on our kitchen knives. But it's a great fast and easy to use system.
WORK SHARP - WHETSTONE KNIFE SHARPENER
Fantastic whetstone! Just sharpened several kitchen knives to a razor sharp edge in no time at all. Excellent product.
Beautiful and functional!
I was surprised by the simple beauty of the stone; very nicely presented. After watching the videos, I made good use of it, and have never gotten this level of result by hand sharpening. I am pleased as punch!