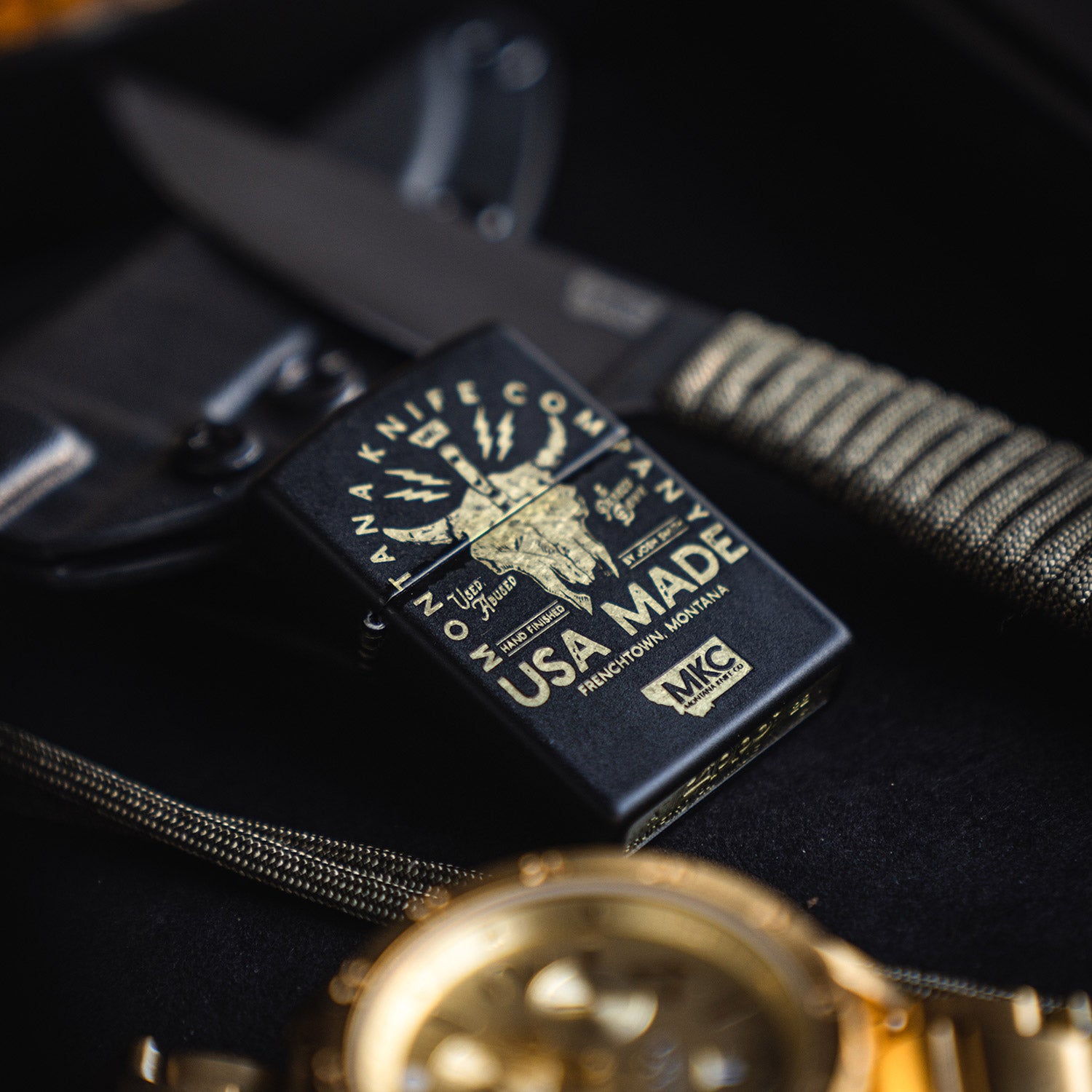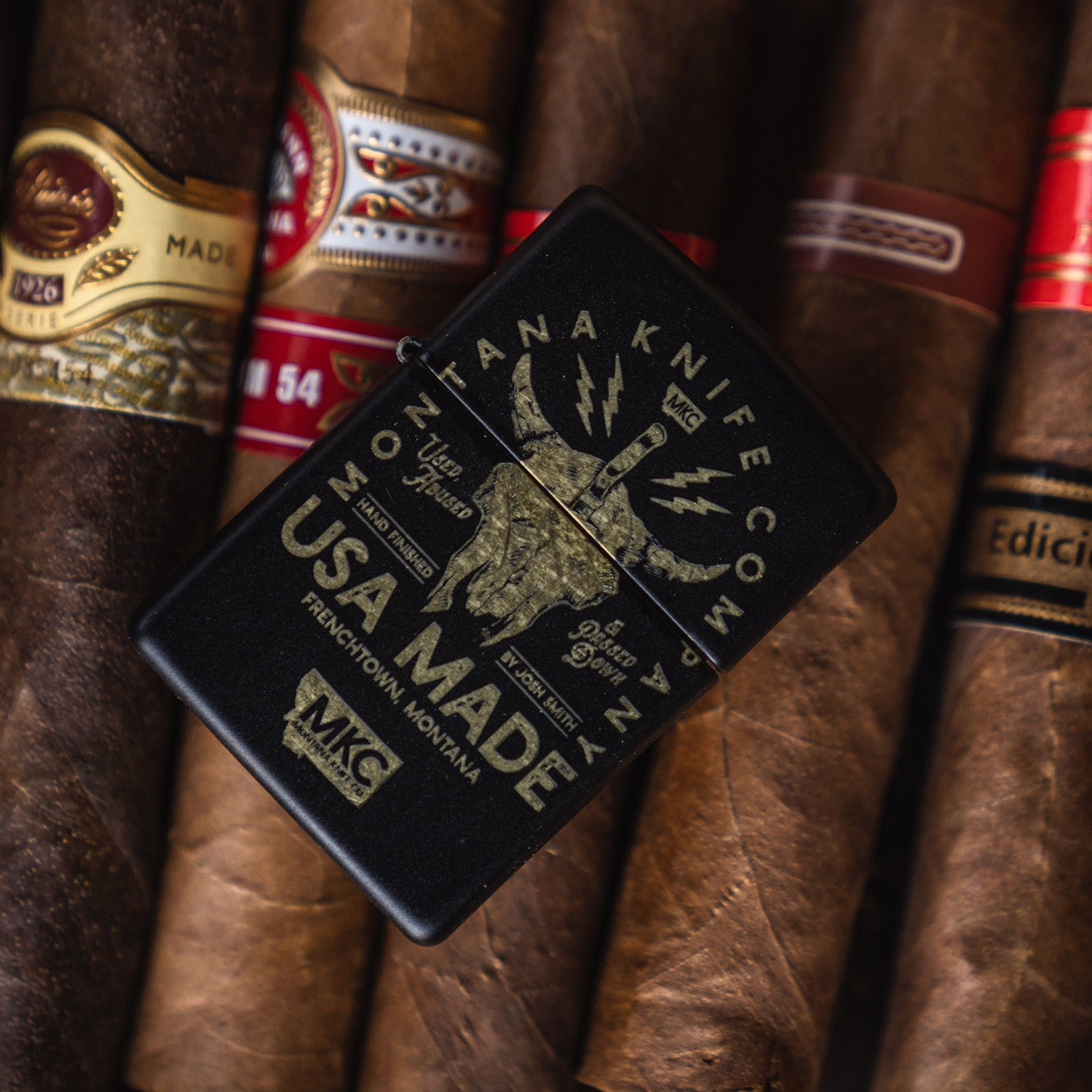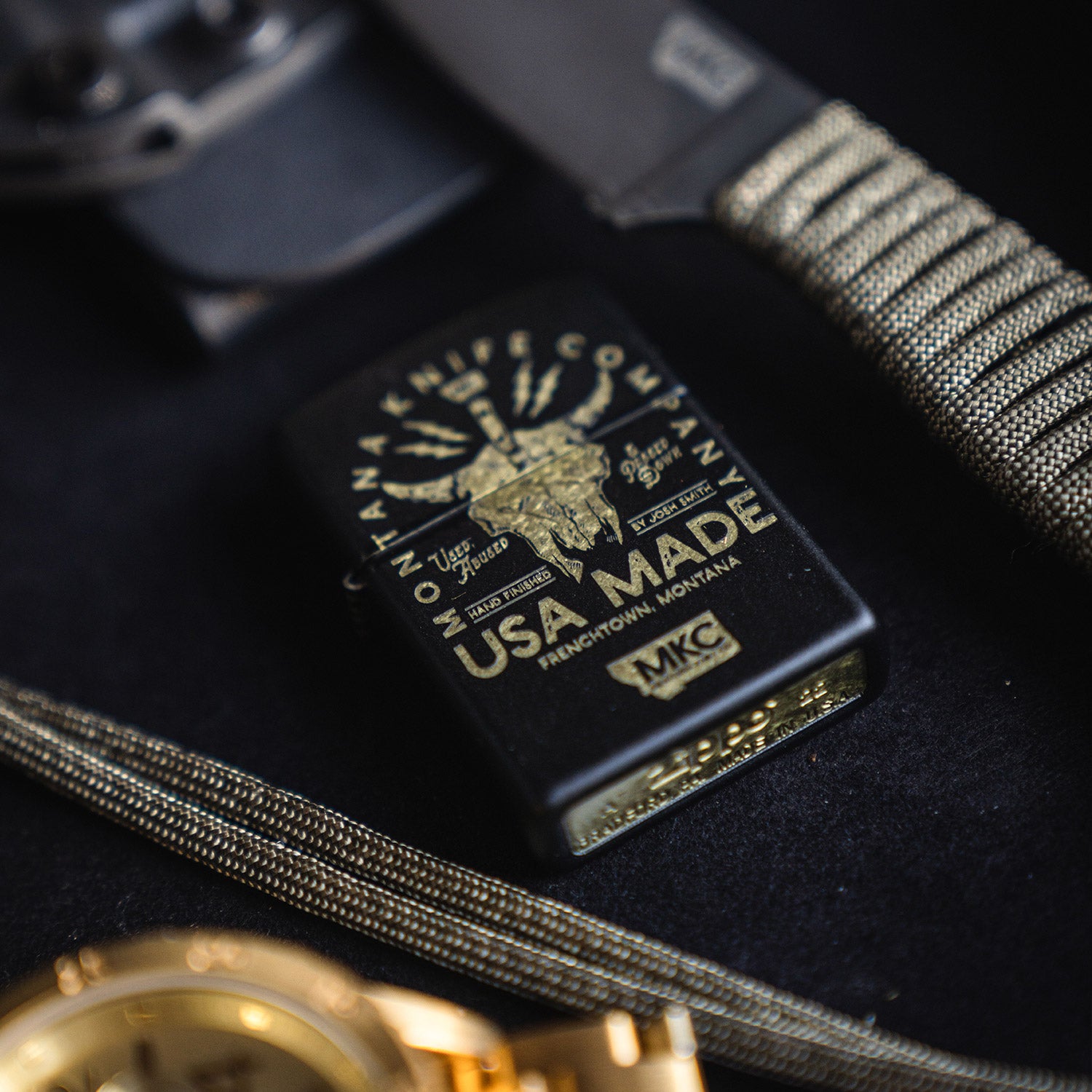 BISON SKULL - TRADITIONAL WINDPROOF ZIPPO LIGHTER - USA MADE
BIOSN SKULL ZIPPO LIGHTER
Bison Skull Windproof Zippo Lighters are BACK! We are oddly excited about these USA-made Zippos with our BISON SKULL logos on them. We don't smoke much but we have been carrying them as an EDC and you don't realize how much these come in handy. Also, we heard from a friend that they light bowling ball cannons really well... 


Genuine Zippo windproof lighter with distinctive Zippo "click"

All metal construction; Windproof design works virtually anywhere

Refillable for a lifetime of use; For optimum performance, we recommend genuine Zippo premium lighter fluid, flints, and wicks.

Made in USA; Lifetime guarantee that "it works or we fix it free"
* DUE TO SHIPPING REGULATIONS WE CAN'T SHIP LIGHTERS FILLED WITH FUEL*
THE STORY BEHIND THE BISON SKULL DESIGN:
We have never really taken the time to explain the bison skull with the knife stuck in it and what it means to our brand. It's more than you would think.
Most would assume that the bison skulls and Montana just go together. There are a lot of Montana brands that rep the bison skull. That makes complete sense. 
But there are layers to this onion…
First, we choose the bison because the bison is the greatest comeback story ever. Just like American manufacturing and our promise to only create America Made knives and bring back jobs to this country.
Take it one step further… You will notice that it is not just any bison skull and that the horns are missing. It is actually a petrified Bison skull from the previous ice age here in Montana. The skull that we used is the bison skull that hangs in Brandon's family cabin outside of the Bob Marshall Wilderness. The skull was found when they were digging up the foundation of the old hunting cabin in the early 1940s. We are not sure how old the bison skull really is.
Now, what does the knife mean??? This to me is the best part and it more than just looks cool. If you have ever read the book by 
@stevenrinella
 American Bison: In Search for a Lost Icon, you will hear a story about a petrified bison skull from the previous ice age that they found with tool scratches and marks on it. That doesn't sound too surprising today… But when they found that skull in the early 1900s that skull ended up not only pushing the timeline of people living in the United States by a couple of thousand years but people existing in general and using tools by a couple of thousand years. Yes making and using tools right here in the USA.
So, in short, the MKC Bison Skull is a symbol of the great American Manufacturing comeback and honors the past knife makers who live in North America before anyone ever knew this place existed.
High Quality
This is the SUPER COOL lighter. The engraving is crisp and it s a Zippo. You can't go wrong.
BISON SKULL - TRADITIONAL WINDPROOF ZIPPO LIGHTER - USA MADE
Buffalo Zippo
100% awesome MKC just straight up puts integrity into every single thing they do. USA
Great product
Typical Zippo lighter with a killer MKC logo
Zippo lighter
Loved the lighter. It Came super fast and the detail is top notch. You guys are the best thanks!