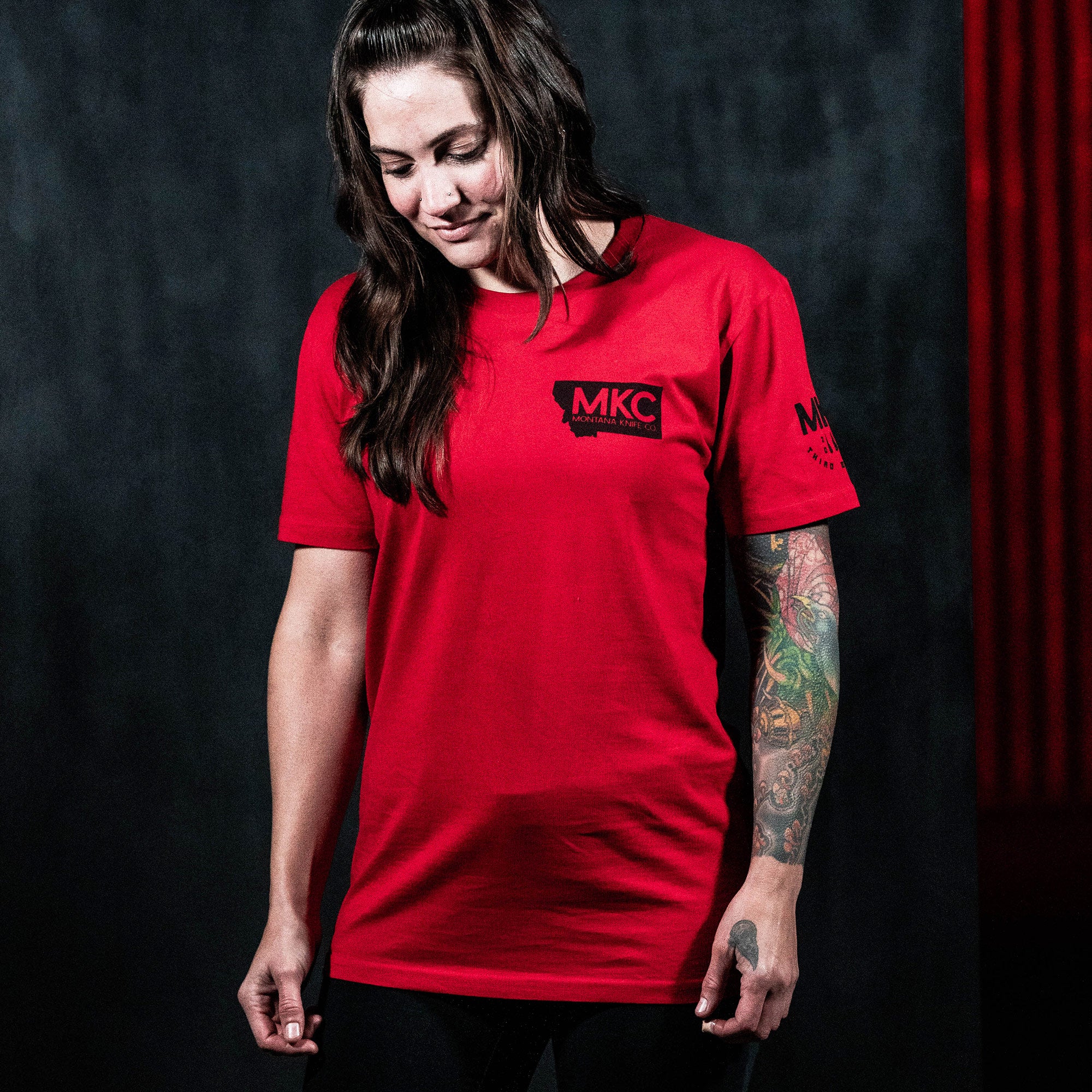 2023 MKC BLOOD BROTHERS TEE
Welcome to the brotherhood of providers. Knives are one of the oldest tools in the world if not the oldest… they are meant to cut. We are a proud hunting company and we do not shy away from what our knives are intended for, processing our harvests. So here is how it works… If you have gotten your knife bloody in the field, these shirts are for you. You do not have to submit photos to order these like in the past, but we still want to see them. So make sure to DM us on Instagram or email bloodbrothers@montanaknifecompany.com   
P.S. if you accidentally shed your own blood we are including you guys too. Keyword ACCIDENTALLY!!!
WE PUT THE SAME THOUGHT AND EFFORT INTO OUR APPAREL AS WE DO OUR KNIVES.
PRODUCT DETAILS

REGULAR FIT 
FRONT SMALL SCREEN PRINT

BACK LARGE SCREEN PRINT
ARM SLEEVE SMALL SCREEN PRINT

CREW NECK

MID WEIGHT, 5.3 OZ, 28-SINGLES

100% COMBED COTTON (HEATHERS 15% VISCOSE)

NECK RIBBING, SIDE SEAMED, SHOULDER TO SHOULDER TAPE, DOUBLE NEEDLE HEMS, PRESHRUNK TO MINIMIZE SHRINKAGE
SIZING NOTE: This shirt fits a little baggier than our typical t-shirt. We would say it fits true to size but if you like it on the fitter side you may consider sizing down. 
Awesome design!
I have two other shirts from MKC and they fit perfect but for some reason this one runs a little big in size even after washing it. Still happy with my purchase though!
Thanks for the feedback Rico! Glad to hear you are still happy with it - if need be, shoot us an email and we can get your size swapped!
info@montanaknifecompany.com
Great Tee with meaning
This is a special Tee for me, as it shows that I've used my Blackfoot for its intended purpose and am part of the tribe. The shirt is generously cut/sized, 100% cotton and feels great on. Now I need to get another MKC knife and another opportunity to use it as intended.
Thanks Tom! Glad to have you on board!
Marked for blood
Blood Brothers edition number 3 t shirt!
Super bad ass graphics and very comfortable 🤙🏼
12 outta 10
Thanks Josh! Glad you like it - our design team has been crushing with the graphics!
Quality
There is nothing you will ever order from MKC that you will ever regret. My shirt and sweatshirt fit to size and are super comfortable and that's hard for me to say cause I'm very picky when it comes to shirts.
Thanks for the review Scott! Glad to hear we fit the bill for your apparel needs!
Blood brothers Tee
It's light enough to go when layering up. The artwork on them is amazing. Once again I love your products. I can't wait to get more later. Thanks MKC.
Todd,
Thank you so much! We are very thankful for our design team, they have been crushing it. Glad you like it and thank you for the review!