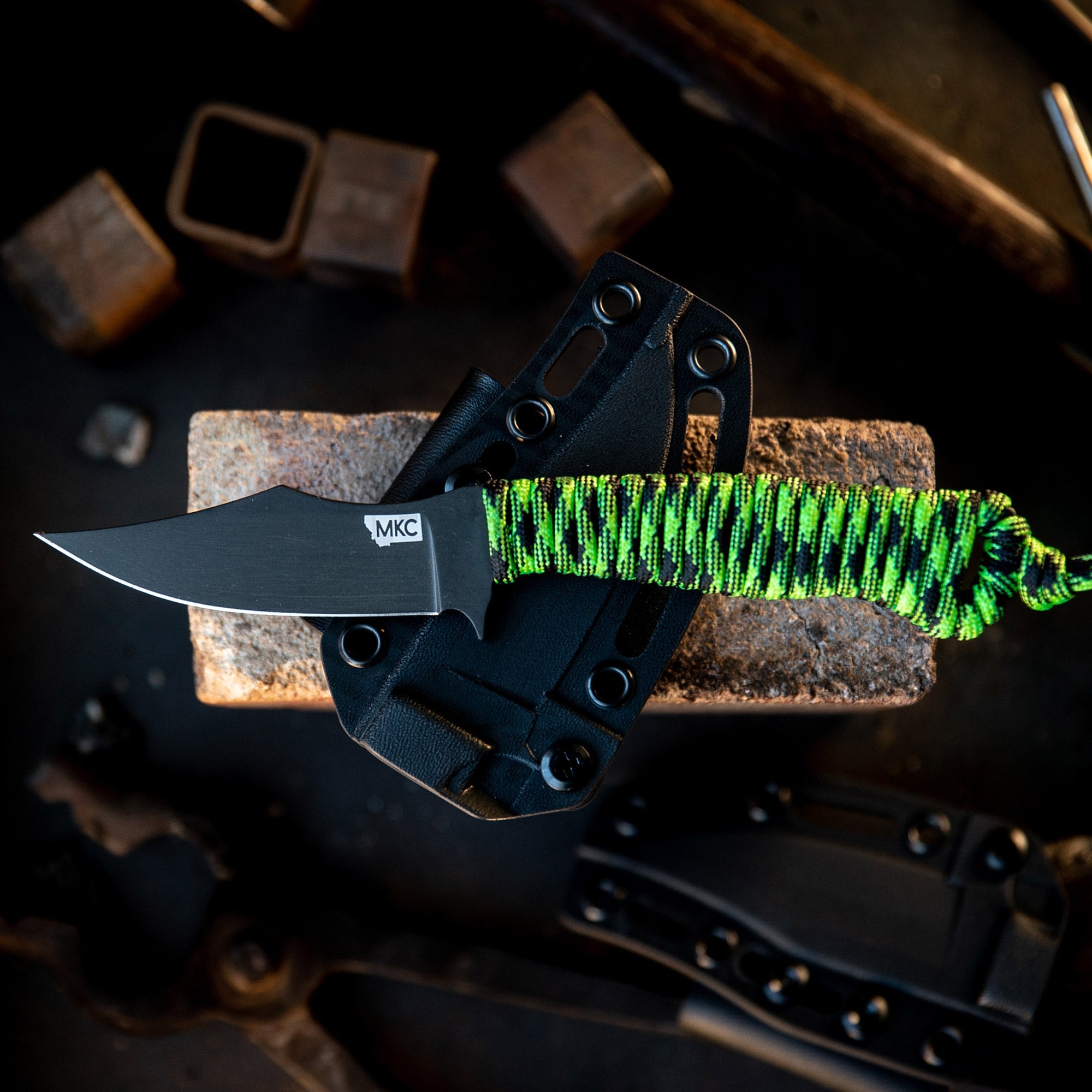 (SOLD OUT) SECRET DROP - NOCK ON - TRIUMPH SL
SECRET DROP SOLD OUT!!!
THE PUBLIC DROP IS THURSDAY NIGHT AT 7PM (MST) / 9PM (EST)
We wanted to do something special just for the Nock On Nation. So this is your chance to order a Nock On Triumph SL Knife before the general public. Our last public release sold out in 10 mins!!! So we are giving you access to a private reserve (LESS THAN A COUPLE HUNDRED) and a jump on this limited new knife release. This page will only be live for the next 12 hours!
Secret Access Ends at Midnight (PST) or While Supplies Last!
*LOOSE LIPS SINK SHIPS*



PLEASE DO NOT SHARE THIS WITH THE GENERAL PUBLIC. WE WANT TO CONTINUE TO RUN THESE EXCLUSIVE DROPS AS LONG AS WE CAN AS A THANK YOU TO THE GUYS AT NOCK ON.


*ONLY 2 KNIVES PER CUSTOMER*

By Hunters, For Hunters
The Triumph SL "Super Light" is the proud achievement of the first design collaboration between Nock On's John Dudley and MKC's Josh Smith. After an incredibly popular initial drop, we've decided to re-release this limited-edition blade design with our signature paracord-wrapped handle to give the Triumph an ultralight advantage.
The Montana Knife Company X John Dudley Nock On Triumph SL is versatile, capable, and full of personality. Light enough for a goat hunt, but large and strong enough to field dress an elk, this knife is ready to tackle any gun- or bow-hunting excursion. This isn't just another collector's item; it's part of your essential gear.
MKC X John Dudley Nock On Collaboration
We wanted to capture the same attention to craftsmanship and excellence John Dudley brings to Nock On in a hunting knife. Now, Montana Knife Company is proud to present this one-of-a-kind collaboration.
Based on decades of hunting experience as archery's top expert, John Dudley's initial design addressed everything he wanted in a hunting knife: a combination of lightness, size, sharpness, toughness, durability, and unique design. While the G-10 handle of the original Triumph was already light, we went a step further. After skeletonizing the tang (the steel part of the handle) to shed unnecessary ounces, we wrapped it in 550 paracord to minimize load and improve versatility. It doesn't get any better (or lighter) than this.
Parkerized 52100 Carbon Steel Blade:
The Triumph SL is made from cryogenically-treated 521000 high carbon ball-bearing steel, achieving the perfect balance of toughness, edge-retention, and easy resharpening. The blade is also parkerized to a matte black finish which minimizes rust and glare.
Compact Length:
The Nock On Super Light's 3.375" blade length minimizes load and space for any pack. Weighing 1.9oz, it's ideal for lightweight hunting.
Extended Finger Guard:
The Triumph SL's extended finger guard protects fingers from slipping to the blade's edge during any task.
Balanced Thumb Groove:
Josh and John added a thumb groove to the blade's spine to give more control, dexterity, and greater ability to apply pressure.
550 Paracord Handle
Wrapping the handle in seven feet of 550 paracord was just as much for minimizing weight as maximizing versatility. It can fix a broken boot lace, tie down a tent, hang meat in a tree, act as a tourniquet for wounds, or help in any number of unexpected, emergency situations. And when the paracord is removed from the handle, the Triumph SL still fits securely in its sheath.
Free Sharpening For Life & Beyond
Generations
®
is our promise to restore your knife to its original, unmatched working condition. MKC will clean, sharpen, repair, and even reshape your blades when necessary. We'll even rewrap paracord handles, free of charge. While we perform all necessary sharpening and maintenance, our aim is not to return your knife to its brand new appearance.
Learn more about the MKC Generations Promise.
EXCLUSIVE MKC OPEN CARRY SHEATH 2.0
Each Montana Knife Company X John Dudley Nock On Triumph Super Light comes with an exclusive Kydex sheath. This 2 oz, click-in locking sheath can be adjusted for either horizontal or vertical carry, left or right-hand placement, and varying blade retention. The reversible quick-attach belt clip also lets you attach the sheath without removing or unclasping your belt.
DETAILS:
Blade Steel: 52100 Ball-Bearing Steel

Full Tang Construction

Handle Material: 550 Paracord

Sheath: Black Kydex Modular Belt Loop

Finish: Black Parkerization

Blade Length: 3.375 in

Total Length: 7.5 in

Knife Weight: 1.9 oz
Sign Up for Text Alerts!
Stay in the Loop on Product Drops and Exciting Promotions!
Best knife made
Montana knife company exceeds the expectations. Incredible quality and made in America!
Weight is unreal and mkc quality is unprecedented
Dangerously sharp!
Love the size, the feel and the sharpness of this knife. This is the sharpest knife I have ever purchased.
Super lightweight
Haven't had the chance to process any animals yet, but have been using it as a daily carry to see how it holds up. So far so go, hasn't lost its edge yet.