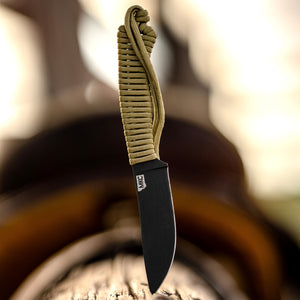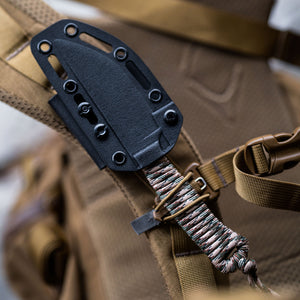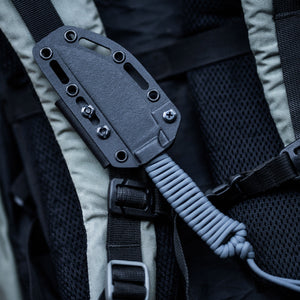 REMI WARREN - THE STONED GOAT - SECRET DROP
$225.00 USD
– RESTOCKING SOON
---


We wanted to do something special just for the loyal Remi Warren followers. So this is your chance to order an MKC x Remi Warren Stoned Goat Knife before the general public.
Our last public release sold out in 20 mins!!!
 So we are giving you access to a private reserve (LESS THAN A COUPLE HUNDRED) and a jump on this limited new knife release. This page will only be live for the next 12 hours!
Secret Access Ends at Midnight (PST) or While Supplies Last!
PLEASE DO NOT SHARE THIS WITH THE GENERAL PUBLIC. WE WANT TO CONTINUE TO RUN THESE EXCLUSIVE DROPS AS LONG AS WE CAN AS A THANK YOU TO THE REMI WARREN LIVE WILD TEAM!
Ultralight Skinner - Belly without bulk.
Our knife owners love the MKC Speedgoat for its combination of lightness, toughness, and versatility. While there's very little the drop point blade design can't do, some hunters prefer a larger blade belly for skinning purposes. You spoke. We listened. The Stoned Goat was born.
If our Stonewall Skinner and Speedgoat had a baby, this would be it.

The Stoned Goat combines the skeletonized, paracord-wrapped handle and overall length from the Speedgoat with the trailing point blade shape from the Stonewall — resulting in a knife that reduces the risk of unwanted punctures without sacrificing versatility or ultralight portability.




DETAILED BREAKDOWN OF FEATURES

Parkerized 52100 Carbon Steel Blade
The Stoned Goat is made from cryogenically treated 52100 high-carbon ball-bearing steel, achieving the perfect balance of toughness, edge retention, and easy resharpening. The blade is also parkerized to a matte black finish, which minimizes rust and glare.
Enlarged Belly
The Stoned Goat's blade has more edge and less tip than the Stonewall, allowing for longer sweeping strokes (and fewer punctured hides). While the tip is less prominent, it's still accessible for more detailed work and non-skinning jobs.
550 Paracord Handle
Wrapping the handle in seven feet of 550 paracord was just as much for minimizing weight as maximizing versatility. The paracord can fix a broken boot lace, tie down a tent, hang meat in a tree, or help in any number of unexpected, emergency situations. And when the paracord is removed from the handle, the Stoned Goat still fits securely in its sheath.
Free Sharpening For Life & Beyond:
Generations® is our promise to restore your knife to its original, unmatched working condition. MKC will clean, sharpen, repair, and even reshape your blades when necessary, as well as rewrapping handles free of charge. 
While we perform all necessary sharpening and maintenance, our aim is not to return your knife to its brand new appearance. Learn more about MKC Generations Promise.


EXCLUSIVE MKC OPEN CARRY SHEATH 2.0
Each Montana Knife Company™ Stoned Goat comes with an exclusive Kydex sheath. This click-in locking sheath can be adjusted for either horizontal or vertical carry, left or right-hand placement, and varying blade retention. The reversible quick-attach belt clip also lets you attach the sheath without removing or unclasping your belt. And at just 2 oz, it's still economical for your ultralight needs.


DETAILS:
Blade Steel: 52100 Ball Bearing Steel

Full Tang Construction

Overall Length: 7 3/4"

Blade Length: 3 3/4"

Ultrathin .095 Blade Thickness
Black Parkerized Finish - Minimize Glare & Rust
Handle Material: USA Paracord
7+ Feet Of Cord For Emergency Use
100% Made in the USA

Hand Finished in Montana
Awesome blade, lightweight and extremely sharp.
I have been wanting a stoned goat ever since I saw the profile, I finally caught them in stock and pulled the trigger. This knife didn't disappoint. It is extremely sharp, very lightweight, and great quality at just the right size. Well done. I will definitely be picking up more MKC knives in the future.
Daniel,
Thank you so much and glad you like it! We designed the blade shape after the Stonewall Skinner and the size and weight after the Speedgoat - truly get the best of both worlds! Thanks for the great review!
Fantastic Knife and Customer Service from a Top Notch Company
The Remi Warren Stoned Goat is my new favorite hunting knife! I love the feel of it and you can really tell that it was masterfully crafted. My USPS carrier mis-delivered my package to the wrong address and their supervisors and employees who "tried" finding the package was extremely lazy and frustrating, claiming they delivered the knife and refused to track down the package. I sent an email to Monana Knife Co. and they immediately assured me that this limited edition knife would be shipped UPS to me at no additional cost. I am a forever customer and I appreciate them listening to me with an issue that is not in any way their fault. I will be elk hunting in a few weeks and I am confident this knife will be my favorite for breaking down animals in the field on all of my western hunts. As a hunter I believe in quality optics, a reliable gun, comfortable boots, a good pack and now a Montana Knife Co knife! It's not your normal mega mart quality and I truly believe this is essential in your hunting pack. Subscribe to their mailing list and give them a shot, you won't regret it.
Glad that we could get everything situated! Just like our products, we strive for the most quality customer service that we possibly can. We hope you enjoy the Stoned Goat and get a ton of use out of it - good luck this season and thanks for the review!
RW STONED GOAT
Very nice knife! Worth the money, and I don't mind supporting Remi. All the useful information he has provided is priceless.
Thanks for the feedback! Remi is a great guy and we are proud to be working with him!
Live Wild
Love it! Can't wait to use it this hunting season. The Live Wild logo is the perfect touch
Thanks Christopher! Good luck out there this season!