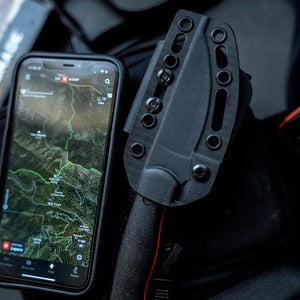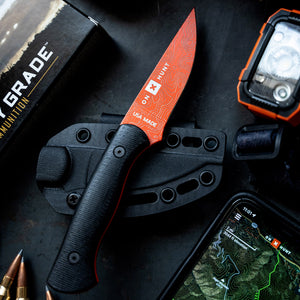 ONX - BLACKFOOT 2.0 TOPO BLAZE ORANGE CERAKOTE - SECRET DROP
$255.00 USD
– RESTOCKING SOON
---
The Only Hunting Knife You'll Ever Need.
When Master Bladesmith Josh Smith launched Montana Knife Company, he set out to create the ultimate do-it-all knife — small and light enough to pack on a goat hunt, durable enough to completely field dress a moose, and shaped to gut, cape, skin, and debone with ease. He called this flagship knife "The Blackfoot," and it remains his go-to blade.
Named for Lincoln, Montana's Blackfoot River Valley where Josh grew up, the Blackfoot is the ideal companion for every activity in the region: from fly fishing to bird hunting to big game expeditions. It's the perfect fusion of thinness, lightness, sharpness, toughness, and versatility. If you can only take one knife with you in the field, this is it.




DETAILED BREAKDOWN OF FEATURES

Versatile Blade Shape
The Blackfoot's drop point blade shape is key to its versatility. It has enough tip for easily caping out an animal or doing other fine work (yes, including those difficult tear ducts), but enough belly for skinning and deboning.
Topo Blaze Orange Cerakote™ Coating
The Topo Blaze Orange Cerakote™ coating is visually stunning. It also has a practical purpose. The baked-on Cerakote finish makes the Blackfoot easy to clean and resistant to rust and wear.
Compact Size & Weight
Most knives — especially "do-it-all" knives — are completely overbuilt for the job they're intended for. Not the Blackfoot. With a blade length of 3.5" and a total length of 7.75", the Blackfoot can go anywhere. We also skeletonized the tang (the steel part of the handle) to shed unnecessary weight, bringing the total weight to 3.6 oz. But don't let the small size fool you — the Blackfoot is big and strong enough for heavy work, like cutting through a pelvis or rib cage.
Bulletproof G-10 Handle Scales
The G-10 handle scales are equally as tough as the blade. G-10 is famous for being strong, durable, and lightweight — unmatched by any natural handle material. It can withstand any abuse without cracking or breaking, won't absorb blood, and provides excellent grip, even when wet. The contours of the handle are also designed for comfort in extended use. The G-10 scales are attached with locally sourced titanium screws and high-strength epoxy to secure the perfect, lasting fit.
Free Sharpening For Life & Beyond:
Generations® is our promise to restore your knife to its original, unmatched working condition. MKC will clean, sharpen, repair, and even reshape your blades when necessary, as well as rewrapping handles free of charge. 
While we perform all necessary sharpening and maintenance, our aim is not to return your knife to its brand new appearance. Learn more about MKC Generations Promise.


EXCLUSIVE MKC OPEN CARRY SHEATH 2.0
Each Montana Knife Company™ Blackfoot comes with an exclusive Kydex sheath. This 2 oz, click-in locking sheath can be adjusted for either horizontal or vertical carry, left or right-hand placement, and varying blade retention. The reversible quick-attach belt clip also lets you attach the sheath without removing or unclasping your belt.


DETAILS:
Blade Steel: 52100 Ball Bearing Steel

Full Tang Construction

Overall Length: 7 3/4"

Blade Length: 3 1/2"

Blade Thickness: 

.114"
Topo Blaze Orange Cerakote Finish™

100% Made in the USA

Hand Finished in Montana
OnX Elite Member
I have the regular version and LOVE it! This blade is a thing of beauty, great company, great customer service. Any time frames on the limited Edition OnX version being released again???
Hey Daniel! Thank you so much for the review! Folks seem to have really loved the OnX collab and they are great folks to work with, so I'm sure we'll do another drop sometime although not sure when yet!
Ultra-sharp
Very sharp, very light knife. Hoping to get a chance to put it to good use this fall. Beautiful work of art.
Thanks Scott! The topo pattern on the blades has been a hit and we really love the way they turned out. Good luck out there this season and thank you for the review!
Great companion
This is such a cool looking knife. It's super functional for most cutting chores when breaking down a deer or desiring to pack along a light weight knife on any hunt into the backcountry. It has enough blade to get the job done but not too much to get in the way. I have the Stonewall as well, which I love, but this little powerhouse has made it's way into my pack for good!
Rochelle,
That's awesome to hear! The Blackfoot is our flagship knife and was designed and built to handle any tasks in the field. The topo-lines on the blade turned out great and it was fun to collab with OnX on these! Thanks for the feedback and glad you are enjoying it!
Sharp, excellent quality knife
I can't wait to use this knife this year in the field and test it's sharpness longevity and handle quality, but from out of the box you can tell this is a top tier knife.
Leighton,
Thank you so much! We think you will find over time that both the blade quality and the handle quality are a great pair, and will not require but occasional maintenance. Thank you for the review and for your purchase!
Knife is a perfect fit in my hand. Comes sharp right out of the box.
Gerald,
Glad to hear it! Thanks for the feedback!