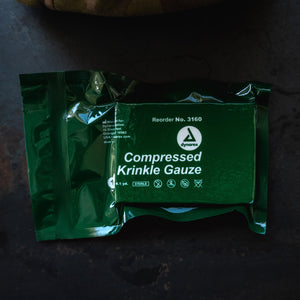 MKC MED KIT - MILITARY GREEN
---

The MKC Packable Med Kit is an essential survival tool for any hunter or outdoorsman. This kit includes almost everything you need in the event of an emergency. The Eberlestock IndiTAK Pouch is a convenient and durable carrying case for easy transport in your pack or truck. The twin pack of MyMedic Vent Chest Seals provides advanced wound management for chest injuries. Quick Clot Dressing helps stop severe bleeding quickly. The Nasopharyngeal helps bypass upper airway obstruction at the level of the nose, nasopharynx or base of the tongue. The Compressed Krinkle Gauze and MyMedic Emergency Pressure Bandage can be used to treat various wounds. Lastly, the SOF Tourniquet is a lifesaving device in the event of serious bleeding. Get peace of mind while hunting with the MKC Med Kit. 

Want even more professional emergency and survival advice??? please check out our friends over at Fieldcraft Survival! CLICK HERE
CHECK OUT AN ITEM BY ITEM BREAKDOWN ON OUR YOUTUBE CHANNEL:
CLICK HERE
Med Kit
As expected. Cool kit that I was able to attach to my pack. Told the wife I needed it because I always manage to cut myself while field dressing. I also told her I was the first of 100 to order and got a free MKC cutting board. It was a win win.
Must have!
Ok, so this is often overlooked and something you hope you never need but certainly pray to have. This is quality…period. Familiar items included that have more than proven themselves on some of the worst places on earth…so your annual elk hunt will be just fine! I added a small first aid kit with bandaids and little things that complement the bag (which is badass) and make it a super awesome IFAC with an MKC team seal of approval!
Anything from this company is amazing, top quality and nothing but the best.
AMAZING MED KIT
My wife got me this as a just in case. Rather not need it and have it instead of need it and not have it. That decision could be life or death. Thank you MKC for thinking 10 steps ahead for us hunters out there!