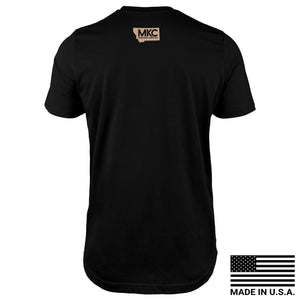 MKC BRANDED - ROCKER TEE - USA MADE
---
The MKC Rocker Tee
Dyed, Cut, and Sewn in the USA
Screen Printed in the USA 

Fitted Cut
Extra Large Front Print
Small Back Logo 
Fabrication:


100% Airlume combed and ring-spun cotton, 32 single 4.2 oz. (Ash - 99% Airlume combed and ring-spun cotton, 1% poly; Ath. Heather - 90% Airlume combed and ring-spun cotton, 10% poly; Heather colors - 52% Airlume combed and ring-spun cotton, 48% poly)
Love it!
I love my new mkc branded t-shirt. It fits perfectly and is super comfortable.
Thanks for the review Mark!
MKC Branded Tee
Took this shirt to hunting camp on an early season cow elk hunt and never took it off. Killed my cow on day two, processed it using my MKC Stonewall, slung two front shoulders over my shoulders and hiked it back to the road while my partners brought out the rest. Broke in the Rocker Tee and got it a little bloody but it can handle it. Had a lot of fun with my MKC gear.
Rochelle,
That's amazing and congrats on the cow!! Just like our knives, the rest of our products are made to be used in the field as well - we all do here at the shop! Thanks for the great review and the feedback!
Tee shirts
Great looking shirts.
Happy to rock the brand.
Jeff,
Thanks for representing! Our design team has been crushing it for these shirts and hoodies. Glad you like them!
Awesome shirt, great fit, looks great!
This is not only a sharp looking shirt but very comfortable as well! Great quality like everything else from MKC.
Thank you Sean! Quality is key, and we do everything we can to make sure we are putting high quality products out there - whether it be a shirt or a knife!
Love it!
As with all MKC products, quality is always A+. The new logo is killer. Easily one of my fav shirts constantly in rotation.
Glad you like the new logo and the shirt, Drew! We're stoked about the new logo branded merch. Thanks for the review!