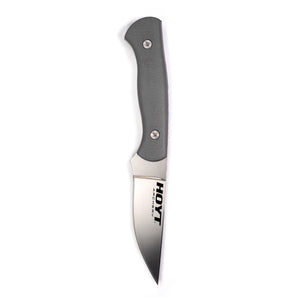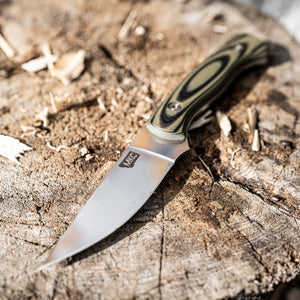 (SOLD OUT!) HOYT ARCHERY - THE MAGNACUT BLACKFOOT FIXED BLADE - SECRET DROP
$300.00 USD
– RESTOCKING SOON
---


We wanted to do something special just for the Hoyt Archery Loyal Customers. So this is your chance to order an MKC x Hoyt Blackfoot Magnacut Edition Knife before the general public.
Our last public release sold out in 15mins!!!
 So we are giving you access to a private reserve (LESS THAN A COUPLE HUNDRED) and a jump on this limited new knife release. This page will only be live for the next 12 hours!
Secret Access Ends at Midnight (PST) or While Supplies Last!
PLEASE DO NOT SHARE THIS WITH THE GENERAL PUBLIC. WE WANT TO CONTINUE TO RUN THESE EXCLUSIVE DROPS AS LONG AS WE CAN AS A THANK YOU TO HOYT ARCHERY!


Do-It-All, Done Right.
The Only Hunting Knife You'll Ever Need
When Master Bladesmith Josh Smith launched Montana Knife Company, he set out to create the ultimate do-it-all knife — small and light enough to pack on a goat hunt, durable enough to completely field dress a moose, and shaped to gut, cape, skin, and debone with ease. He called this flagship knife "The Blackfoot," and it remains his go-to blade. Paired with MAGNACUT stainless steel, our most complete hunting knife is more wear and corrosion-resistant than ever, standing in a class of it's own.
Named for Lincoln, Montana's Blackfoot River Valley where Josh grew up, the Blackfoot 2.0 Magnacut Edition is the ideal companion for every activity in the region: from fly fishing to bird hunting to big game expeditions. It's the perfect fusion of thinness, lightness, sharpness, toughness, and versatility. If you can only take one knife with you in the field, this is it.
FEATURES
MAGNACUT Stainless Steel
As a cryogenically heat-treated stainless steel, MAGNACUT provides the perfect blend of toughness, edge retention, and corrosion resistance. Unlike other stainless steel blades, MAGNACUT can be easily resharpened — even by novice knife owners. More wear-resistant than other stainless steels, and more corrosion-resistant than carbon steel, MAGNACUT is in a class of its own. Learn more about MAGNACUT Stainless Steel from the creator: Larrin Thomas.
Versatile Blade Shape
The Blackfoot's drop point blade shape is key to its versatility. It has enough tip for easily caping out an animal or doing other fine work (yes, including those difficult tear ducts), but enough belly for skinning and deboning.
Compact Size & Weight
Most knives — especially "do-it-all" knives — are completely overbuilt for the job they're intended for. Not the Blackfoot. With a blade length of 3.5" and a total length of 7.75", the Blackfoot can go anywhere. We also skeletonized the tang (the steel part of the handle) to shed unnecessary weight, bringing the total weight to 3.6 oz. But don't let the small size fool you — the Blackfoot is big and strong enough for heavy work, like cutting through a pelvis or rib cage.
Bulletproof G-10 Handle
The G-10 handle scales are equally as tough as the blade. G-10 is famous for being strong, durable, and lightweight — unmatched by any natural handle material. It can withstand any abuse without cracking or breaking, won't absorb blood, and provides excellent grip, even when wet. The contours of the handle are also designed for comfort in extended use. The G-10 scales are attached with locally sourced titanium screws and high-strength epoxy to secure the perfect, lasting fit.
Free Sharpening For Life & Beyond
Generations® is our promise to restore your knife to its original, unmatched working condition. MKC will clean, sharpen, repair, and even reshape your blades when necessary, as well as rewrap handles free of charge. While we perform all necessary sharpening and maintenance, our aim is not to return your knife to its brand-new appearance. Learn more about the MKC Generations Promise. 
EXCLUSIVE MKC OPEN CARRY SHEATH

Each Montana Knife Company™ Blackfoot 2.0 Magnacut Edition comes with an exclusive Kydex sheath. This 2 oz, click-in locking sheath can be adjusted for either horizontal or vertical carry, left or right-hand placement, and varying blade retention. The reversible quick-attach belt clip also lets you attach the sheath without removing or unclasping your belt.

DETAILS:
7.75" Overall Length

3.5" Blade Length

Ultralight 3.6 Ounces

100% USA MADE – Hand Finished in Montana

Magnacut Stainless Steel

Bullet Proof G10 Handle

Exclusive MKC Open Carry Sheath 2.0

Meant For External Carry For Easy Accessibility

Ultralight Sheath at 2 Ounces

Retention Screw for Custom Lock

Removable MKC/Pack Belt Clip

Made to Be Customizable Vertical/Horizontal


Hoyt knife
My husband seems happy with it. I bought it for him for his birthday. He really likes that the color of the handle matches his bow.
Excellent knife for anything!
What can I say but perfection in knife making. The attention to detail is amazing, the knife came sharp and ready to use for any task, hunting, fishing or otherwise. The open carry sheath is icing on the cake, well made with reliable retention. I appreciate the limited edition and was more than pleased I was able to pick one up! Oh and eying that hatchet next if I can grab one!
Looks Feels Great
I have not gotten the chance to use it yet. But knowing from the other blades I have received from MKC, it will perform flawlessly.
Great knife
Well worth the money by far best I have owned
After a Month I still have NOT received the knife.
I've contacted MKC about the non shipment but have not heard back as of yet. It's been a month since I purchased it and have had absolutely no correspondence after receiving the email that stated a shipping label had been generated. I'm hoping that they make this right as I would like to add other MKC knives to my extensive collection but if they don't, it will be the last one and the only one I purchase.
Bryant,
Hope you're loving this knife we resent for you!