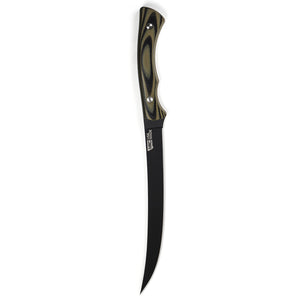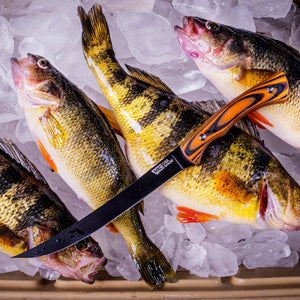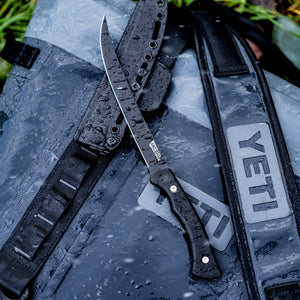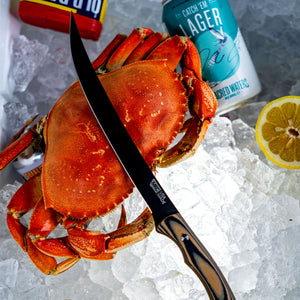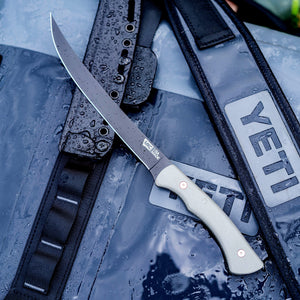 (SOLD OUT) SECRET DROP - FLATHEAD FILLET
$300.00 USD
– RESTOCKING SOON
---

We wanted to do something special just for all of the amazing customers who have purchased MKC Culinary Sets! We know a lot of you are wanting a Flathead Fillet to match your Culinary Set - So we are giving you a chance to snag one before the general public this Thursday night!
Our last public release sold out in 15 mins!!!
 We are giving you access to a private reserve (LESS THAN A COUPLE HUNDRED) and a jump on this limited release.
This also is the debut of our NEW Red Handled Flathead Fillet
. Great news for you red set owners. This page will only be live for the next 2 hours! 
Secret Access Ends in 2 Hours or While Supplies Last!
PLEASE DO NOT SHARE THIS WITH THE GENERAL PUBLIC. WE WANT TO CONTINUE TO RUN THESE EXCLUSIVE DROPS FOR OUR VIPS WHO WE WANT TO GIVE AN EARLY JUMP ON THESE BLADES!
LEAD BLADE FIRST. 
When we designed the Montana Knife Company™ Flathead Fillet Knife our goal was to create a knife that could do any possible task on the boat, next to the river or on the processing table. 
The Flathead Fillet got its name from the Flathead River, Lake, and Valley in the far northwest corner of Montana. The Flathead lake is known for being one of the largest and deepest lakes west of the Mississippi River, with some of the largest known lake trout. 
The Flathead Fillet has the perfect balance of flex and rigidity. The blade is designed to be flexible enough to work on your fresh catch on the side of the lake but rigid enough to help you process your elk or deer in your garage.

DETAILED BREAKDOWN OF FEATURES

Magnacut Stainless Steel
As a cryogenically heat-treated stainless steel, MAGNACUT provides the perfect blend of toughness, edge retention, and corrosion resistance. Unlike other stainless steel blades, MAGNACUT can be easily resharpened — even by novice knife owners. More wear-resistant than other stainless steels, and more corrosion-resistant than carbon steel, MAGNACUT is in a class of its own.
Learn more about MAGNACUT Stainless Steel from the creator: Larrin Thomas.
Versatile Blade Shape
The
 Flathead Fillet
 has the perfect balance of flex and rigidity. The blade is designed to be flexible enough to work on your fresh catch on the side of the lake but rigid enough to help you process your elk or deer in your garage.
Bulletproof G-10 Handle
The G-10 handle scales are equally as tough as the blade. G-10 is famous for being strong, durable, and lightweight — unmatched by any natural handle material. It can withstand any abuse without cracking or breaking, won't absorb blood, and provides excellent grip, even when wet. The contours of the handle are also designed for comfort in extended use. The G-10 scales are attached with locally sourced titanium screws and high-strength epoxy to secure the perfect, lasting fit.
Free Sharpening For Life & Beyond:
Generations® is our promise to restore your knife to its original, unmatched working condition. MKC will clean, sharpen, repair, and even reshape your blades when necessary, as well as rewrapping handles free of charge. 
While we perform all necessary sharpening and maintenance, our aim is not to return your knife to its brand new appearance. Learn more about MKC Generations Promise.
EXCLUSIVE MKC OPEN CARRY SHEATH
Each Montana Knife Company™ Flathead Fillet comes with an exclusive Kydex sheath. This 2 oz, click-in locking sheath can be adjusted for either horizontal or vertical carry, left or right-hand placement, and varying blade retention. The reversible quick-attach belt clip also lets you attach the sheath without removing or unclasping your belt.

DETAILS:
Blade Steel: CPM Magnacut Stainless Steel

Full Tang Construction

Handle Material: G-10

Sheath: Black Kydex Modular Belt Loop

Finish: Black Cerakote

Overall Length: 12.5"

Blade Length: 7"

Knife Weight: Ultra-Light 4.6 oz

100% Made in the USA

Hand Finished in Montana
Awesome Matching Fillet Knife!
Quality as expected! Appreciated the first chance at them to fill up my kitchen set! Fit the hand just right!
One of the best knives.
I have quite a few MKC knives. And this one was just another great addition to my collection. It's functionable extremely sharp and does the job.
Flathead Fillet Knife
A great addition to our Culinary Set! Fabulously sharp blade right out of the box, just like every other MKC knife.
Great piece
Guys,
I need an 8 in blade flexible filet knife. All my guys at the dock want a smaller one with more flex. They would sell out to the fishing industry.
Nicest Fillet Knife I've Got!
Beautifully made, razor sharp. I've got several high end fillet knives and nothing feels as quality as this one. Right size for most medium to large fish as well. Would preform great from Alaska to Florida!