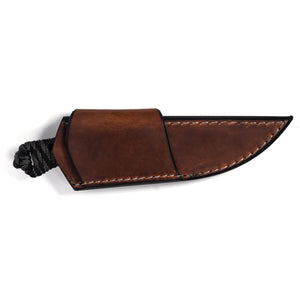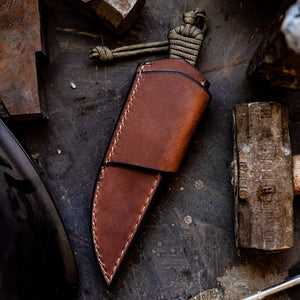 LEATHER RESTOCK
SPEEDGOAT LEATHER SHEATH - HORIZONTAL BELT CARRY
MKC X TETON LEATHER COMPANY - HORIZONTAL SPEEDGOAT LEATHER SHEATH



ONLY FITS THE SPEEDGOAT KNIFE
Montana Knife Company™ Speedgoat Leather sheath is made of premium Leather and handmade by Francesca at Teton Leather Company. The Leather sheath is a classic alternative to the stock Kydex Speedgoat Sheath. 
100% USA MADE

HORIZONTAL BELT LOOP CARRY

HANDCRAFTED

CUSTOM DESIGN TO FIT THE SPEEDGOAT

 

WATER-RESISTANT 
*KNIFE NOT INCLUDED*
ABOUT TETON LEATHER COMPANY AND FRANCESCA
From a young age, Francesca has been fully immersed in the world of knives. Spending time in her Father's bladesmithing shop, watching his finely tuned skills at work, Francesca developed an eye for detail and appreciation for the art of knife making. At the age of 15, Francesca made her first knife, starting with a bar of steel and a block of wood, she forged and ground her way to a fully functional and aesthetically appealing hunting knife.
Throughout the years Francesca has pushed to develop and refine her art. After marrying her Husband-and now coworker (Zach) in 2013, Francesca and her Husband prepared to welcome their little girl into the world, starting with a knifemaking hiatus in early 2016
"After having Olivia, I knew that most of my time would be in the house with her, but I also had this insatiable artistic itch and that's when I started ordering in leather hides and slowly acquiring tools and practicing on some crazy idea that had popped into my head. It's crazy how many random projects I completely failed on, but more and more often my projects were really coming to life. I spent my free time learning all that I could about leather, and my love for it grew, along with my artistic vision. Creating something unique that can be enjoyed by others is very fulfilling, I pour a piece of myself into every custom project."
Francesca is a full-time Leather Artisan, specializing in custom sheaths, hand dyeing, and commissioned high-end custom projects. She produces a limited batch of knives every year for her collectors & plans to continually expand her artistic repertoire.
---
Speed goat horizontal sheath
Very nice heavy leather sheath, fits knife snug, excellent stitching and I like the deep carry. Fits in the front of my bib overalls well
Joseph,
Our friends at Teton Leather Company make those sheaths for our knives. They are great folks with a great American made product! Glad to hear it's working well for you, and thanks for the review!
Kim,
Oh no! Hopefully it hasn't been damaged too bad - besides a little character never hurt anything! Teton Leather Company did a great job with the leather sheaths. They look great. fit great and hold up great too!
Great for Scout Carry
Thank you MKC and Francesca at Teton Leather Works for this awesome hand-made leather horizontal carry sheath. Now my Goat is complete with Blade Wax and a great study thickness awesome sheath. My Kydex sheath is attached to my backpack for easy access carry and my leather sheath on my belt for easy scout and cross draw carry. So pleased!
Attractive Sheath
This is made with good heavy leather, knife fits securely, rides nice on belt.
Well worth the price
Huge improvement over the kydex holster. Looks great and quite comfortable