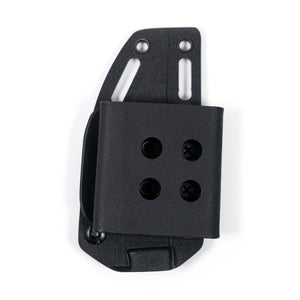 ACCESSORIES
SPEEDGOAT - ADDITIONAL KYDEX SHEATH
ADDITIONAL CUSTOMIZABLE KYDEX SHEATH

Montana Knife Company™ Speedgoat Kydex 2.0 Sheath comes with a quick attach belt hook.  This belt loop can be put on your belt without removing or unclasping the belt.  The knife can also be carried horizontally or vertically by simply removing two screws, adjusting the look, and reapplying the screws. 
---
Nice!
Perfect size and weight for emergency use for fly fishing and other outdoor activities.
Sheath is well-designed and seems to weigh nothing.
Extra kydex speed goat sheath
I got this sheath to go with the metal clip to work in some different applications. Works great . Thank you for your help. Joe
Awesome! Thanks for the review Joseph!
Extra sheath for speed goat
Wonderful sheath any way you look at. Good price, good fit, perfect retention. Can't get better than this sheath.
Thanks James! It's always good to have another sheath around - especially when they are adjustable for different ways of carry! Thank you so much for the review!
Thanks! Don't forget they are adjustable for different methods of carry, and the retention screw is adjustable as well!
Nice to have!!!
Just like the great sheath that comes with your knife. The second one I put a pocket clip on it so I can easily change from belt carry to pocket carry. I'm always changing how I carry to what I'm out to do. This makes it so easy!
Raymond,
Those pocket clips make a big difference! Glad to hear you are getting use out of both sheaths!